Why Won't Chairman Issa Release The Full Transcripts Of Interviews With IRS Employees?
Without full transcripts, the excerpts released by the House Oversight Committee are worthless.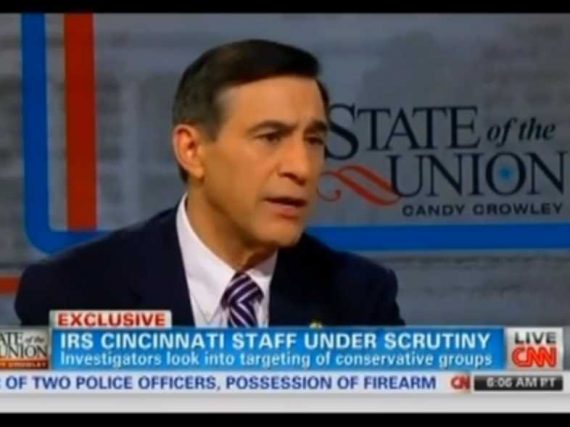 Last week, House Government Oversight Committee Chairman Darrell Issa released partial transcripts of depositions that committee staffers had taken of lower-level employees at the IRS's Cincinnati office who were involved in the processing of 501(c)(4) applications.  Matt Bernius took a look at those excerpts and found them to be far less revealing than the press surrounding them was claiming and, in a comment to Matt's post, I noted that it struck me as impossible to truly evaluate the exercepts without being able to see the full transcripts. So far at least, though, Chairman Issa is not willing to release the complete transcripts:
WASHINGTON — One week after he released partial transcripts of interviews with IRS officials involved in the scandal surrounding the targeting of conservative groups, the chair of the House Oversight and Government Reform Committee said releasing the full transcripts would be "reckless" and "irresponsible."

Rep. Darrell Issa (R-Calif.) pushed back Tuesday against calls to put out more information on the committee's investigation into the controversy, sparked after a Treasury Department Inspector General report revealed the IRS had singled out tea party groups applying for nonprofit status for extra scrutiny. Responding specifically to criticism from Rep. Elijah Cummings (D-Md.), the ranking Democratic member of the committee, Issa said that releasing full interviews conducted with IRS employees would hurt the ongoing investigation.

"Your decision to publicly announce that the investigation should wrap up was irresponsible, but not surprising," said Issa, in a letter to Cummings. "However, your push to release entire transcripts from witness interviews while the investigation remains active was reckless and threatened to undermine the integrity of the Committee's investigation."

The position is a tenuous one for Issa, who during an appearance on CNN's "State of the Union" just over a week ago promised that the full transcripts would be released. On that same program, Issa revealed several partial transcripts that suggested the directive to screen tea party groups came from officials in Washington.

Since then, The Huffington Post has sent four emails asking Issa's office when the full transcripts would be made public. Not one was returned. When asked why Issa's release of a partial transcript was fine but he opposed releasing the transcripts in full, a spokesman for the congressman referred HuffPost to another statement.

"Limited releases of testimony may also serve to empower other witnesses to become whistleblowers and serve to vindicate individuals who have been subjected to criticism or retaliation at the hands of their managers," said Issa, in that statement. "On the other hand, if a full transcript were released, it would serve as a roadmap of the Committee's investigation."

It could take weeks, if not months, to see the full transcripts should the committee wait to release them until the investigation is completed. According to a Democratic aide on the committee, investigators have interviewed five IRS employees so far and have 18 more to go. In addition, investigators are hoping to look through hundred of thousands of documents that could shed light on the tax agency's controversial screening practices.
In yet another reflection of how partisan the atmosphere on the committee has become, Ranking Member Elijah Cummings has released the Democratic members own excerpts from those interviews, which they claim shows that the decisions that led to the Cincinnati's targeting of Tea Party and other conservative groups started with an employee in the Cincinnati office rather than, as Issa and others have claimed, with directives from superiors in Washington. These excerpts, of course, suffer from the same weakness that Issa's excerpts do because they are selective portions of selected interviews rather than the full transcripts. Without those full transcripts, it's impossible to put all of the statements by these witnesses in  their proper context rather than drawing the conclusions that selective editing is supposed to be leading us to in either of the two cases.
As for Issa's decision not to release the full transcripts, two points can be raise. First of all, if it's true that releasing full transcripts would undermine the investigation by providing a "roadmap" for where the Committee is heading, then can't that also be said about the selective edits that we've already been provided with? Second, it's fairly obvious that the only reason either side is releasing any excerpts at all is because they believe that the material released supports their case. That's not part of a proper investigation, it's pure politics, not that I'm shocked by that of course. In any case, though, I would suggest that nobody jump to any conclusions based on selective editing of deposition transcripts until the full transcripts have been made available. Otherwise, you're just allowing yourself to be played.