So Far, Issa's IRS Transcripts Contain A Whole Lot Of Nothing
Just about all of the substantive information in the excerpts was already revealed in the TIGTA audit.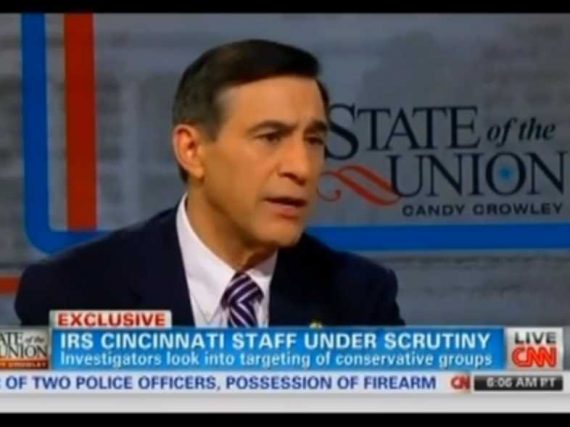 In conjunction with Daryl Issa's appearance on CNN's State of the Nation this past Sunday, the House Oversight and Government Reform Committee released select excerpts from two interviews between Committee Investigators and Cincinnati IRS employees. While much media attention has been paid Issa's now infamous accusation that White House spokesman Jay Carney is a "paid liar," little time has been spent looking to see if there is any substance behind his sensationalism. Unfortunately for Issa, if these excerpts represent the best evidence his committee has of systemic wrong doing, he — and the House Oversight Committee — have very little new information about the situation.
The fact is, just about all of the substantive information in the excerpts was already revealed in the TIGTA audit. For example, Issa claims that passages like the one that follows help demonstrate a Washington connection:
Q: In early 2010, was there a time when you became aware of applications that referenced Tea Party or other conservative groups?
[Interviewee 1 – Most likely one of the initial applications reviewers]: In March of 2010, I was made aware.
******
Q: Okay.  Now, was there a point around this time period when [your supervisor] asked you to do a search for similar applications? 
A: Yes.
Q: To the best of your recollection, when was this request made?
A: Sometime in early March of 2010.
******
Q: Did [your supervisor] give you any indication of the need for the search, any more context? 
A: He told me that Washington, D.C., wanted some cases.
[*****]
Q: Did anyone else ever make a request that you send any cases to Washington?
A:  [Different IRS employee] wanted to have two cases that she couldn't ‑‑ Washington, D.C. wanted them, but she couldn't find the paper.  So she requested me, through an email, to find these cases for her and to send them to Washington, D.C.
Q: When was this, what time frame?
A: I don't recall the time frame, maybe May of 2010.
All of this information, including the involvement of the Washington office, had already been clearly established in the time-line. The audit makes it clear that during this general time-frame (March to May), an effort was made to start analyzing the contents of these applications to determine if there was an apparent pattern of "Potential Political Intervention" that warranted specialist review (see section 1 of TIGTA audit). In fact, by May 2010, a formal request had been made the the EO's Technical Unit, located in Washington, to provide specific criteria for processing these cases.
So, rather than demonstrating anything new, so far all these statements do is back up what we already know.
This gets to another example of the "Washington Connection" that appears in the transcripts.
[Interviewee 2 – Determinations Office Specialist] Even though I was taking all my direction from EO Technical [Washington, D.C], I didn't want my name in the paper for being this rogue agent for a project I had no control over. 
The audit clearly specified that the Determinations office was structurally *under* the authority of the Technical Office. Again, this testimony is entirely in keeping with what was already disclosed within the TIGTA audit.
What these quotes do is provide a bit more context to what happened in the early days of the IRS Breakdown. And, ironically, it turns out that the second interviewee unintentionally played a huge role in gumming up the works.
Q: Earlier I believe you informed us that the primary reason for applying for another job in July [2010] was because of the micromanagement from [Washington, DC, IRS Attorney], is that correct? 
[Interviewee 2]: Right.  It was the whole Tea Party.  It was the whole picture.  I mean, it was the micromanagement.  The fact that the subject area was extremely sensitive and it was something that I didn't want to be associated with. 
Q: Why didn't you want to be associated with it? 
A: For what happened now.  I mean, rogue agent?  Even though I was taking all my direction from EO Technical [Washington, D.C], I didn't want my name in the paper for being this rogue agent for a project I had no control over. 
Q: Did you think there was something inappropriate about what was happening in 2010? 
A: Yes.  The inappropriateness was not processing these applications fairly and timely
We know from the transcript that this request for reassignment went through in August of 2010 (TIGTA Audit: p33/ PDF p40). This position remained vacant until October of 2010. Unfortunately, when the position was filled, the new specialist made a decision that completely screwed up the entire review process. From the time-line:
October 2010

Applications involving potential political campaign intervention were transferred to another Determinations Unit specialist. The specialist did not work on the cases while waiting for guidance from the Technical Unit.

Per the Director, Rulings and Agreements, there was a miscommunication about not working the cases while waiting for guidance.
(TIGTA Audit: ibid)
We know from the audit that this stoppage continued for 13 months while this individual waited for the Technical Office to return criteria. We also know that EO management was completely unaware that the work had stopped.
The conventional wisdom is that you should lead with the strongest material that relates to the case you want to make. If this is the strongest that Issa has so far — granted, there are still 18 interviews to go — he's got a lot of nothing. And, this perhaps gets us to what constitutes the saddest failure of Issa's fishing expedition. So far it's done a terrible job of proving any intentional bias. And, if the past performance of his committee is anything to go on, little more than innuendo is going to emerge in the days to come.
However, if, rather than trying to pin this to Obama, his committee concentrated on the larger management problems at the IRS, a lot of good could come from these hearings. For the one damning thing that comes out of the transcript is the fact that at least one person — Interviewee 2 — saw this mess coming. Unfortunately, that foresight led to nothing. And that points, again, to the profound managerial problems with the IRS's EO division.
Its too bad that, at least based on his press appearances, that this sort of substantive work doesn't seem to be of particular interest to Representative Issa.ly pursuing.