The BOLO List And The Question Of Optics VS Effectiveness
The TIGTA audit reveals the BOLO "Tea Party" list was right 81% of the time. But does that change anything?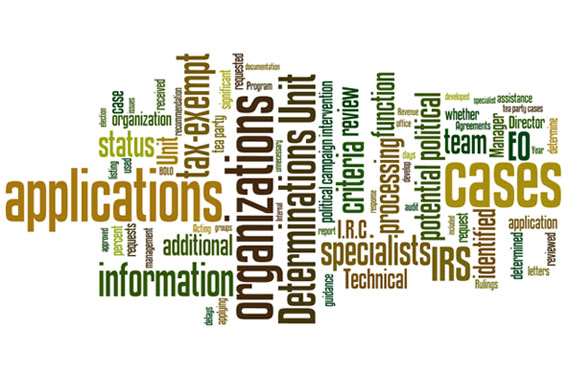 One of the key determinations of the TIGTA audit of the IRS's was that initial reviewers used inappropriate criteria to select applications for review as "potentially political cases." In particular, reviewers used a "Be On The Lookout [For]" or BOLO list, that contained, among things, phrases like "Tea Party", "9/12", and "Patriots." We know from the audit that 100% of application containing these phrases in their names were held for review; ultimately 96 applications in total (see chart below).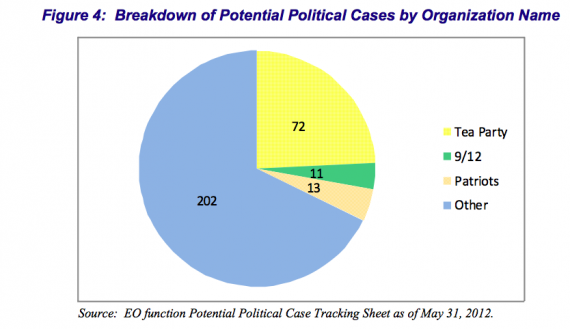 What the audit fails to make clear, however, is that 78 of those 96 BOLO applications were found, upon review, to contain "indicators of significant amounts of political campaign intervention." In other words, the names section of the BOLO list had an 81% success rate.
To put this into further context, the in-depth TIGTA review of all the flagged "potentially political cases" found that initial reviewers had a general success rate of 69% (of 296 cases reviewed, auditors determined 205 were correctly flagged). As it turns out, the BOLO list actually had a higher success rate than the standard review process.
But should that matter?
Audit interviewees noted that the BOLO list was intended to function as a "shorthand way of referring to the group of cases involving political campaign intervention rather than to target any particular group." (TIGTA Audit 31/ PDF 37) These statistics seem to reinforce the effectiveness of the shorthand.
But, the question remains, is using a shorthand, regardless of effectiveness, the same as bias. On this topic the auditors wrote the following:
Whether the inappropriate criterion was shorthand for all potential political cases or not, developing and using criteria that focuses on organization names and policy positions instead of the activities permitted under the Treasury Regulations does not promote public confidence that tax-exempt laws are being adhered to impartially. (TIGTA Audit 7 / PDF 13)
The issue is ultimately one, not of actual effectiveness, but of optics. Regardless of whether or not the BOLO list was effective, in the opinion of the auditors, it was inappropriate because it gives the appearance of impropriety.
This attention to optics is, arguably reflected in the construction of the audit itself. The fact is that the very construction of the TIGTA report buries this finding. The critical information needed to calculate the success rate appears in the following paragraph and related footnotes:
Applications That the IRS Determined Should Be Processed by the Team of Specialists – We reviewed all 298 applications that had been identified as potential political cases as of May 31, 2012. In the majority of cases, we agreed that the applications submitted included indications of significant political campaign intervention. However, we did not identify any indications of significant political campaign intervention for 91 (31 percent) of the 296 applications27 that had complete documentation.28

27 – We could not complete our review of two cases due to inadequate documentation in the case files. See Appendix IV.

28 – Seventeen (19 percent) of the 91 applications involved Tea Party, Patriots, or 9/12 organizations.
(TIGTA Audit, 10/PDF 16)
This quote makes it clear that reviewers 69% general success rate — though rather than discussing this in terms of "success," the phrasing focused on "failure." But the real story, it turns out, is in footnote 28. From the footnote we learn the number of Tea Party BOLO List application that did not contain evidence of significant political campaign intervention. Using the total number of BOLO list cases previously given in Figure 4 (72 "Tea Party" + 11 "p/12" + 13 "Patriots") one can quickly calculate the total percentage of correctly identified cases (again 81%).
I have to wonder if the Auditors chose to bury this lede because of optics. It's hard to appear to be criticizing a practice while at the same time directly identifying how effective it turned out to be. (Likewise, one has to wonder if news outlets missed this because of how buried it was, or chose not to report it because it both complicates the story and leaves them open to questions of bias.)
There are some caveats here, the TIGTA audit only contained statistics on the BOLO list's use of names. The audit also reveals that groups were also flagged based on policy positions. Unfortunately, the audit contains absolutely no data on how many groups were flagged based on policy or the number of those group whose applications were found not to contain indications of significant political campaign intervention.
Also, this finding most likely says more about the political nature of most Tea Party organizations than it does about the ultimate effectiveness of BOLO lists in general. As I discussed in previous posts, its hard not to see how groups like the Wetumpka Tea Party would not be initially flagged based on their activities. The thing to also remember is that even though a group was flagged for initial review, chances are that they will still be ultimately approved.
Also, conservative commenters might also suggest that all of this still remains a problem because many progressive applications could have been approved while these Tea Party applications languished. However, there are a number of indications that this simply wasn't the case. First of all, its been found that a number of progressive organizations were flagged for specialist review and experienced the same delays and probing questions.
Further, we learned from the audit that, generally speaking, the initial reviewers didn't let many "potential political cases" slip through the cracks. Auditors estimate that only 2% of all applications approved without specialist review contained indicators of significant political campaign intervention. Even if we were to accept for the moment that all of those cases were liberal organizations, that 2% — not surprisingly — translated to an incredibly small number (approximately 44 organizations out of the over 2000 that were approved without initial review during this period).
Looking at all this data, conservatives and liberals seem to find themselves suddenly defending positions typically held by the opposite side. For we could as easily be discussing this entire situation in terms of "profiling" versus "bias." And the numbers suggest that profiling worked in this case. And if once groups were flagged they, by and large, received the same crappy treatment, wasn't everyone treated more or less equally once they were "in" the system?
Ultimately, it increasingly seems like the real issue at the center of this "scandal" is what's more important to us: Optics or results? Success or concerns about bias? But, before you answer, you should ask yourself: "which camp do I normally fall into when it comes to other issues of profiling?" Because, if you find that you're suddenly switching sides, it might be a good idea to ask what makes this case so different.
—————
Full disclosure: In a previous post I got the BOLO list number reversed, mistakenly reading footnote 28 as saying that only 17 Tea Party BOLO list applications had been correctly flagged. I repeated this mistake in a number of comment threads. I have added a correction the original post an will be adding a correction to all of the comments I made. Apologies to anyone misled by my mistake and to the people who I thought I was "correcting." Many thanks to a post by Martin A. Sullivan at Tax Analysts for helping me realize my mistake.