The Wetumpka Tea Party and Defining "Potential Political Cases"
When does politics become the "primary activity" of a 501(c)4?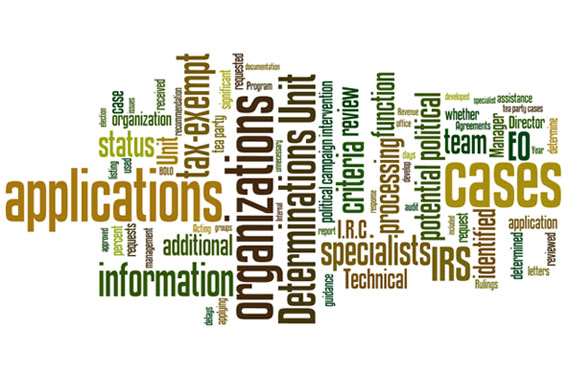 This article is part of a series exploring aspects of the IRS Exempt Organizations political bias investigation. The first article, looking at 501(c)3, 501(c)4, and 527 regulations can be found here. The second, a deep dive into the TIGTA audit, can be found here.
The TIGTA audit of the IRS revealed that long delays in the approval of some 501(c)3 and 501(c)4 applications were caused, in part, by a lack of guidelines for determining what constitutes permissible and impermissible levels of political activity. The question of political activity is an especially sticky topic for 501(c)4 organizations, as they are allowed to engage in some direct political work, provided that such work does not constitute the "primary activity" of the organization. 
One of the groups whose 501(c)4 application has been held up in specialist review is Alabama's Wetumpka Tea Party. Examining their activities, as described in a recent New York Times article and on the group's website, provides some insight into the difficulties that IRS specialists face in determining whether an organization is a social welfare or political group.
The Wetumpka Tea Party considers itself a 501(c)4 organization and the group acknowledges that it engages in "some" political activity. While 501(c)4 groups are not specifically required to apply to the IRS, the Wetumpka Tea Party chose to apply for official recognition. In accordance with the rules governing 501(c)4's, the Wetumpka Tea Party has continued to function as a 501(c)4 while awaiting official confirmation.
In the NYT Article, Nicholas Congessore and Michael Luo discussed one specific activity the Wetumpka Tea Party's engaged in during 2012:
In Alabama, the Wetumpka Tea Party organized a day of training for its members and other Tea Party activists across the region in the run-up to the 2012 election. The training was held under the auspices of the Adopt-a-State program, a nationwide effort that encouraged Tea Party groups in safely red or blue states to support Tea Party groups in battleground states working to get out the vote [GoTV] for Republicans.

Adopt-a-State was a key component of Code Red USA, a get-out-the-vote initiative organized by a conservative political action committee. The goal of Code Red USA was made clear in one of its fund-raising videos, which told supporters: "On Nov. 6, 2012, Code Red USA authorizes the defeat of President Barack Obama."

Becky Gerritson, Wetumpka's president, said in an e-mailed statement that her group engaged "mostly in education on all sorts of topics" and that the day of training was just one of a variety of events that it held for "educational purposes."
Determining whether or not hosting this sort of GoTV training constitutes a "educational" or a "political" activity is a prime example of the issues IRS specialists have sort through as part of the 501(c)3/4 review process.
TIGTA's IRS audit touches on GoTV efforts as part of  the following footnote on what constitutes "political advocacy":
9. An organization engages in general advocacy when it attempts to 1) influence public opinion on issues germane to the organization's tax-exempt purposes, 2) influence nonlegislative governing bodies (e.g., the executive branch or regulatory agencies), or 3) encourage voter participation through "get out the vote" drives, voter guides, and candidate debates in a nonpartisan, neutral manner. General advocacy basically includes all types of advocacy other than political campaign intervention and lobbying. (TIGTA Audit, Footnote 9, Page 2/PDF p8 – emphasis mine)

The Adopt-A-State program, created by the conservative Madison Project, was clearly a partisan GoTV effort. Thus, the activity does not fall under "general advocacy" as described in the audit. This means, for example, that a 501(c)3 could not directly participate in Adopt-A-State without potentially losing its status.
But is "hosting"–the term that the Wetumpka Tea Party uses to describe its role–a seminar for "educational purposes" the same as encouraging participation? I have a hard time seeing how one can separate organizing the forum, promoting the event, and providing the space, from encouraging participation. If someone can make a counter argument, I look forward to reading it.
If the Wetumpka Tea Party had applied for 501(c)3 status, this sort of activity should have led to a denial. However, once we start to discuss a 501(c)4, things get a bit more confusing. As previously noted, 501(c)4's are able to engage, in a limited basis, in political work. But, if that's the case, then why does Gerrritson try to frame her group's work with Code Red USA, as educational versus political?
Her use of "educational" may go back to the fact that political activities cannot become the primary function of a 501(c)4 organization. The challenge for reviewers is interpreting what is meant by the term "primary." The TIGTA audit notes "Treasury Regulations state that I.R.C. § 501(c)(4) organizations should have social welfare as their 'primary activity'; however, the regulations do not define how to measure whether social welfare is an organization's 'primary activity.'" (14 / PDF p20 – emphasis mine)
In lieu of a fixed definition from the IRS, many, including Gerritson, have taken to using basic math to define "primary" — i.e. something that takes up more than 50% of an organizations activities (see Gerritson's current letter to supporters on the Wetumpka Tea Party's home page).
So while a 501(c)4 can participate in a partisan GoTV, doing so counts towards the total number of "political activities" they can engage in. And if there are too many tallies on that "political" side of the equation, the group's 501(c)4 status can be revoked. For example, The New York Times article details how this happened to a liberal group:
Emerge America, which trained women to run for office, was granted 501(c)(4) recognition in 2006, but its status was revoked in 2012. Training people how to run for office is not in itself partisan activity, but the I.R.S. determined that the group trained only Democratic women and was operated to benefit one party.
Even accepting the 50% definition of "primary," the question remains, how does one judge what constitutes 50% of an organization's activities?
Getting back to the Wetumpka Tea Party's participation in the Adopt-A-State GoTV vote effort, a review of their Event History page shows that organization also co-hosted Code Red USA's four day Get-Out-the-Vote trip to Jacksonville, FL (from November 2nd to the 6th). On the one hand, this was just one activity out of the more than fourteen that the group participated in during 2012. On the other hand, the sheer amount of time spent planning and on-the-ground– especially when combined with the extended Adopt-A-State training session–makes this one of their major activities for that year. Weighing these sorts of facts is exactly the sort of work reviewers should be doing.
When one looks across the Wetumpka Tea Party site, one begins to see a number of different activities that could potentially indicate more "checks" in the political activities column. The critical word here is "potentially." As a reminder, the function of the initial EO review is to identify organizations that are potentially involved in a significant amount of political activity. These organizations were passed to specialist review in order to receive a ruling as to whether those political activities, in total, were the primary function of the group.
There's one activity of the Wetumpka Tea Party that is especially worthy of note as it points to the dual nature of Tea Party groups, and it also helps understand why certain questions get asked in the extended review process. One of the opportunities that the website lists for volunteers is as follows:
Prayer Team: As we work to educate and inform Americans about the issues affecting our Freedom and Liberty and to elect local, state and national candidates that believe in Limited Government and who will protect our personal and religious freedoms we appreciate your continual prayer support. [Emphasis mine]
Ironically, this is the only portion of the current website that explicitly states that the organization has an explicit political goal in addition to its educational goals. For a reviewer, this type of passage immediately should immediately present a red flag–especially if this political goal isn't discussed anywhere else on the site. Again, the result should not be outright denial, but this is exactly the type of statement that correctly triggers requests for clarification and additional information.
And on the topic of additional information, Doug previously wrote about IRS requests that included questions like:
[E]xplain how all of your activities, including the prayer meetings held outside of Planned Parenthood, are considered educational as defined under 501(c)(3). […] Please explain in detail the activities at these prayer meetings. Also, please provide the percentage of time your organizations spends on prayer groups as compared with the other activities of the organization.
While I've already addressed why this question could be appropriate, the Wetumpka Tea Party site provides further support for this sort of inquiry. To the degree that prayer team requests contain appeals for specific individuals to win or lose elections, they cross over into political activities.
My goal here is not to argue whether or not the Wetumpka Tea Party should be awarded 501(c)4 status. Rather, it's to examine if someone could look at the group's materials and reasonably come to the conclusion that there is enough evidence to warrant a specialist investigation on the grounds of "potential political interventions."  My goal is to then consider what factors would slow down such an investigation.
In all of my articles on the EO Investigation, I keep returning to the point that no one can reliably articulate what are appropriate functions for a 501(c)4. The more that one looks at the activity of 501(c)4 applicants, like the Wetumpka Tea Party, the more one finds hybrid activities that are at once political and educational, political and religious. The issue becomes how best to disentangle these functions to decided to overall purpose of the organization. And, let us not forget, that the organization charged with making these decision is primarily focused on financial issues, not political ones.
The origins and extent of the political bias within the IRS need to be investigated. However, I cannot help but think that the country, not to mention the political process, would be better served if equal amounts of time and attention were spent questioning the 501(c)4 form as it currently exists, better articulating what constitutes "primary" activities, and asking if IRS is even the right institution to be ruling on political activities in the first place.
---
One request to commenters — I am sure there is a lot in here to take issue with. And as always I'll try to respond to every question. However, I will NOT reply to any critique that uses the "Why did the IRS target this Tea Party Group, when X Liberal group was doing the same (or worse) stuff." This type of "why does only happen to my side" argument, akin to "Why do libs keep complaining about GWB when he's been out of office for 5 years, instead of talking about what Obama's doing now," fails to address the substantive points I've raised above.
Plus, I'm of the opinion that any group engaging in similar activities, regardless of political persuasion, deserves to receive the same level of scrutiny.