Once Again, The Supreme Court Upholds Legislative Prayer
The Supreme Court has again ruled that prayers that open legislative sessions are not unconstitutional.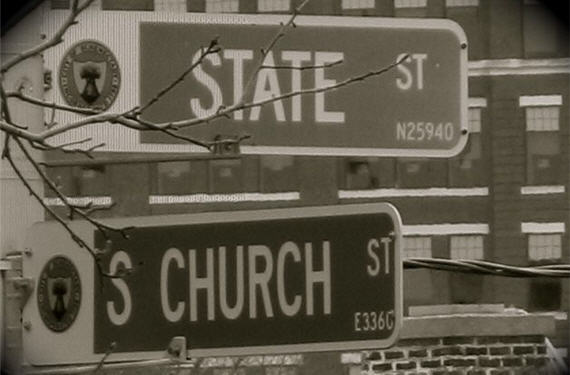 Today, the Supreme Court handed down a decision in Town v. Greece v. Galloway, a challenge to the City Council of Greece, New York's practice of opening each town meeting with a prayer, ruling that the practice was Constitutional notwithstanding the fact that the prayers have, to date, been exclusively Christian:
WASHINGTON — The Supreme Court on Monday ruled that a town in upstate New York did not violate the Constitution by starting its public meetings with a prayer from a "chaplain of the month" who was almost always Christian.

Justice Anthony M. Kennedy, writing for the majority in a 5-to-4 decision that divided the court's more conservative members from its liberal ones, said the prayers were merely ceremonial. They were neither unduly sectarian nor likely to make members of other faiths feel unwelcome.

"Ceremonial prayer," he wrote, "is but a recognition that, since this nation was founded and until the present day, many Americans deem that their own existence must be understood by precepts far beyond that authority of government to alter or define."

In dissent, Justice Elena Kagan said the town's practices could not be reconciled "with the First Amendment's promise that every citizen, irrespective of her religion, owns an equal share of her government."

Town officials in Greece, N.Y., near Rochester, said that members of all faiths, and atheists, were welcome to give the opening prayer. In practice, however, almost all of the chaplains were Christian. Some of their prayers were explicitly sectarian, with references, for instance, to "the saving sacrifice of Jesus Christ on the cross."

Two town residents sued, saying the prayers ran afoul of the First Amendment's prohibition of government establishment of religion. They said the prayers offended them and, in Justice Kennedy's words, "made them feel excluded and disrespected."

But Justice Kennedy said the relevant constitutional question was not whether they were offended. "Adults often encounter speech they find disagreeable," he wrote.

Justice Kennedy said traditions starting with the first Congress supported the constitutionality of ceremonial prayers at the start of legislative sessions. He added that it would be perilous for courts to decide when those prayers crossed a constitutional line and became impermissibly sectarian.

"To hold that invocations must be nonsectarian," he wrote, "would force the legislatures that sponsor prayers and the courts that are asked to decide these cases to act as supervisors and censors of religious speech, a rule that would involve government in religious matters to a far greater degree than is the case under the town's current practice of neither editing or approving prayers in advance nor criticizing their content after the fact."

Chief Justice John G. Roberts Jr. and Justice Samuel A. Alito Jr. joined all of Justice Kennedy's opinion, and Justices Antonin Scalia and Clarence Thomas most of it.

Justice Kennedy did suggest that some prayers may be unacceptable if offered consistently over time, including ones that "denigrate nonbelievers or religious minorities, threaten damnation or preach conversion."

Town officials had tried, he said, to recruit members of various faiths to offer prayers.

In dissent, Justice Kagan said they had not tried hard enough. "So month in and month out for over a decade," she wrote, "prayers steeped in only one faith, addressed toward members of the public, commenced meetings to discuss local affairs and distribute government benefits."
Lyle Denniston contributes his usual excellent analysis of today's opinion:
The Court's majority was divided in the case, but only on how "coercion" is to be defined in a constitutional sense.  Three Justices said that test is satisfied if a town's governing body ordered the public to join in prayer, criticized "dissidents" who did not share the prayer's beliefs, or indicated that official action would be or was influenced by whether someone did or did not take part in the prayer exercise.  That group spoke through the lead opinion, written by Justice Anthony M. Kennedy — long an advocate of the "coercion" approach and long a critic of the "endorsement" test.  His plurality opinion was joined by Chief Justice John G. Roberts, Jr., and Justice Samuel A. Alito, Jr.

Two Justices argued that a "coercion" test would be satisfied only if a local government had actually compelled people to be followers of one faith, such as requiring people to go to religious services or to pay taxes to pay for religious institutions.  They spoke through an opinion by Justice Clarence Thomas, joined by Justice Antonin Scalia on that point alone.

The four dissenters complained that the new ruling will strike a heavy blow against the nation's tradition of religious pluralism, and will lead to prayers that will actively promote a single faith's religious values.  Justice Elena Kagan wrote the main dissent, joined by Justices Stephen G. Breyer, Ruth Bader Ginsburg, and Sonia Sotomayor.  Justice Breyer also wrote a dissenting opinion speaking only for himself; that opinion focused more narrowly on the facts in this specific case.

Thus the ruling came out five to four, in favor of the practice in a modest sized town in upstate New York — Greece, which is near Rochester.

(…)

Although the lead opinion by Justice Kennedy relied very heavily upon the Court's 1983 ruling in Marsh v. Chambers, upholding prayer to open sessions of the Nebraska state legislature, the opinion reinterpreted the Marsh decision and, in doing so, enlarged the opportunity to deliver such prayers in explicitly religious content and tone, invoking the deity of a given faith.

The Kennedy opinion flatly rejected an interpretation of the Marsh case that a Court majority had made in the 1989 decision in Allegheny County v. Greater Pittsburgh ACLU.  In that ruling, over a dissent written by Justice Kennedy, the Court had said that legislative prayer had been upheld in the Nebraska case only because the actual prayers delivered by the chaplain did not have a "sectarian" cast.   The majority in Allegheny County was applying, to a Christian crèche on government property at Christmastime, the so-called "endorsement test," long associated with the writings of now-retired Justice Sandra Day O'Connor.

On Tuesday, Justice Kennedy said that was a misunderstanding of the content of prayers at issue in the Marsh case.  And, the Justice went on, that decision stands not only for the proposition that legislative prayer can be upheld because of its long history in American legislative assemblies, but also for the idea that it can be upheld because the Constitution does not forbid "sectarian" prayers in that setting.

The stark difference between the majority opinion in the Allegheny County case and the Court's new opinion in the Town of Greece case illustrated the progress made by Justice Kennedy toward the Court's full embrace — although for differing reasons among five Justices who determined the outcome  - of the "coercion" test in determining whether a government practice amounted to an "establishment of religion" in violation of the First Amendment.
On the surface, of course, the fact that the town's opening prayers have almost all been exclusively Christian, and in some cases plainly sectarian, seems like reason enough to hold that the practice is unconstitutional and, indeed, this is a large part of the dissent's argument as stated by Justice Kagan. However, it's worth noting that the practice in the town for some time had been to have the prayers conducted by representatives from one of the religious institutions within the town, and all of the religious institutions in the Town of Greece are Christian. There is no synagogue, no mosque, no Sikh or Buddhist Temple. Had the town been regularly inviting non-resident religious leaders to come to town meetings to lead a prayer, and then limited their invitations to  only Christians, then this would have been an entirely different case. In a sense, as it had done in its previous legislative prayer case, the majority here relies heavily on the tradition that the town had established with regard to opening prayers. An Establishment Clause absolutist might argue that appeals to tradition aren't really appropriate in these situations, and perhaps in some sense they are correct, however it strikes me that part of deciding whether a particular government act counts as an "establishment" of religion includes the question of whether it reflects an effort to impose religious faith on people, or whether it is simply a recognition of the community the governmental body in question represents. In that sense, tradition arguably helps to establish that what we're looking at is more of the later rather than the former. In that case, it isn't necessarily barred by the Establishment Clause.
There are, quite obviously, limits to what the Court has ruled today. A legislative body that limited its prayers exclusively to one sect of Christianity, for example, would likely be crossing the line. Additionally, efforts to compel people attending the meeting to participate in the prayer in some manner would also be impermissible. As a general rule, though, the practice of opening a legislative session at any level is something that has been around since before the Constitution itself existed. The idea that the First Amendment was ever intended to ban those from taking place simply isn't supported by history.
I discussed this case back in November when the Supreme Court heard oral argument in the case. At that time, I noted that, while I generally am a very strong supporter of religious liberty and the Establishment Clause, there are some government practices related to religion that seem to be so minimal in their intrusiveness that they don't particularly concern me:
Some government practices that reference religion, I would argue, fall into a de minimis category where it's recognized that some practices are essentially so harmless that they ought to be permitted as a general rule so long as they don't become overtly sectarian. One example of that is the whole issue of the inclusion of the words "Under God" in the Pledge of Allegiance, or the appearance of "In God We Trust" on paper currency and coins. As a general rule, there doesn't seem to me to be anything inherently coercive about either practice. Nobody, including schoolchildren, is legally required to recite the Pledge, and nobody can be legitimately punished for refusing to do so, or for refusing to say "Under God" if they day. Similarly, while we all use coins and paper bills at some point, I doubt anyone pays much attention to what's written upon them beyond the denomination. Lawsuits challenging both of these practices have been routinely rejected by Federal Courts in no small part because of these facts.

As a general rule, I'd suggest that the idea of opening a legislative session with a prayer falls into this de minimis category in most cases. The prayers that open the House and Senate, for example, are usually fairly general to the point where they can't be said to be representative of any particular religious tradition beyond, of course, an appeal to a God of some kind. It's also worth noting, as the Supreme Court did in Marsh, that the practice of opening a legislative session with some kind of prayer has a long history in the United States. Indeed, at one point during the Convention of 1787 when delegates found themselves at an impasse over the drafting of the Constitution, it was Benjamin Franklin, who was, at best, a Deist, who suggested that the body engage in a short prayer. Additionally, the Supreme Court itself opens with the appeal that "God save the United States and this Honorable Court." Given that history, it seems difficult to argue that those who drafted and ratified the First Amendment intended to ban a practice they themselves engaged in both before and after the Bill of Rights were ratified. Of course, this whole issue becomes arguably problematic when you're talking about the fact that there are atheists and agnostics in the world, I'm not entirely convinced of the argument that the practice in and of itself is so inherently wrong that it ought to be prohibited for this reason alone. And I say this as someone who considers themselves to be an atheist.
Obviously, this is a policy argument rather than a legal one, but it mostly frames my reaction to today's decision. The idea of prayer opening a legislative session, or a session of the United States Supreme Court, doesn't exactly thrill me, but it really doesn't outrage me much either. Like "In God We Trust" on our money or "Under God" in the Pledge of Allegiance, it is one of those public displays of piety that really don't mean much of anything and which don't really impose much of a burden on non-believers. In a nation where the overwhelming majority of people believe in some kind of deity, and in which the overwhelming majority of that group are Christians of one form or another, it is something that is sort of to be expected. Obviously, there are limits to what governments can do to recognize these beliefs, and the Courts have issued many, many rulings on that subject over the years, most of them against the government practice in question. Allowing a short prayer before a town meetings begins business doesn't strike me as one of the egregious practices requiring a Constitutional bar.
Here's the opinion: