Is Prayer At The Start Of A Legislative Session Constitutional?
Do prayers opening legislative sessions violate the First Amendment? The Supreme Court is set to decide that issue.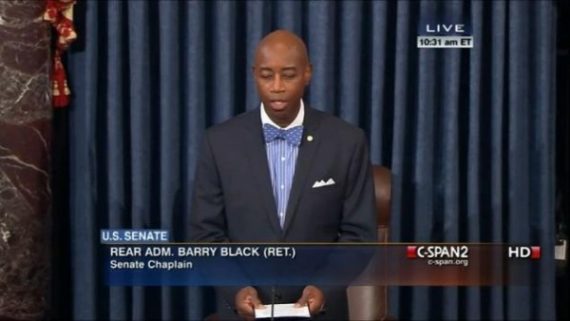 Lost amid the pre and post election coverage this week was news about the Supreme Court's consideration of one of the first cases dealing with the issue of the separation of church and state that has come before that body in several years. At issue was the practice of the Council of the small New York town of Greece of opening its meetings with a prayer. In and of itself that isn't unusual, of course. Both the House and the Senate follow the same practice and employ a Chaplain who typically performs that duty, typically assisted by religious officials from outside Congress who come to deliver an opening prayer as guests on a regular basis. The photo above, for example, is of Senate Chaplain Barry Black, previously a military chaplain who had risen to the rank of Admiral, who gained notoriety for some of his opening prayers during the Federal Government shutdown. Most if not all state legislatures follow that practice, and the Supreme Court has previously upheld both the practice of an opening prayer and the idea of a government employed chaplain who performs that duty. The issue in the case before the Court, though, is that the Town of Greece was exclusively opening its meetings with explicitly Christian prayers, to the exclusion of any other religious tradition:
WASHINGTON — The Supreme Court, which begins its sessions with an invocation to God, considered on Wednesday whether a town in upstate New York had crossed a constitutional line in opening its Town Board meetings with mostly Christian prayers. The justices seemed to find the issue unusually difficult, with several of them suggesting there was no satisfactory principled answer.

Justice Elena Kagan, asking the first question, wanted to know whether the Supreme Court could open its sessions with an explicitly Christian prayer from a minister, one acknowledging, for instance, "the saving sacrifice of Jesus Christ on the cross." Such prayers were offered before Town Board meetings in Greece, N.Y., near Rochester.

Thomas G. Hungar, a lawyer for the town, said a 1983 Supreme Court decision allowed Christian prayers in legislative settings, though perhaps not in judicial ones. The decision, Marsh v. Chambers, upheld the Nebraska Legislature's practice of opening its sessions with an invocation from a paid Presbyterian minister, saying such ceremonies were "deeply embedded in the history and tradition of this country."

Justice Anthony M. Kennedy seemed frustrated with Mr. Hungar's argument, which relied almost exclusively on the Marsh decision and the history it reflected. "The essence of the argument is that we've always done it this way, which has some force to it," Justice Kennedy said. "But it seems to me that your argument begins and ends there."

At the same time, Justice Kennedy appeared reluctant to have judges or other government officials decide what prayers are acceptable. Such a practice. he said, "involves the state very heavily in the censorship and the approval or disapproval of prayer."

Justice Antonin Scalia said prayers in a legislative setting were different from the hypothetical ones in court that Justice Kagan had asked about. "People who have religious beliefs," he said, "ought to be able to invoke the deity when they are acting as citizens and not as judges."

Douglas Laycock, representing two women who challenged the prayers in New York as a violation of the First Amendment's ban on government establishment of religion, said there were important differences between the Nebraska case and the new one. The prayers in New York were often explicitly sectarian, he said, and town residents were forced to listen to them in order to participate in local government.

Justice Samuel A. Alito Jr. asked Mr. Laycock for an example of a prayer that would be acceptable to people of all faiths.

Mr. Laycock said "prayers to the Almighty" and "prayers to the Creator" would be all right

"What about devil worshipers?" Justice Scalia asked.

Mr. Laycock said that "if devil worshipers believe the devil is the almighty, they might be O.K."

Justice Kagan said the wide-ranging discussion, which included questions about polytheism and atheism, missed the key point. "Isn't the question mostly here in most communities," she said, "whether the kind of language that I began with, which refers repeatedly to Jesus Christ, which is language that is accepted and admired and incredibly important to the majority members of a community, but is not accepted by a minority, whether that language will be allowed in a public town session like this one?"

But Chief Justice John G. Roberts Jr., like several of the justices, seemed wary of the government distinguishing acceptable prayers from unacceptable ones. "Who was supposed to make these determinations?" he asked.

Mr. Laycock said town officials could simply tell those offering prayers to avoid discussing "points on which believers are known to disagree."

Ian H. Gershengorn, a deputy solicitor general, argued on behalf of the federal government in support of the town, saying the prayers there were permitted by "our nation's long history of opening legislative sessions not only with a prayer, but a prayer given in the prayer giver's own religious idiom."

That position seemed to trouble Justice Kagan. A resident attending a town meeting was, she said, "forced to identify whether she believes in the things that most of the people in the room believe in."

Mr. Gershengorn acknowledged that "the strongest argument for the other side" was "that there is an element of coercion."
Lyle Denniston's recap is particularly insightful:
[T]he fate of a thirty-year-old precedent, Marsh v. Chambers, was very much at issue in the one-hour hearing Wednesday on Town of Greece v. Galloway(docket 12-696), but its reaffirmation could be the only way to get together a majority after the Justices in coming weeks weigh a dizzying array of alternatives.  If there are any alternatives that were not explored Tuesday, they probably would be too strange for anyone to take seriously.

This case brought the latest jousting among the Justices over the constitutional puzzle that originated in America before the Founding:  how much separation should there be between government and religion?  This time, the puzzle envelops a practice by a New York community's town governing board of inviting chaplains-for-a-day to say prayers (or something equivalent) to start the monthly meetings.

Marsh v. Chambers is at the center of that puzzle, because it upheld prayers before meetings of a state legislature, and it did so just because the Court said it could trace the practice back to the very first Congress.  But lower courts have found reason to wonder whether Marshshould still be followed, and that is actually what the Court seemed to be pondering Wednesday with three lawyers — one for the suburban town of Greece, N.Y., one for the federal government, and one for two townspeople who protested the prayer ritual.

The town's lawyer, Washington attorney Thomas G. Hungar, opened by complaining that a federal appeals court had stretched the Marsh precedent out of shape.  Hungar's legal briefs had made clear that the town's legal strategy is really dependent upon Marsh's continuing force.

He had uttered only a few words before Justice Elena Kagan — in a question that actually would represent the hypothetical kind that would dominate the whole session — wondered about the constitutionality if the Supreme Court were to have opened this session with a practice very much like that routinely carried out by the Greece Town Board, complete with direct summonses to a Christian God and to Jesus Christ.

Hungar's answer was that he didn't think that would be permissible.  A moment later, Justice Kennedy somewhat impatiently asked why Hungar had conceded the point so quickly.  Why would it violate the Constitution, Kennedy asked.  The lawyer said there was no comparable history for such a ritual at the Court.

Is the practice at issue in Marsh "just a historical aberration?" Kennedy asked in a quick follow-up.  "What's the source of the distinction?"  Chief Justice John G. Roberts, Jr., soon asked how far the historical argument would extend, and how the Court would know when to use that as the test.  Other Justices then added new queries about using historical analysis.

And, just a few minutes later, Kennedy suggested that he was not impressed with an argument that "we've always done it," that the argument about government prayer "begins and ends" with whether it was validated by history alone.

By that point, it was strongly tempting to conclude that the Marsh approach was not going to be the judge of the Greece citizen prayers.  But, if not, to what would the Court then turn?  As the Justices quickly discovered, from their own questions from then on, just asking for an alternative is far different from defining one.
Generally, I am a strong proponent of both religious liberty and the idea that the government should not be actively promoting religious faith in a manner that is even potentially coercive. That's why I think the Court has generally gotten most of its "separation of church and state" precedent correct over the years. It's clearly improper for schools to be requiring students to engage in prayer of any kind, for example, or to be using school time to teach what is essentially a religious doctrine such as the idea of so-called "intelligent design." Additionally, explicitly religious holiday displays should be avoided, because it conveys the impression that the government body in question is endorsing the religious beliefs in question. At the same time, one must be respectful of the religious liberty side of the equation and ensure that restriction on state advocacy of religious faith don't transform themselves into restrictions on the ability of students and teachers to practice their faith as they see it. That's why independent, student-led prayers outside of the context of official school functions ought to be permitted unless they are somehow disruptive to the educational mission of the school. Similarly, I really don't see anything wrong with non-religious holiday displays such as Christmas trees and representations of Santa Claus on government property, largely because that part of Christmas is as much rooted in non-religious traditions as it is in the annual celebration of the birth of Jesus Christ. The overall point is that there is a line that the government cannot cross, but the problem is that figuring out where that line is can often be difficult, as the Court found out yesterday.
Some government practices that reference religion, I would argue, fall into a de minimis category where it's recognized that some practices are essentially so harmless that they ought to be permitted as a general rule so long as they don't become overtly sectarian. One example of that is the whole issue of the inclusion of the words "Under God" in the Pledge of Allegiance, or the appearance of "In God We Trust" on paper currency and coins. As a general rule, there doesn't seem to me to be anything inherently coercive about either practice. Nobody, including schoolchildren, is legally required to recite the Pledge, and nobody can be legitimately punished for refusing to do so, or for refusing to say "Under God" if they day. Similarly, while we all use coins and paper bills at some point, I doubt anyone pays much attention to what's written upon them beyond the denomination. Lawsuits challenging both of these practices have been routinely rejected by Federal Courts in no small part because of these facts.
As a general rule, I'd suggest that the idea of opening a legislative session with a prayer falls into this de minimis category in most cases. The prayers that open the House and Senate, for example, are usually fairly general to the point where they can't be said to be representative of any particular religious tradition beyond, of course, an appeal to a God of some kind. It's also worth noting, as the Supreme Court did in Marsh, that the practice of opening a legislative session with some kind of prayer has a long history in the United States. Indeed, at one point during the Convention of 1787 when delegates found themselves at an impasse over the drafting of the Constitution, it was Benjamin Franklin, who was, at best, a Deist, who suggested that the body engage in a short prayer. Additionally, the Supreme Court itself opens with the appeal that "God save the United States and this Honorable Court." Given that history, it seems difficult to argue that those who drafted and ratified the First Amendment intended to ban a practice they themselves engaged in both before and after the Bill of Rights were ratified. Of course, this whole issue becomes arguably problematic when you're talking about the fact that there are atheists and agnostics in the world, I'm not entirely convinced of the argument that the practice in and of itself is so inherently wrong that it ought to be prohibited for this reason alone. And I say this as someone who considers themselves to be an atheist.
The potential problems with opening prayers, of course, comes when they do become strongly religious or when they only seem to represent one specific religious tradition, as is the situation in this particular case. If a legislative body, for example, is only inviting prayers from Protestant ministers to the exclusion of Catholics, or from Christian ministers generally to the exclusion of Jewish, Muslim, and other traditions that are likely a part of the community, then there would seem to be an explicit promotion of a particular religious faith that violates the First Amendment. How you articulate that rule, though, isn't easy. What if this is a community that doesn't really have a Muslim, Hindu, or Buddhist population? Are they still required to find someone to come in and give an opening prayer anyway? What if someone representing obviously representing a non-serious religion claims they are being discriminated against because they haven't been invited? How to draw the lines here isn't easy, and may have to be done on a case-by-case basis.
It will be interesting to see how the Court deals with this case.
Here's the transcript yesterday's oral argument: