Men, Work, and Self-Worth
Most of us define ourselves largely through our jobs. That's increasingly a problem.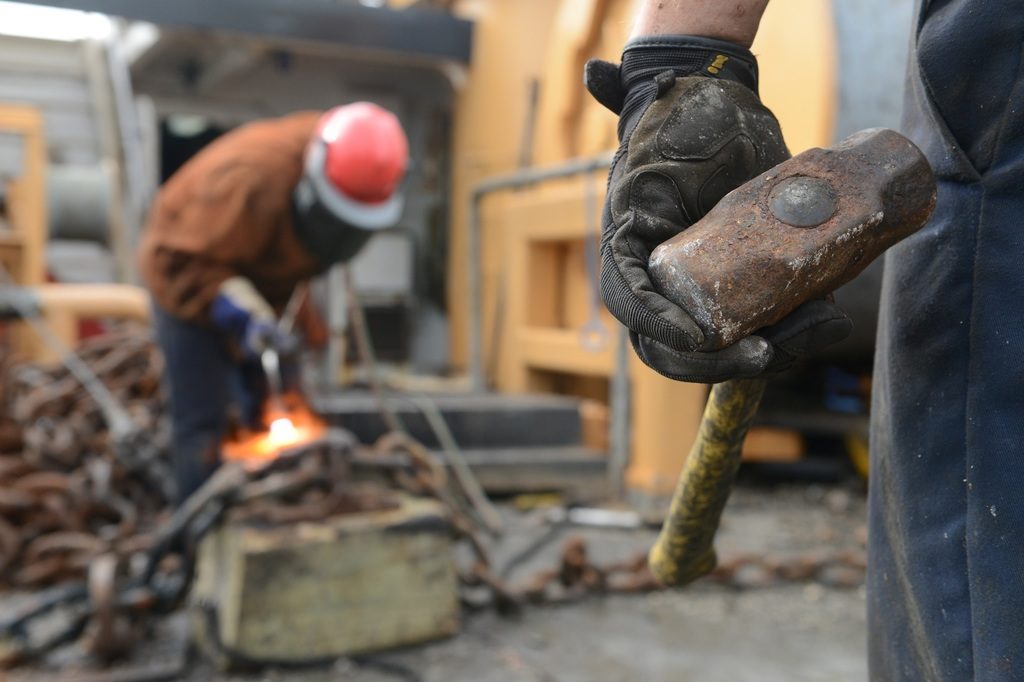 The discussion around yesterday's post "EU Elections Show Continued Voter Frustrations" quickly turned to the societal motivations driving the transatlantic rejection of the postwar consensus by so many. OTB regular Michael Reynolds observed,
This is not about hard times by any rational measurement, it's all about relative social standing and inflated expectations. Men are losing position relative to women. Who votes for Trump? Men. Whites are losing position relative to brown and black people. Who votes for Trump? White people. The underlying problem is that relative social standing is increasingly determined by intelligence and adaptability, factors as baked-in as gender and race. And who votes for Trump? The poorly educated.


Male, white and poorly-educated, three groups doing fantastically well by objective measurements – healthier, wealthier, safer – who are enraged because they aren't advancing in relative terms, or see themselves as slipping, again, in purely relative terms. And why do the male, the white and the uneducated see themselves as in decline? Because they've chosen to define themselves by their sex and their race, irrational criteria.
That's right. But there's also more to it.
While defining themselves by sex and race are objectively choices, it's also deeply baked into the culture—particularly outside the major metropolitan areas, university towns, and the like.
A Sunday feature by Sabrina Tavernise titled "With His Job Gone, an Autoworker Wonders, 'What Am I as a Man?'" gets to that quite nicely.
He has done everything he could to avoid thinking about the fact that, after 25 years at the General Motors plant in Lordstown [Ohio], he was losing the only real job he ever had.


For Mr. Marsh the plant is personal, but in the three months since G.M. stopped making cars there, it has become political. A parade of presidential hopefuls has come through, using the plant to make the point that American capitalism no longer works for ordinary people. President Trump has taken an interest too, berating both G.M. and the union on Twitter, and then suddenly announcing brightly in early May that the plant would be sold to a small company that few people in Lordstown had ever heard of.


The news caused a stir. TV trucks showed up at the union hall. But after a few days it became clear to Mr. Marsh that the buyer — which had no experience in mass vehicle production and quarterly revenues that were less than the price of one high-end sports car — was probably not a solution.

"To me, it's another flagrant sign that these people, they really don't have a clue," Mr. Marsh said of the country's political class. "They are so out of touch with reality and real people. All of them."


He made no exception for Mr. Trump. Mr. Marsh voted for him, as did a majority of voters in Trumbull County, a small square on the map of northeast Ohio that hadn't voted for a Republican for president since 1972.


The path to the White House next year runs through places like Lordstown, and Mr. Marsh and many of his neighbors, far from knowing how they will vote, say the G.M. plant shutdown has only left them more at sea politically. They tried voting for Barack Obama, then Mr. Trump. Now they don't know where to turn.
Out-of-touch or not, I presume that our recent Presidents cared at least in the abstract about these jobs. All of them in my memory have talked about the need to save manufacturing jobs—especially in the auto industry. Ronald Reagan slapped tariffs on Japanese imports, inadvertently spawning the rise of the Japanese luxury brand spin-offs like Lexus, Acura, and Infiniti as well as driving those companies to open plants in the United States. George W. Bush and Barack Obama both rammed through bailouts of Detroit despite considerable opposition within their own parties. Even Trump is railing about American companies sending jobs overseas and praising those who, even temporarily, reverse the trend.
But Marsh is right: the trend has seemed inexorable. The great-paying jobs with terrific benefits are going away, albeit mostly in favor of robots rather than offshoring. Even though a lot of foreign manufacturers have built factories in the United States over the last three decades, whether to escape tariffs or otherwise, it hasn't been enough. And most of the new jobs are in right-to-work states with strong anti-union cultures.
For three generations of Marsh men, the G.M. plant was a golden ticket to a middle-class life in a part of the country where those were not easy to come by. Then, when Rick Marsh got the biggest test of his life — the birth of his beloved daughter, Abigail, and her diagnosis of cerebral palsy at the age of one — his job became a central part of how he saw himself. He was her provider, her protector. That was his worth in the world.


So when the last car rolled off the Lordstown assembly line around 2:45 p.m. on Wednesday, March 6, it was like a heart stopping. He had lost the thing that made him who he was.


He knows he is looking for one thing from the country's political system: a president who will save the plant that has meant everything to his family.


"I really don't care if it's a Democrat, Republican, male, female, black, white, I don't care," he said.

This wasn't supposed to happen. Mr. Marsh thought he would retire from the Lordstown plant, just like his father. Richard Marsh Sr. started in 1967, the year after the plant opened. He came straight out of the Army, inspecting headlights for $1.92 an hour. When he got his first paycheck, $100, "I thought I was rich," the elder Marsh said.

The job lifted the Marsh family from apartment to trailer to house on a pretty street lined with cornfields and long, smooth driveways. Rick grew up there, in a back bedroom with heavy-metal posters on the walls. His grades weren't good, but he wasn't worried. When a history teacher told him he'd be stuck flipping burgers for the rest of his life, Rick told him he knew where he'd be working. When his father — at the time an elected union official — got him a job at the plant, it came with two pieces of advice.


"Get to work on time, and don't embarrass me," the younger Marsh recalled his father saying.


That was 1993, and the plant was its own little city. It employed around 9,000 people. Its giant parking lot was packed. Workers grilled sausages in the break room. He grew up with his colleagues, going to bars, attending weddings, coaching their children in softball, taking up collections when someone's parent died.


The truth was, he never really liked the work. He found it boring and physically demanding. He worked in the paint shop, wearing two sets of gloves, big plastic boots and a full body apron, while he wielded a sanding tool that smoothed the primer on the surface of the cars. Every night he came home drenched and exhausted.


But he was grateful for it. With his G.M. paychecks, he built a big house in the woods just half a mile from his parents. He paid for his wedding in full and bought his new wife, Lindsay Marsh, a blue Chevy TrailBlazer. And when Abby came along — his beautiful girl, his floppy baby — his financial security powered the family through the six years of therapy it took to teach her how to walk.

In those early years, Mr. Marsh didn't care about politics. He voted for Democrats without really thinking about it. It was what his family had always done, more out of union loyalty than ideology.
What follows is a long discussion of the decline of these jobs. It's a well-known story and only tangential to the point here. What I'm interested in is the cultural impact:
Nafta had given him a new political awareness: Republicans may have started it, but it was Democrats who sealed the deal.


"That's when I realized these parties were not so different," he said. "They are all there to make money on our backs."


Still, he kept voting for Democrats, including twice for Barack Obama. He gives him credit for the bailout of G.M. The company would have died without that help. But it made him angry that a financial crisis that started with banks ended with autoworkers giving up raises and the right to strike, which seemed to him the only real leverage they still had. (They got it back later.)


Mr. Marsh had never had a definitive moment with politics, a sudden clarity in which he clicked with a candidate. That changed in 2016. He remembers sitting at home watching a debate between Mr. Trump and Hillary Clinton. He was expecting suit-and-tie civility. Instead, he got a circus. Mr. Trump was like a boxer who kept landing punches. It was electrifying.


"I said, 'Wow, I've never seen anything like this,'" he said.


He knew what it looked like. Mr. Trump was kind of crazy. But he liked the fact that he didn't back down. Then Mr. Trump brought up Nafta, and it was like he was speaking directly to Mr. Marsh. Nothing else mattered — not Russia, not porn stars, not divorces.


"Nobody had our backs in office, not Democrats or Republicans," he said. "I'm tired of being sugarcoated and being robbed in the process."


He voted for Mr. Trump, and so did his father, along with just under half the workers represented by the union.


He was in the plant on election night. He remembers being in the break room with the TV off, and a woman came in crying. Trump had pulled ahead. The reaction would intensify over the following months. He found it baffling. The only explanation he could think of was generational: millennials freaking out after not getting their way.
Marsh may well be objectively wrong about the differences in policy preferences of the two major parties. But it's how he and so many feel. It's why a lot of people who voted for Obama twice turned around and voted for Trump, his complete opposite. Again, it's objectively bizarre. But it makes sense viscerally: We've tried normal. We're ready to try crazy.
What has happened with the plant has made him see things differently. He never used to care that G.M.'s chief executive, Mary Barra, made millions of dollars every year. Now he thinks about it. Companies have more and more power. It makes him feel small. Like the time they were told they'd be laid off, and everybody just went right back to work.


"It felt like we were begging," he said. "It's humiliating, as a man, as a person, as a worker."


He understands this to be a political problem. But what is the solution?

He doesn't blame Mr. Trump for the problems at the plant. They are older and bigger than him. Yes, he made promises during the campaign, telling people not to sell their houses because factory jobs were coming back. But politicians make promises. That's what they do.


The real question is whether anything is changing, and so far the answer is no. And he finds that Mr. Trump is "getting harder and harder to defend."
That Trump's bizarre trade war has objectively made things worse for people like Marsh of course matters. But he doesn't get the blame because, from their perspective, the normal politicians before him didn't do any better. And Trump at least seems to be trying something.
A couple years back, I got into a Twitter debate with Dan Drezner and some others over a meme was going around. Trump and others had been making a big fuss over the loss of coal mining jobs and a graphic was going around showing that many more people were employed by Whole Foods, Dollar General, and Walmart than by the coal mining industry.
I pointed out that, "The problem with this meme is that, unlike most service industry jobs, coal mining pays a middle class wage."
Drezner replied, correctly, that, "The problem with your rejoinder is that there are a lot of middle-class jobs listed here that don't seem to get the same policy attention."
First on his list? Car washes.
My response: "Contrast the 'we dug coal together' thread in 'Justified' with 'working at the car wash' as Walter White's humiliation in 'Breaking Bad.'"
Coal mining is objectively a shitty job. It's dangerous, repetitious, life-shortening work. But it not only paid well but it gave men—and it was mostly men—a sense of pride that working at Walmart or a car wash couldn't provide.
Which gets us back to Reynolds' observations and my thesis. Yes, there's something toxic about a masculinity that defines a man's self-worth in how well he's doing compared to women. But it's more complex than that. Marsh comes across as reasonably progressive culturally. He's not measuring himself against his wife but against his—and his father's before him—ability to provide for his family. He feels like a failure because he's not meeting that expectation. And therefore less of a man.
March painted cars for a living. It was a shitty job in a lot of ways and he knew it. It was boring as hell. It made him ache. But it allowed him to provide. To hold his head high. And that's gone now.
Unlike a lot of folks in rural America, he's at least willing to move to get another job. But his daughter's special needs makes that very difficult. And there just aren't many more of these jobs left.
They've not coming back. And I'm not sure they should.
I'm enough of a capitalist to think that jobs that can be done more efficiently by robots really ought to be done by robots. It means lower costs for consumers and, over time, the fewer people doing mind-numbing, back-breaking work, the better.
But, as a society, we've got to figure out how to replace these jobs.
Part of that is economic and political. We need to make sure people can maintain a decent lifestyle for their families. And that certainly includes being secure in the knowledge that the healthcare needs of their children are going to be met. And the ability to retire in reasonable comfort when they're too old to continue working.
A big part of it, though, is also cultural and psychic. Men like Marsh need to feel useful and fulfilled. For most men, that has for generations come from their job and the status it brought. Maybe it needs to come from something other than work. But it needs to come from somewhere.