EU Elections Show Continued Voter Frustrations
The transatlantic rejection of elite consensus that began with Brexit continues.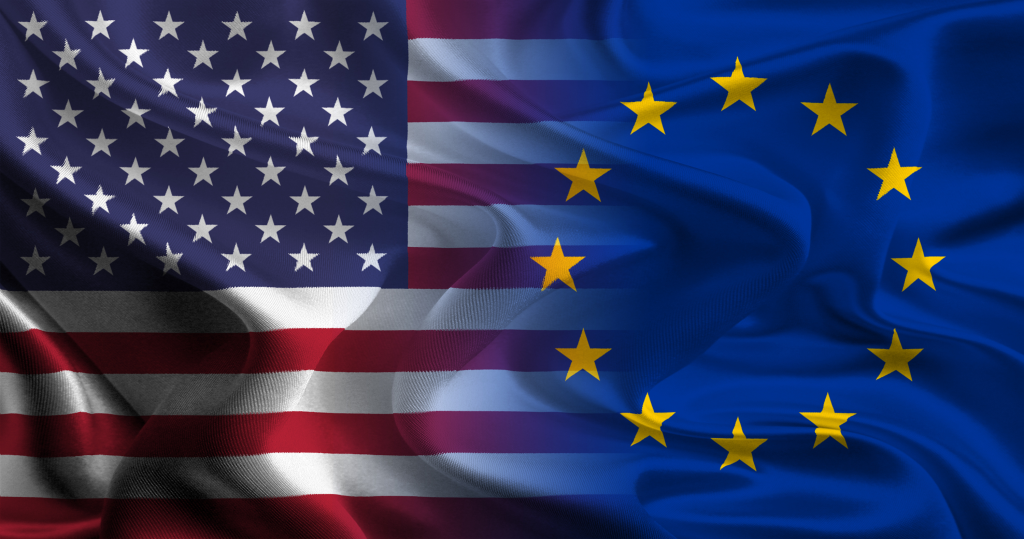 The people of Europe have signaled their disapproval of centrist politics yet again, giving record numbers of votes to both far-right and far-left parties.
Europeans dealt a blow to the continent's traditional center-left and center-right politicians in elections for the European Parliament on Sunday, depriving them of a majority for the first time in favor of a fractured slate of pro-E.U. lawmakers, with small gains for the far-right.


Voters turned out in droves — the highest participation in 25 years — for the opportunity to take a shot at the parties that have steered Europe's consensus-driven policies for decades.


Far-right leaders were on track for their best Europe-wide result ever, but it was only an incremental gain over their result from 2014, suggesting that despite years of tumult, voters might not be ready to give up on the European Union, or to embrace leaders who want to weaken it from within. Voters boosted Greens and other pro-European Union leftists, showing that voters who abandoned traditional parties were searching for new blood, but not a full-scale political revolution.

The vote followed a tumultuous period for the 28-nation, border-erasing European Union. In the five years since the last elections for European Parliament, the continent has been rocked by repeated terrorist attacks, a refugee crisis, Britain's decision to leave the bloc and the lingering pain of the global financial crisis.


In France, far-right leader Marine Le Pen bested President Emmanuel Macron's party in a repeat of her 2014 win.


She delighted in what she called "the erasure of the old parties" and said the vote "confirms the new divide between nationalism and globalization."

But her 23.5 percent vote share was lower than it was in 2014, a warning sign that she might have hit a ceiling despite months of national protests against Macron and his pro-business policies.


With more than 400 million eligible voters, the European Parliament elections are the second-largest exercise in democracy in the world, behind India's national elections. After decades of slipping participation, turnout this year was sharply higher — about 51 percent, up from 42.6 in 2014. The spike indicated new passions — and new anxieties.

The mixed results echoed across Europe, where a rollicking brigade of far-right campaigners built momentum in opinion polls but delivered only modest results. In the Netherlands, one far-right party supplanted another, with no overall gain. In Germany, the anti-immigration Alternative for Germany (AfD) party won a smaller share than it did in national elections in 2017.


Across the continent, euroskeptic forces captured about 24 percent of the legislature's 751 seats, initial results indicated, up only slightly from 2014, when they captured 22 percent.


The biggest wellspring of far-right support appeared to be Italy, where Interior Minister Matteo Salvini's League party vaulted into first place after a year in which he campaigned across the country on a fierce platform of turning back migrants and weakening the European Union.

But his plans for a European-wide raid of fellow euroskeptics will now have to be scaled back. Most of his potential partners made small gains, if any. They were never expected to take a majority of the parliament; now it's unlikely they'll be strong enough to be a blocking minority.


Instead, Greens and other pro-environment, socially liberal parties might have been the surprise of the election, surging to second or third place in France, Germany, Finland and elsewhere.


The result is a European Parliament in which the centrist parties failed to reach a majority for the first time, and will have to draw support from lawmakers with less orthodox views of how to run Europe. The centrists dropped from 53 percent of the parliament, to 43.


In Germany, where the Greens surged to second place, according to initial results, party co-leader Robert Habeck told broadcaster ARD that concern for the planet's future had "played a dominant role" in the campaign, and that voters were punishing the government for its "hesitancy" in confronting the issue.

The legislature has a voice in some of the biggest issues facing the European Union. It approves senior E.U. officials, signs off on Europe's massive budget and delves into gritty lawmaking, as in the sweeping data privacy rules that went into effect last year and whose reach extends far beyond European borders.

—Washington Post, "European Parliament elections: Voters deny traditional centrists a majority, boost euroskeptics and Greens"
This continues a trend that began with the poll-defying win for the Leave side in the June 2016 Brexit vote and continued with Donald Trump's shocking victory in the US Presidential election that November. While some of this is manifesting as nationalist backlash against globalization—often rising to the level of xenophobia, anti-Semitism, and outright racism—it's mostly frustration with an elite governing consensus.
The frustrations are understandable. The consensus, which I fully embraced, that free trade was an unalloyed good failed a large number of people. Ditto the inexorable push toward eliminating the need for low-skilled workers—at least at a wage that could support a middle-class Western lifestyle. Ultimately, it's eliminated the social mobility that Americans, especially, long took as our birthright.
A new commenter at the site, Walter Adams, expressed this frustration yesterday:
I voted for Trump and will do so again, which of course makes me xenophobic, racist, low IQ, gun toting, knuckle dragging, inarticulate, misogynistic, and – – – well just fill in the rest, I've forgotten the full screed.


If you can't imagine how anyone could vote for a vile, evil – – again, fill in the blanks, I will attempt to explain it in terms suitable to the meanest understanding;


The full depth of the absolute loathing the "Ruling Class" – the eternal family clans of federal "Salaried sons-o-bitches" who move from one post, one regime to the next, is held by the sweating class in this country has never been fully articulated by anyone. They never miss a payday; we never pocket a dime that isn't covered by our own sweat.


"Trump is too crude and hasn't the right tone!"

He's a junk yard dog who eats rats. May his tribe increase.
I can't begin to unpack all of that. But there's a strong resentment against us salaried sons-o-bitches and it's bipartisan. While the Tea Party and Occupy Wall Street were very different movements, they had many of the same enemies. Ditto Donald Trump and Bernie Sanders, who have emerged as the unlikely political leaders of what remains of those factions.
Alas, while a growing segment of the population here and in Europe have rejected the policies that have prevailed throughout most of the postwar period, they don't agree on what should replace it. Steven Erlanger:
[T]he anti-E.U. forces remain disparate and divided, and may have trouble wielding significant power.

Instead, the biggest impact was likely to be felt exactly where the far-right and populist leaders most wanted — in their home countries, particularly in France and Italy, where they are threatening to further disrupt traditional party systems and angling to gain power. For months, they have promoted these elections as a litmus test of their popularity.

"The electorate is crying out for change and is therefore volatile — preferring to back new insurgents rather than the status quo parties that have been around for decades," said Mark Leonard, director of the European Council on Foreign Relations. "The fear of a far-right takeover of the European Parliament has mobilized Europe's pro-European forces, resulting in a huge surge in turnout and in support for Green and Liberal parties throughout Europe."

[…]

Mr. Leonard, the European Council on Foreign Relations director, said that "contrary to predictions, there has been no continentwide shift to far-right or anti-European parties."


But the decline in vote share for what he called "status quo parties" is "a warning that business as usual is not an option," he said. "The composition of the new Parliament will be weighed in favor of pro-Europeans, but it does not mean that they have a mandate for 'more of the same."'

[…]

While the varying populists will try to vote as a bloc, they are not expected to be able to form a single grouping, as there are fervent differences among them on issues like Russia, regional aid and the distribution of migrants throughout the bloc.

The one thing the varying populists do agree on is disrupting the system, and they are bound to make consensus more difficult on future European budgets and legislation. This European Parliament will simply be messier and harder to control than before.


Britain was a special case, given its plans to leave the European Union. The election was seen more as a judgment on the two main parties — the governing Conservatives and the opposition Labour — rather than any continental issue.


The results looked to be a disaster for both main parties, with a resounding victory for the new Brexit Party of Nigel Farage. But the impact will be more on British domestic politics than European politics.

—New York Times, "European Election Results Show Growing Split Over Union's Future"
As we saw with Brexit, "Not this!" is a strong sentiment but not a governing strategy. It's one thing to agree that the status quo isn't serving a substantial segment of society very well. It's quite another to agree on a substitute policy. And, of course, that's all the more true when there are multiple parties, each with radically different mandates from their constituencies, trying to come to agreement.