Trump So Calm. Hasn't Lost It.
It's time to invoke the 25th Amendment, folks.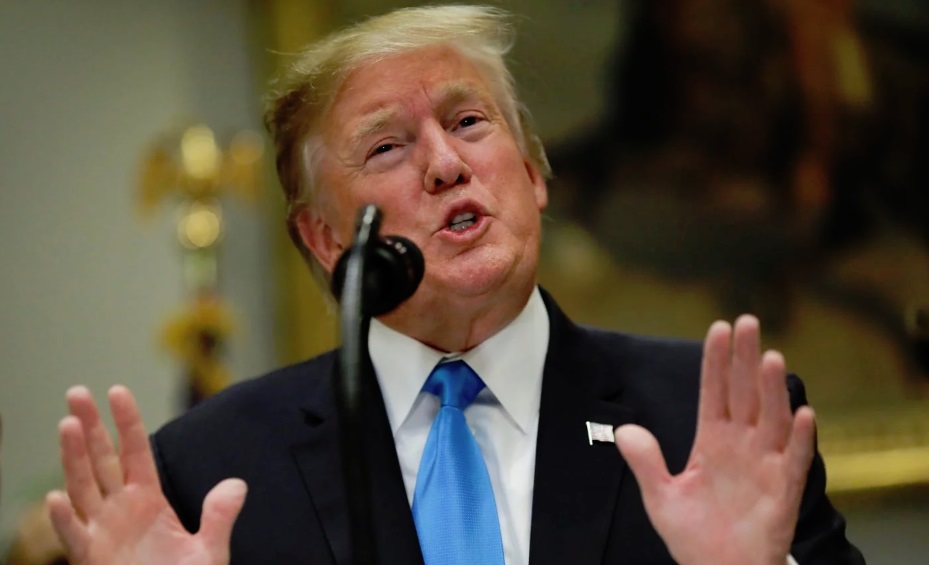 There's simply no escaping the obvious at this point: the President of the United States is deranged.
Accused of having a temper tantrum at the White House the day before, President Donald Trump did what anyone trying to prove their serenity would do: He put together a press conference during which he asked five aides to attest to his calmness.


On Thursday afternoon, Trump hosted a group of American farmers at the White House to tout his administration's $16 billion aid plan for farmers afflicted by his ongoing trade war. But after singing their praises and promising relief to come, he quickly turned to the matter most clearly on his mind—reports that he'd lost his cool at a meeting with House Speaker Nancy Pelosi the day before.


"Because I know they will always say that [I was angry]… I was so calm… I walked into the Cabinet Room, you had the group, Cryin' Chuck, Crazy Nancy… She's lost it," the president insisted on Thursday. For good measure, he later reiterated that he was an "extremely stable genius."

Over the course of several minutes, the president asked White House counselor Kellyanne Conway, White House Press Secretary Sarah Huckabee Sanders, top economic adviser Larry Kudlow, and two top communications hands—Mercedes Schlapp and Hogan Gidley—to relay to the gathered press that he was the picture of tranquility when he met Democratic congressional leaders day before.


"Very calm—I've seen both and this was definitely not angry or ranting [during Wednesday's meeting]," Sanders said, right after Trump summoned her before the cameras. "Very calm, and straightforward, and clear that we have to actually get to work and do good things for the American people."

The showcase was vintage Trump: the policy push of the day overwhelmed by internal insecurities and grievances with press coverage bursting into public view. And it underscored the degree to which his warfare with Nancy Pelosi has gone from political to psychological.

—The Daily Beast, "Trump Devotes Press Conference to Instructing Aides to Explain That He's Definitely Not Mad"
These are not the actions of an extremely stable man. The projection is just stunning. Pelosi is besting him in a political battle so she's the crazy one. He's even retweeting demonstrably faked videos of her to damage her reputation.
And while Pelosi has been the main target of late, she's not alone.
President Trump on Thursday lashed out at Rex Tillerson after the former secretary of state reportedly told members of the House Foreign Affairs Committee that Russian President Vladimir Putin out-prepared Trump for their first meeting in Germany.


Trump responded by calling Tillerson incompetent.


"Rex Tillerson, a man who is 'dumb as a rock' and totally ill prepared and ill equipped to be Secretary of State, made up a story (he got fired) that I was out-prepared by Vladimir Putin at a meeting in Hamburg, Germany," he tweeted. "I don't think Putin would agree. Look how the U.S. is doing!"


If Tillerson was "totally ill prepared and ill equipped" to be the nation's top diplomat, Trump himself would be to blame: He appointed the former ExxonMobil CEO to be secretary of state shortly after his inauguration after interviewing multiple candidates, including now-Sen. Mitt Romney. Tillerson was confirmed by the Senate eight days later.

—YahooNews, "Trump declares man he appointed secretary of state 'totally ill prepared and ill equipped' for the job"
Tillerson was an abysmal Secretary of State. But he's neither dumb nor incompetent. But you know who is totally ill-prepared and ill-equipped for their job?
This is sad an dangerous. It's why the 25th Amendment provides procedures for ousting a President who's demonstrably not up to the job. Instead of embarrassing themselves in public praising him, his top advisors need to seriously consider pulling the plug.