ExxonMobil CEO Rex TIllerson Reportedly Trump's Pick For Secretary Of State
The head of the biggest energy company in the world is reportedly Donald Trump's pick for Secretary of State.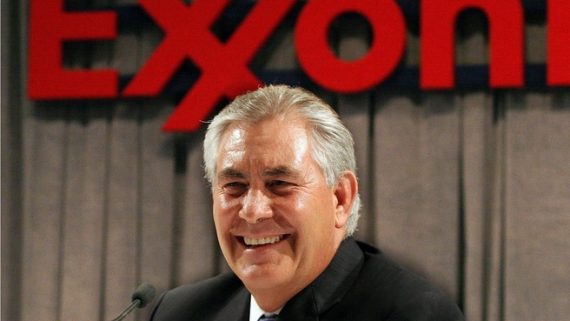 A person whose name only entered the mix as a potential Secretary of State in the past several weeks has apparently skyrocketed to the top, and it's raising more concerns about how the coming Trump Administration intends to handle the challenges posed by a resurgent and interventionist Russia:
President-elect Donald Trump is likely to select Rex Tillerson, the longtime CEO of ExxonMobil with deep ties to Russian President Vladimir Putin, as his secretary of state, according to two people close to the presidential transition team.

Trump has engaged in an unusually public, weeks-long search that divided his top advisers to find the nation's next top diplomat, meeting twice with former critic Mitt Romney and a host of other contenders, including Sen. Bob Corker, the chairman of the Senate Foreign Relations Committee.

Trump hailed Tillerson as a "world-class player" on Saturday and praised him as a skillful manager of one of the biggest companies on the global stage in a Fox News interview excerpt that will air in full on Sunday.

"To me, a great advantage is he knows many of the players and he knows them well. He does massive deals in Russia, he does massive deals for the company — not for himself — for the company," Trump said.

One person close to the transition said Trump was now "certain" to select Tillerson while others cautioned that he is only the leading candidate. "Not done deal," insisted another senior transition source. Other finalists have included Romney, Corker, retired Adm. James Stavridis, who met with Trump this week, and John Bolton, who two sources said was likelier to end up as the No. 2 official at State.

Trump's transition team pushed back publicly on the initial report Saturday, from NBC News, that Trump had fully settled on Tillerson. "No announcements on Secretary of State until next week at the earliest," tweeted Jason Miller, the communications director for the transition.

Earlier this month, however, Miller had tweeted that Trump had not made a decision on selecting retired Gen. James Mattis as his defense secretary after news reports that he had. Trump announced Mattis as his pick only hours later.

(…)

The Texas-born Tillerson, 64, has spent his entire professional life at Exxon, joining the company as an engineer in 1975 and becoming its chairman and CEO in 2006.

Tillerson's days at Exxon were coming to an end whether or not he scored the secretary of state job. He'll reach Exxon's mandatory retirement age of 65 in March, and is expected to be replaced by Exxon veteran Darren Woods. Tillerson was paid $27.3 million last year and owns shares in Exxon worth more than $160 million.
Tillerson's name has been in the mix of potential name for about the past two weeks but, unlike potential candidates such as Romney, Corker, and Giuliani, there was no indication that he had met personally with Trump so it was hard to judge if the addition of his name to the mix was an indication that he was a serious candidate or whether it was intended as a diversion from where the President-Elect was actually headed, a common tactic in processes such like these. In the meantime, we've seen Trump meet with Corker at least once, and with Romney twice, and the suggestion, now withdrawn, that he had settled on Giuliani as his Secretary of State. The Trump transition team, meanwhile, is saying that no choice has been made and that there is currently no immediate plan to announce a choice in the near future, although that could obviously change on a moments notice. In any case, one presumes that we'll have an announcement about a nominee sometime before the Christmas holiday.
As for Tillerson himself, I must admit to not really knowing enough about him to comment sufficiently. His position as CEO of a major energy company obviously means that he has experience dealing with some of the biggest issues that would face a Secretary of State in the coming years, albeit from the point of view of a businessman rather than someone concerned with national security, and that he likely has a very good working knowledge of many of the world's hotspots, including the Middle East, Russia, and China's moves to expand its territory, and it's oil and gas claims, in the South China Sea. From that perspective, Tillerson could very well be well-suited to the position of Secretary of State notwithstanding the lack of real foreign policy experience, and lord knows that our recent history of appointing "experts" to the position, dating back to at least 2001, has produced less than ideal results. In Tillerson's case, though, that business experience could prove to be problematic:
Tillerson's emergence as Trump's likely choice comes less than 24 hours after a bombshell report that the assessment of the Central Intelligence Agency was that Russia intervened in the 2016 American presidential election by hacking into the emails of the Democratic National Committee, and one of Clinton's top advisers, in an effort to boost Trump.

Trump's transition team dismissed that report in an unusually caustic prepared statement: "These are the same people that said Saddam Hussein had weapons of mass destruction."

But Democratic and Republican lawmakers alike expressed concern. "Russia is trying to break the back of democracies — and democratic movements — all over the world," tweeted Sen. Lindsey Graham, (R-S.C.) on Saturday.

As head of ExxonMobil, the biggest U.S. oil producer and one of the largest corporations in the world, Tillerson oversees a sprawling operation that stretches across dozens of countries, which could raise questions about whether he can separate himself from the business interests of his company.

(…)

Tillerson ties to Russia and Putin stretch back to the 1990s, and he has been critical of the U.S. sanctions imposed in 2014 that have constrained Exxon's work in the country. Russia is one of the top three oil producers in the world, along with Saudi Arabia and the United States.

In 2011, Tillerson joined Putin at his vacation home to sign a lucrative deal that allowed Exxon to explore oil fields in Russia's Arctic. In exchange, state-controlled oil company OAO Rosneft was allowed for the first time to acquire ownership stakes in Exxon projects in the United States. Putin later awarded Tillerson with the "Order of friendship," one of Russia's highest honors, for the company's "big contribution to developing cooperation in the energy sector."

Tillerson made waves in 2014 when he spoke at an energy summit in Moscow alongside Igor Sechin, a Rosneft executive and close confidant of Putin who has been sanctioned by the Treasury Department.
Tillerson's ties with Russia in general, and Vladimir Putin in particular, are exceedingly concerning given the allegations regarding potential the potential attempt by Russia and/or private actors allied with Russia attempted to influence the 2016 elections by hacking into the Democratic National Committee and the Republican National Committee and release information selectively in an effort to help Donald Trump win the election. Even without those allegations, though, a Secretary of State with close ties to an adversarial foreign leader would be of concern in any case. For one thing, even though he would be stepping down as CEO of Exxon/Mobil, one has to wonder whether Tillerson's views of Russia have been skewed such that they are less likely to question Russian motives for fear of antagonizing them. Second, there's an obvious question of what kind of dealings Tillerson has had with Putin and his cronies both inside and outside the Russian government and whether he would be personally compromised by any of those dealings. Finally, of course, there's the question of just how much influence having yet another person who has expressed sympathies for Russia in general, and Putin in particular, will have over American policy in the event of the inevitable challenge from Putin that Trump is likely to face sometime early in his first term in office.
As a result, even before he is officially named, Tillerson's potential appointment is raising concerns with some Senators:
Donald Trump's leading candidate for secretary of state, ExxonMobil CEO Rex Tillerson, would accelerate the president-elect's collision course with Congress over his relationship with Russian President Vladimir Putin and raise new questions about Putin's role in the election.

Tillerson, whom Trump officials now call the front-runner for America's top diplomatic job, has spent hours with Putin negotiating billions of dollars in Russian oil projects, and is believed to be on friendlier terms with the Russian autocrat than all but a handful of Americans. He has also been critical of U.S. sanctions imposed on Russia since 2014.

The potential selection of a Putin friend for the critical post is raising alarm in both parties that Trump intends to act on his campaign talk of refashioning a U.S.-Russian relationship now at its most adversarial point since the end of the Cold War.

Republican Sens. John McCain and Lindsey Graham are likely to mount aggressive opposition to Tillerson, according to sources familiar with their thinking.

"I don't know what Mr. Tillerson's relationship with Vladimir Putin was," McCain said in a Saturday interview with Fox News. "But I'll tell you it is a matter of concern to me."

On Friday, McCain's former longtime chief of staff, Mark Salter, tweeted that Tillerson would "sell out NATO for [Russian] oil and his pal, Vlad. Should be a rough confirmation hearing, and a no vote on the Senate floor."

Democrats are also pledging a rough path to confirmation.

"The Putin relationship will be a major focus" of any Tillerson confirmation hearings, said a Senate Democratic aide. "Tillerson and the company opposed sanctions efforts on Russia, he has received an award from Putin, and has done extensive oil business generally in the country," the aide said.

In a Saturday afternoon statement, a Democratic National Committee spokesman called Trump's presumed choice of Tillerson "outrageous," calling it "another victory for Vladimir Putin, who interfered in our election to help elect Trump and now has a close ally with no foreign policy experience serving as America's top diplomat."

Tillerson's rising stock at Trump Tower comes at a particularly volatile moment. On Friday, U.S. officials disclosed that the CIA has concluded Putin's government sought to influence the November presidential election in Trump's favor. On Friday night, Trump's office issued a defiant statement saying that U.S. intelligence officials are "the same people that said Saddam Hussein had weapons of mass destruction" and that it's "time to move on."

But Democrats and many Republicans are not ready to do so. Also on Friday, President Barack Obama's homeland security adviser, Lisa Monaco, said that Obama has ordered an intelligence review of election-related Russian hacking. The findings of that report could fuel planned GOP hearings on Russian cyber activities. Incoming Senate Democratic leader Chuck Schumer is also demanding bipartisan congressional action on the issue early next month, POLITICO reported Saturday.

"[I]f they're able to disrupt elections, then it's a national security issue, obviously," McCain told reporters on Friday. He has been the most outspoken critic of a potential thaw with Russia, issuing a statement days after last month's election warning that "the price of another 'reset'" with Russia "is unacceptable." (Obama and his former secretary of state, Hillary Clinton, pursued a Russia "reset" policy in his first term, though his counterpart at the time was not Putin but then-Russian President Dimitri Medvedev.)

A confirmation hearing for Tillerson would surely involve tough questions about his connection to Putin, who awarded Tillerson and several other energy executives an Order of Friendship medal in 2012.

"I agree, as you point out, that nothing strengthens relationships between countries better than business enterprise," Tillerson told Putin during a June 2012 meeting at an oil refinery on Russia's Black Sea coast.

Western sanctions on Moscow, imposed as punishment for Putin's annexation of Crimea and his support for a pro-Russian insurgency in Ukraine's east, have hit ExxonMobil hard. Tillerson, who became the company's CEO in 2006 after starting his career as a production engineer there in 1975, signed agreements with Moscow to explore or drill in Siberia, the Black Sea and the Russian Arctic.

The sanctions have halted Exxon projects in the country, including a $700 million joint venture with the Russian oil giant Rosneft to drill in the Arctic Kara Sea. In a 2015 Securities and Exchange Commission filing, the company estimated its maximum potential losses due to Western sanctions at $1 billion.

Tillerson is hardly the only Western executive to do business with Putin, whose country is one of the world's largest energy exporters. But at least one of Exxon's major deals with Moscow was sealed after Putin's 2014 seizure of Crimea began a new period of hostility with Washington.

That's why Tillerson could face hard questions from several GOP Russia hawks who sit on the Senate Foreign Relations Committee, which must vote to advance any secretary of state nomination to the full Senate. They include Florida's Marco Rubio, who has called Putin "a gangster and a thug"; Wyoming's John Barrasso, who has complained of Putin's "belligerence"; and Johnny Isakson of Georgia, who said in October that the U.S. "should really have physically gone in" to Ukraine to defend it from Russian aggression.
Marco Rubio is also being critical of the possibility of a Tilleron pick:
Being a "friend of Vladimir" is not an attribute I am hoping for from a #SecretaryOfState – MR

— Marco Rubio (@marcorubio) December 11, 2016
All of this promises to make any confirmation hearings for Tillerson among the most contentious of any of Trump's nominees so far. In the end, it's unlikely that opponents would be able to block confirmation, but it's not impossible. Republicans will have just a three-seat majority in the Senate beginning in January, meaning that the defection of more four or more Republicans could mean the defeat of his nomination. The last time a Cabinet appointment by an incoming nominee failed to win confirmation was in 1989 when George H.W. Bush's nominee for Secretary of Defense, former Texas Senator John Tower, was rejected due to allegations regarding his abuse of alcohol while in office and serious questions about whether he had been sufficiently treated for that problem. There have been subsequent nominees whose nominations likely would have been rejected had they faced a vote, but they were withdrawn from contention prior to a floor vote. Whether a Tillerson might suffer a similar fate will depend very much on what happens in confirmation hearings.