The Coal Industry Is Dying, And It Isn't Coming Back
Canada is phasing out coal as a source of electricity production by 2030. The same thing will happen in the United States no matter how much politicians try to stop it.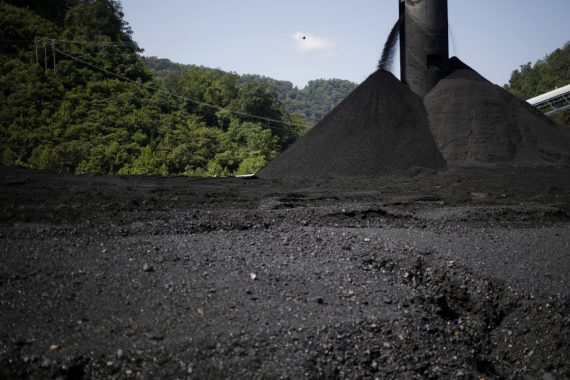 Canada announced yesterday that it would begin to phase out the use of coal for electricity generation by 2030 even as the incoming Administration here in the United States apparently intends to elevate its use:
TORONTO — Canada announced Monday it plans phase out the use of coal-fired electricity by 2030.

The move is in stark contrast to President-elect Donald Trump's vow to revive the American coal industry.

Environment Minister Kathleen McKenna said the goal is to make sure 90 percent of Canada's electricity comes from sustainable sources by that time — up from 80 percent today.

The announcement is one of a series of measures Prime Minister Justin Trudeau's Liberal government is rolling out as part of a broader climate change plan. Trudeau also has plans to implement a carbon tax.

Trump, in contrast, has also said he would "cancel" the Paris Agreement.

Trudeau told President Barack Obama this past weekend he would miss working with him because he shared so many values.

France, Britain, the Netherlands, Austria and Denmark have all announced accelerated coal phase outs, McKenna said.

"Taking traditional coal power out of our energy mix and replacing it with cleaner technologies will significantly reduce our greenhouse gas emissions, improve the health of Canadians, and benefit generations for years to come," McKenna said.
In contrast to the Canadian move on coal, we have Donald Trump, who during the campaign not only attacked Hillary Clinton for talking about the seemingly inevitable day when the coal industry would be effectively dead, but also promised to increase the use of coal and bring coal-related jobs back to places such as Kentucky, West Virginia, and Pennsylvania. It's no coincidence that two of these three states are solidly Republican and that Republicans tend to dominate in those parts of Pennsylvania where coal is still a major industry, of course, but Trump's position also mirrors the general Republican position on fossil fuels and climate change that seemingly denies reality. In this reality, the fact that coal is the dirtiest and least efficient way to generate electricity isn't really relevant because climate change, which has been largely verified by the relevant data even if there is disagreement about whether and how to reverse it, simply doesn't exist or isn't a problem. With a mentality like this, it's easy for them to pander to a special interest group like coal workers and the coal industry without any real concern for the consequences of their action, and to make promises that, in the end, cannot really be met.
This is because, contrary to the claims of Trump and other Republicans, the coal industry isn't dying because of government regulation, it's dying because of the free market that they claim to want to protect:
Many in Appalachia and other coal-mining regions believe that President Obama's supposed war on coal caused a steep decline in the industry's fortunes. But coal's struggles to compete are caused by cheap natural gas, cheap renewables, air-quality regulations that got their start in the George W. Bush administration and weaker-than-expected demand for coal in Asia.

Nationwide, coal employment peaked in the 1920s. The more recent decline in Appalachian coal employment started in the 1980s during the administration of Ronald Reagan because of the role that automation and mechanization played in replacing miners with machines, especially in mountaintop removal mining. Job losses in Appalachia were compounded by deregulation of the railroads. Freight prices for trains dropped as a result, which meant that Western coal — which is much cleaner and cheaper than Eastern coal — could be sold to markets far away, cutting into the market share of Appalachian mines. These market forces recently drove six publicly traded coal producers into bankruptcy in the span of a year.

Mr. Trump cannot reverse these trends.

For Mr. Trump to improve coal's fate would require enormous market intervention like direct mandates to consume coal or significant tax breaks to coal's benefit. These are the exact types of interventions that conflict with decades of Republican orthodoxy supporting competitive markets. Another approach, which appears to be gaining popularity, is to open up more federal lands and waters to oil, gas and coal production.

Doing so would only exacerbate coal's challenges, as it would add to the oversupply of energy, lowering the price of coal, which makes it even harder for coal companies to stay profitable. Those same policy actions would also lead to more gas production, depressing natural gas prices further, which would outcompete coal. Instead of being a virtuous cycle for coal, it looks more like a death spiral. And this is all without environmental regulations related to reducing carbon dioxide emissions, which aren't even scheduled to kick in for several years.

(…)

Even if the president-elect tried to make these moves, surprising opponents might step in his way. Natural gas companies are the primary beneficiaries of, and now defenders of, clean air and low carbon regulations. They include Exxon Mobil, the world's largest publicly traded international oil and gas company, which operates in a lot of countries that care about reducing carbon emissions. The company issued a public statement in support of the Paris climate agreement on Nov. 4, the day it took effect. Shutting down coal in favor of natural gas, which is cleaner and emits much less carbon, is a big business opportunity for companies like Exxon Mobil.

In the battle between coal companies and major oil and gas producers, I expect the latter will be victorious.
What's ironic about all of this is that what we're likely to see playing out is a clash between two industries that are both favored by the right.  On the one hand, there's coal, which has largely been championed by Republicans like Trump for the political advantage of gaining support in states where the industry is still hanging on in states like West Virginia, Pennsylvania, and Ohio. In order to do so, they have been making promises such as those Trump did during the course of the campaign, most of which it will be impossible to deliver on. On the other hand, there is a natural gas and fracking end of the energy sector, which has boomed in recent years thanks both to historically low oil prices and favorable treatment in states controlled by Republicans. As the article notes above, natural gas in particular is in nearly all ways a superior form of energy to coal. It is cleaner, easier and far less dangerous to extract, and far more abundant than coal. The more the advantages of these forms of energy compared to coal become apparent, the closer we are coming to the day when the idea of phasing out coal will not only be feasible, it will be unremarkable. As noted above, even cheaper energy prices would not help the coal industry since it would only add to the competitive advantages of natural gas. Additionally, the expansion of the renewables side of the energy sector is likely to continue under a Trump Administration given the fact that it has become so widespread that even Republicans in Congress are finding it hard to oppose the concept of additional investment in solar and wind power, at least to the extent of tax breaks and other methods of indirect subsidy to industry. The combined impact of these two forces will only make the end of coal more likely even if it is still many years away.
Given all of this, the fact that politicians such as Trump and other Republicans are continuing to tell voters in coal country that their jobs can be saved or even increased is the worst form of pandering. They are making promises that, unless they are completely ignorant when it comes to economic reality and the basics of energy policy, cannot be kept Indeed, any measure they take to try to "save" the coal industry will end up contributing to its slow death because it will help keep energy prices low, which in the end helps coal alternatives such as natural gas far more than it does coal itself. Meanwhile, people who still work in the industry and fall for these lies end up being deceived yet again by being told what they want to hear rather than the truth. The truth is that the days of coal being a reliable, high-paying industry are gone, and they aren't coming back. This may be a hard truth, especially for the people of Appalachia where coal is basically the only industry at this point, but it strikes me that telling them the truth would be far better than selling them a lie only to find them in a far worse position than they are today when the end finally comes.