Paul Ryan Panders To Religious Right On School Prayer
For some reason, Paul Ryan decided to talk about school prayer this weekend.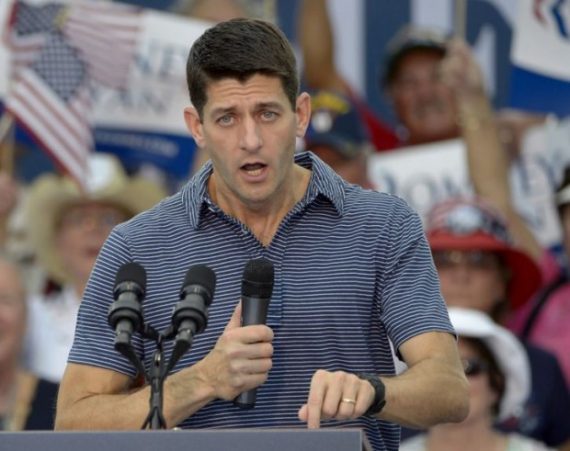 Mitt Romney isn't the only candidate on the right who seems to be slipping into culture warrior mode. Over the weekend, Paul Ryan did the same thing when he suggested, contrary to a boat load of Supreme Court precedent, that the issue of prayer in public school should be left to the states:
PROVO, Utah — Prayer in public schools was prohibited by the United States Supreme Court in 1962, but Representative Paul D. Ryan said on Wednesday that he believed that states should have the right to decide whether it should be allowed.

"That's a constitutional issue of the states," Mr. Ryan told a campaign volunteer during a visit to a Romney for President call center in Orem.

The volunteer, Jenny Free, 40, said she was a mother of nine children and asked Mr. Ryan if "we could give back to the states the right to decide if you want prayer or pledge in the schools."

Mr. Ryan called the decision to say a prayer or recite the Pledge of Allegiance a "moral responsibility of parents."

"Exactly," Ms. Free responded, according to footage shot by a television reporter for NBC News, "so I am hoping to try and push that."

"You know, in Utah, I would think you would have a pretty good chance," Mr. Ryan told her.
Ryan's argument, is of course, complete nonsense. There is nothing in the law right now that prevents any student from engaging in silent prayer in public schools. Indeed, at many public schools throughout the country, you will find groups of students who engage in their own forms of group prayer outside of the classroom or other official school functions. As Jonathan Turley notes, however, that's not what social conservatives want. it isn't good enough for students to be able to pray on their own, or engage in such activities with other students outside official school hours. They want, essentially, the same type of prayer that was common in this country prior to the Supreme Court getting involved in this matter. They want prayer led by teachers in the classroom, a situation where even if it is "voluntary," the students are a captive audience unable to opt out of attendance and, inevitable subjected to peer pressure and ostracism if they choose not to participate.  What Congressman Ryan doesn't seem to be aware of, though, is that this type of prayer is explicitly forbidden by the First Amendment, as interpreted by the Supreme Court.
In Engle v Vitale, in which the Supreme Court found that a New York State law mandating prayer in public schools to be Unconstitutional, the Court explained it perfectly some 50 years ago:
The Establishment Clause thus stands as an expression of principle on the part of the Founders of our Constitution that religion is too personal, too sacred, too holy, to permit its "unhallowed perversion" by a civil magistrate. Another purpose of the Establishment Clause rested upon an awareness of the historical fact that governmentally established religions and religious persecutions go hand in hand. The Founders knew that only a few years after the Book of Common Prayer became the only accepted form of religious services in the established Church of England, an Act of Uniformity was passed to compel all Englishmen to attend those services and to make it a criminal offense to conduct or attend religious gatherings of any other kind – a law which was consistently flouted by dissenting religious groups in England and which contributed to widespread persecutions of people like John Bunyan who persisted in holding "unlawful [religious] meetings . . . to the great disturbance and distraction of the good subjects of this kingdom . . . ." And they knew that similar persecutions had received the sanction of law in several of the colonies in this country soon after the establishment of official religions in those colonies. It was in large part to get completely away from this sort of systematic religious persecution that the Founders brought into being our Nation, our Constitution, and our Bill of Rights with its prohibition against any governmental establishment of religion. The New York laws officially prescribing the Regents' prayer are inconsistent both with the purposes of the Establishment Clause and with the Establishment Clause itself.
Additionally, as Jonathan Turley notes, Ryan also gets the whole "moral responsibility" of parents argument wrong:
Ryan goes on to say that the decision to say a prayer is the "moral responsibility of parents." However, a government sponsored prayer violates the very parental responsibility he claims to support. The decision not to say a prayer is also the responsibility of parents. A child should neither be pressured to pray nor pressured not to pray. Religious parents would scream bloody murder if their child was pressured not to pray, but these same parents have no qualms when pressuring other children to pray.
Turley is correct, of course. Forcing children to pray, either explicitly or through the fiction of "voluntary" teacher-led prayer in public schools, actually takes moral authority away from parents, and of course violates the rights of the students themselves. Aside from the legal issues that Ryan raises with his comments here, though, interests me more is the politics of why he would go there on the same day that Romney "went there" with the "God attack" against President Obama and the Democrats. Is it really possible that someone inside the GOP thinks its a good idea to go in this direction? You might argue that Ryan's comments were sui generis and primarily a result of the state he was in and the fact that he was asked a specific question about school prayer. The problem with that theory for me is that Romney basically went down the same road as Romney on the same day. It's hard to write that off as a mere coincidence.
As with the Romney comments, though, I have to question why the campaign is going there on this kind of an issue. For one thing, it detracts from what ought to be the sole message of the Republican campaign, the economy. For another, the only possible group of people that stuff like this appeals to are people who are going to vote for the Romney/Ryan ticket anyway. Some have argued that this is an example of the ticket's need to shore up its base, but I don't really buy that. If the Republican Convention proved anything, it proved that the Republican base is revved up and ready to go. Neither Paul Ryan nor Mitt Romney is going to have trouble getting that group of people out to rallies this fall, or to the polls in November. These, in other words, are not the voters that the Romney/Ryan campaign needs to be focusing on for the next nine weeks. Instead, they need to be focusing on independent voters in swing states who are unlikely to be persuaded very much by appeals to themes that only really appeal to people on the religious right. Is this a sign that the campaign is floundering just a bit in the wake of a convention season that appears to have been less than successful for the GOP? It certainly could be, but if it continues it could end up causing real harm to the ticket.