Mitt Romney's Ridiculous "God" Attack On Obama And The Democrats
Over the weekend, Mitt Romney was sounding more like Rick Santorum than himself.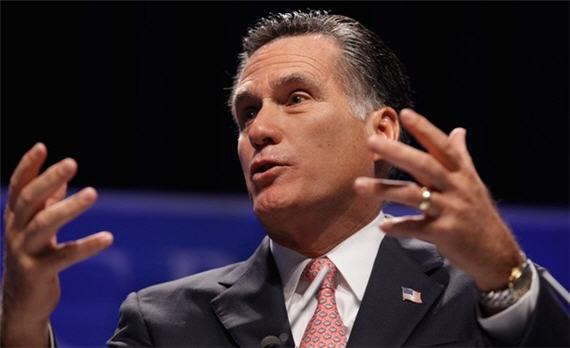 Speaking over the weekend in Virginia, Mitt Romney used the Pledge of Allegiance to unleash a bizarre and unfounded attack on President Obama over the fact that the Democratic Party Platform had, initially, omitted a reference to God from its text:
[A]t a Saturday afternoon rally here, Mr. Romney did not just recite the Pledge of Allegiance; he metaphorically wrapped his stump speech in it, using each line of the pledge to attack President Obama.

"The promises that were made in that pledge are promises I plan on keeping if I am president, and I've kept them so far in my life," Mr. Romney said, standing among old airplanes in a hangar at the Military Aviation Museum here. "That pledge says 'under God.' I will not take 'God' out of the name of our platform. I will not take 'God' off our coins, and I will not take God out of my heart. We're a nation bestowed by God."

Mr. Romney was referring to a kerfuffle during the Democratic National Convention, when Mr. Obama's party scrambled to amend its platform to include a reference to God, giving Republicans a chance to portray the party as out of touch with family values. But Mr. Obama has never suggested taking "God" off the nation's coins, as Mr. Romney's remarks also seemed to imply. When asked to comment, the campaign said that Mr. Romney was simply highlighting instances where "In God We Trust" was on public display.

Mr. Romney continued working his way through the pledge, moving to the part that refers to the nation as "indivisible."

"I will not divide this nation," he said. "I will not apologize for America abroad, and I will not apologize for Americans here at home."

He said that for the nation to have liberty, "We must have a military second to none, so strong no one would ever think of testing it." And that when it came to justice for all, "I don't think it's just to the next generation for us to pass on massive debts that we've amassed and pass on to them $16 trillion in debt."

Mr. Romney's ramped-up stump speech came as Pat Robertson, the televangelist whom Senator John McCain of Arizona once called an "agent of intolerance," was sitting in the front row behind the stage. The men met and chatted briefly before the event.

"We pledge allegiance to that flag, we believe in a nation under God, a nation indivisible, a nation united, a nation with justice and liberty for all," Mr. Romney said, "and for that to happen we're going to have to have a new president that will commit to getting America working again, that will commit to a strong military, that will commit to a nation under God that recognizes that we the American people were given our rights not by government but by God himself."

Mr. Obama's campaign called Mr. Romney's remarks "extreme and untrue," and it accused him of "associating with some of the most strident and divisive voices in the Republican Party," including Mr. Robertson.
Perhaps the most bizarre part of the entire event, though, came when Romney said this:
VIRGINIA BEACH, Va. — Making reference for the first time to the Democrats' about-face on having the word "God" in their party's platform, Mitt Romney said here today that if he is elected, God will not be removed from the Republican platform.

"I will not take God out of the name of our platform," said Romney to thunderous applause. "I will not take God off our coins and I will not take God out of my heart. We're a nation that's bestowed by God."
Now, I will admit that I haven't read every word of the Democratic Platform (or the Republican one for that matter), nor have I watched every single speech by President Obama and Vice-President Biden and every media appearance by an Obama campaign spokesperson. So it's possible I've missed the part when they came out in favor of taking God off of America's coins and currency. I'm pretty sure, though, that they've never actually proposed anything like that and that such fantasies only exist inside the bizarre little minds of people like Pat Robertson.
The Obama campaign has already responded to Romney's bizarre attacks:
Aboard "Press Force One" on a bus tour through Florida, Obama traveling Press Secretary Jen Psaki at first tried to pass on the question as not serious, but ultimately called the assertion "absurd."

"Look, this is nothing more than a desperate attack based on a false premise by the Romney team and its sad that the debate has been driven to this level of discourse," she said. "The president believes as much that god should be taken off a coin as he does that aliens will attack Florida. It's an absurd question to be raised." White House Press Secretary Jay Carney chimed in, according to the pool report, citing his days as a reporter for Time Magazine.

"There's a period when the argument is not going your way… and you begin to see random issues thrown up like spaghetti against the wall to see if anything can stick," he said. "I wouldn't say based on my experience covering presidential campaigns that that has ever worked as a strategy."
Carney has a point there, but the truth is that we've seen attacks like this even from candidates who went on to win the election. In 1988, George H.W. Bush engaged in a rhetorical campaign that lasted several weeks in which he, and campaign spokespeople and surrogates, attacked Michael Dukakis for such things as his opposition to the mandatory recitation of the Pledge Of Allegiance in schools and his affiliation with the ACLU. The strategy then, of course, was to paint Dukakis as out of touch with the mainstream of American politics. One could argue that it worked given that Bush won the election, but I'd argue that his victory was due as much to incompetence by Dukakis and his campaign than the way people felt at the time about the Pledge of Allegiance and the ACLU.
In Romney's case, though, one does get a sense of desperation when a candidate whose ties to the far right wing of the Republican Party is tenuous and mostly a marriage of convenience for both parties suddenly starts spouting rhetoric that sounds like it ought to come from a monologue by Sean Hannity or Mark Levin. It's also bizarrely incompetent. In an election where the only relevant topic of discussion ought to be the economy and jobs, jobs, jobs, Mitt Romney decided for some reason to take up the mantle of culture warrior despite the fact that polling decisively establishes that this places him far outside the mainstream of American voters, and nowhere in the area where the independent voters in swing states like Virginia would need him to be. Yes, it's true that there is a strong evangelical contingent in Virginia's Tidewater area where Romney spoke yesterday, but those aren't the people that he needs to convince if he's going to win the Old Dominion as well as the other swing states that will decide this election. If this is more than just a one-0ff bizarre rant by Romney, if it represents some kind of shift in the campaign to a culture war argument, then I think he's making a possibly fatal mistake.