501(c)4 vs 501(c)3 vs 527
Almost no one can confidently explain, let alone define, the specifics of the 501(c)4 designation.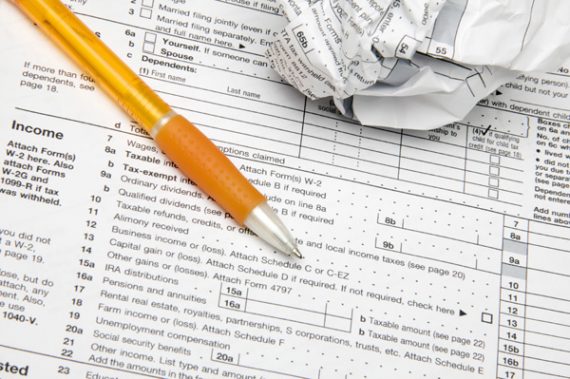 Dr. Joyner has graciously granted me some pixel space to provide an institutional analysis of the current IRS Scandal. Working with the current evidence, I'm going to argue that this incident is most likely the result of bureaucratic bias and incompetence rather than a specific, intentional attack on the Tea Party or other conservative groups. My goal is not to minimize or explain away what happened. What occurred at the IRS was fundamentally unacceptable on multiple levels. What I'm interested in is exploring the lower level causes of this incident and the role that institutions, rather than individuals, played in the end result.
[5/29/2013: This article was updated with additional information about the distinctions between the different categories of Non-Profit based on definitions from the IRS Audit.]
One thing that is abundantly clear after reading the recently released redacted IRS audit: almost no one can confidently explain, let alone define, the specifics of the 501(c)4 designation.
The audit repeatedly criticizes the IRS for lacking clearly articulable criteria for determining whether or not an organization qualified for 501(c)4 status. The report also suggests that, in addition to IRS reviewers, many applicants didn't seem to understand what 501(c)4 organization are, and are not, able to do.
So, before we can unravel the "where's" and "why's" of the IRS breakdown, we first need to understand the issue at the heart of this scandal: the 501(c)4 designation.
This post is a primer on 501(c)4 status, along with 501(c)3 and 527.
The framework for 501(c) organizations —what we commonly call nonprofits—was established over 75 years ago, when the federal tax laws were first codified. Because these are tax designations, any and all 501(c) organizations—regardless of function—are approved by, and primarily regulated by, the IRS. At present, there are over 29 different sub classifications for the 501(c) designation. But, for the case in question, there are only two that really matter:
501(c)(3) — Religious, Educational, Charitable, Scientific, Literary, Testing for Public Safety, to Foster National or International Amateur Sports Competition, or Prevention of Cruelty to Children or Animals Organizations
501(c)(4) — Civic Leagues, Social Welfare Organizations, and Local Associations of Employees
The tax code also established numerous other forms of tax-exempt organizations. One in particular, the 527, is also critical to the IRS scandal. 527's are tax-exempt organizations created primarily to influence the selection, nomination, election, appointment, or defeat of candidates to federal, state or local public office. And like 501(c)'s, 527's are approved and regulated (at least in part) by the IRS.
While all of these organizations, the 501(c)3, the 501(c)4, and the 527, are tax-exempt, each is bound by different rules. Here are the most important differences to understand for the current situation:
| | | | |
| --- | --- | --- | --- |
| Characteristics | 501(c)3 | 501(c)4 | 527 |
| Ability to engage in politics | Not supposed to engage in any political activities, though some voter registration activities are permitted | May engage in political activities, as long as these activities do not become their primary purpose | Politics is what 527s are *required* to do |
| Endorsing Candidates | CANNOT Endorse Candidates | CAN Endorse Candidates | CAN Endorse AND Field Candidates |
| Campaign Spending | Prohibited | Permitted but taxed | Required |
| Lobbying | Some lobbying | Substantial lobbying | No direct lobbying |
| General Political Advocacy (not related to legislation or the election of candidates.) | Yes, as an educational activity.) | Yes, provided it is not the primary activity of the organization | Yes |
| Contributions | Able to accept unlimited, tax-deductible donations | Able to accept unlimited, non tax-deductible donations | Able to accept limited (based on FEC regulations), non tax- deductible donations. |
| Donor Reporting | Donors kept anonymous. | Donors kept anonymous. | Donors are publicly reported. |
| Must apply with the IRS | YES | NO | YES |
The TIGTA IRS audit defines lobbying as: "[A]ttempts to influence specific legislation by directly contacting members of a legislative body (Federal, State, or local) or encouraging the public to contact those members regarding that legislation. An organization also engages in lobbying when it encourages the public to take a position on a referendum. Lobbying is distinguished from political campaign intervention because lobbying does not involve attempts to influence the election of candidates for public office." (TIGTA Audit, Footnote 8, Page 2/PDF p8 — Emphasis Mine)

Likewise the  audit has the following to say about "general advocacy": "An organization engages in general advocacy when it attempts to 1) influence public opinion on issues germane to the organization's tax-exempt purposes, 2) influence nonlegislative governing bodies (e.g., the executive branch or regulatory agencies), or 3) encourage voter participation through "get out the vote" drives, voter guides, and candidate debates in a nonpartisan, neutral manner. General advocacy basically includes all types of advocacy other than political campaign intervention and lobbying." (TIGTA Audit, Footnote 9, IBID)
Looking at the chart above, the 501(c)4 organization starts to look a bit like the product of a one night stand between the 501(c)3 and the 527.
501(c)4's have the ability to be far more political than 501(c)3's—though politics cannot be the primary function of a 501(c)4. And while donations to 501(c)4's are NOT tax-deductable, they are not regulated in the same way donations to a 527 are.
While the 501(c)4 existed for years in this hybrid state, it appears that for most of its history, few organizations exploited the designation's political potential. That all changed in the lead up to, and aftermath of the Supreme Court's 2010 Citizen's United ruling.
By the time of the ruling, many major political players, including Karl Rove, had formed 501(c)4 organizations, and 501(c)4 groups were beginning to take over a role that 527's (such as 2004's Swift Vets and POWs for Truth) had played in previous elections. Citizens United firmly established that any legislative attempts to regulate donations to 501(c)4's—either by imposing limits OR forcing the publishing of donor information—were violations of First Amendment rights.
Critics of the decision continue to point out that it in essence endorsed using 501(c)4's as quasi-political organizations to circumvent federal and state election regulations. Groups who would have originally filled for 527 status could now opt instead for the freedom of 501(c)4's. Of course, in order to do so, those groups would have to "massage" their applications to ensure that it did not appear that they were a fundamentally "political" group.
The following chart, included in the IRS audit, demonstrates that in the wake of Citizens United, there was a marked increase (~40% a year) in the number of 501(c)4 applications being submitted to the IRS.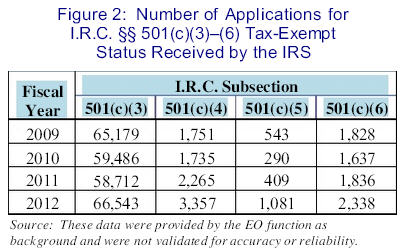 Let me note that this period—2010 to 2012—also saw the maturation of the Tea Party. And research into Tea Party communities shows that the accepted wisdom was that new Tea Party chapters should immediately file as 501(c)4 organizations. Ironically, of the three organization tax designations in question—501(c)3, 501(c)4, and 527—only 501(c)4 allows for a group to self-declare their status without first filing with the IRS. The advantage to filing is official recognition, which is only necessary if an outsider challenges the group's 501(c)4 status. Otherwise, for all intents and purposes, the only thing required to operate as a 501(c)4 is to say that you're a 501(c)4.
Getting back to the IRS scandal, the broader point I'm trying to make is that, whether intentional or not, the very structure of 501(c)4, combined with the Citizens United decision, and the rise of the Tea Party, unexpectedly transformed the 501(c)4 from simply being about social welfare to being about politics. And that this was, generally speaking, a relatively rapid change.
Further, these rapid changes in the definition of what a 501(c)4 was (and was not) were accompanied by a rapid increase (for a variety of reasons) in the number of organizations filing for 501(c)4 status.
Plus, all of this change was occurring in an increasing polarized political environment, not to mention during the lead up to a presidential election, AND during ongoing cuts to government budgets and work forces.
And, here's the kicker: An effect of the Citizens United ruling was that it inherently established that only one authority could regulate 501(c)4's: the IRS.
As you'll see in future posts, I'll argue that all of this created the type of "perfect storm" that bureaucracies like the IRS are the least equipped to deal with.