The Arizona Audit
The latest front on the war on truth.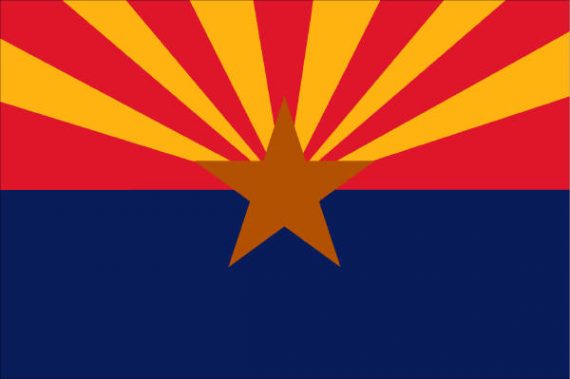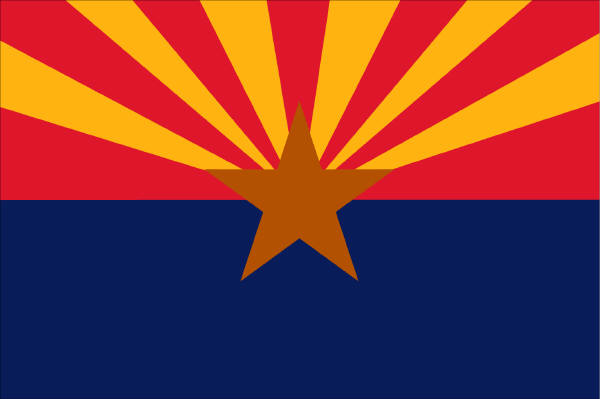 For those who may have missed it, the latest attempt at proving massive fraud in the 2020 presidential elections is underway in Maricopa county, Arizona. The State Senate was able to subpoena the ballots, hard drives, and the voting machines used in that election so as to engage in a hand recount and to engage in other checks on equipment. Private companies have been engaged in the effort, which will go through at least May 14th (when the lease on the old coliseum being used to house the materials is supposed to expire).
Note that we have here a recount only of one county, the process can have no legal force (the results have been certified both as a state and federal matter), and the "audit" is being led by a firm of questionable skill in this type of matter (they have never done it before) led by a CEO who has posted about electoral fraud conspiracy theories on social media.
Nothing about this will build trust nor knowledge. This is a stunt driven by a combination of those who believe in conspiracy theories and those who are cynically exploiting those conspiracy theories.
There is no way this ends well if anything because the very act has the effect of confirming to a lot of people their suspicions that there was massive fraud in 2020 (I mean, why else would the state Senate call for an audit if there weren't real questions to ask?). The lack of evidence for said fraud matters not, but having official government action feed the conspiracy by engaging in this activity just adds fuel to the conspiratorial fires of way too many people.
This is some combination or credulous and cynical politicians all too willing to inflict long-term damage on democracy for short-term antics.
Here's a refresher for the AZ results in 2020: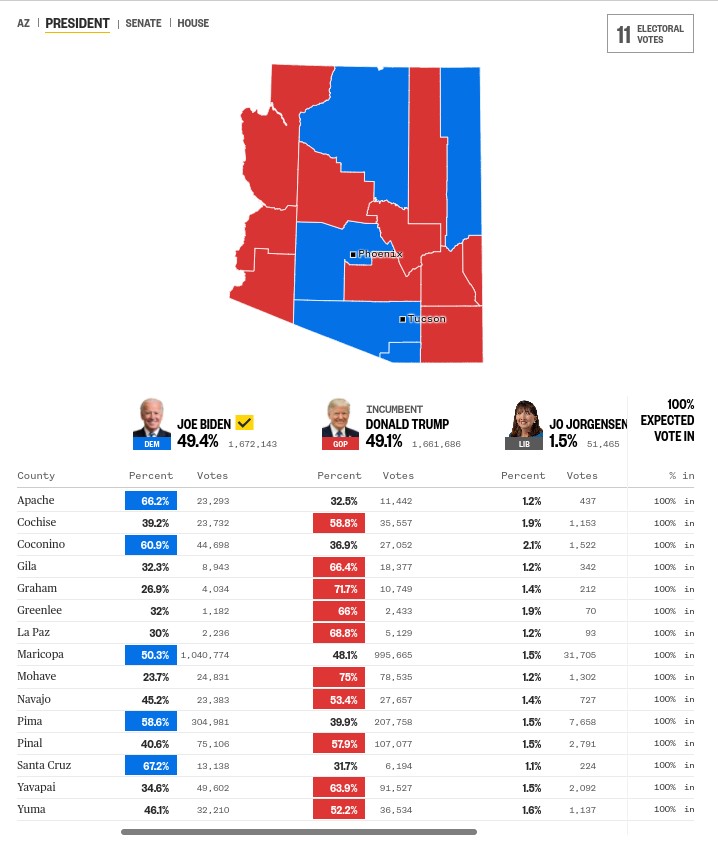 Maricopa County is the country wherein Phoenix is located.
---
CBS News has an extensive write-up about the audit: The Arizona GOP's Maricopa County audit: What to know about it.
Although every state has certified its results, the Republican-controlled state Senate in Arizona has undertaken a full hand recount and audit of the ballots and voting machines in Maricopa, the state's largest county, a move that has been frequently praised by the former president. President Biden won the county, a longtime Republican stronghold, by 45,109 votes, and he won the state by 10,457 votes. At the same time, Democrats also picked up a U.S. Senate seat from Arizona. 

By subpoena, the state Senate took possession of 2.1 million ballots and nearly 400 election machines and turned them over to be audited by companies that include one whose CEO promoted debunked election fraud theories after the election. The majority-Republican county board of supervisors vehemently objected to the action and pointed to the multiple audits of ballots and machines that Arizona had already completed that had found no issues. 
It should be underscored that the count has already been checked in Arizona.
Before and after every election, it's standard procedure in the county to conduct a "logic and accuracy" test on election equipment. In 2020, those tests turned up no issues. State law also mandates a hand-count audit of a statistically significant sample of ballots after each election to be compared to the machine count. That, too, came up with 100% accuracy, according to county election officials.

In January, after waves of protests, the Maricopa County Board of Supervisors approved two additional audits of election equipment. The board hired two independent firms, Pro V&V and SLI Compliance, which are certified by the U.S. Elections Assistance Commission. The firms conducted their separate audits in February and found no issues. 

The audits included tests for malicious software and hardware, source codes, network and internet connectivity, and accuracy to detect vote switching. Observers from both parties were invited to attend, and the audits were live streamed.  

[…]

The Republican-led board of supervisors has already certified the election results and deemed its own additional audits sufficient. In response to a subpoena from the state Senate, the board argued the legislature had no right under state law to access private ballots and election machines. The GOP-led Senate tried to hold the board in contempt, but fell a vote short. 
The courts sided with the Senate and the audit was on.
The current process is being handled by essentially partisan amateurs:
Senate Republicans in Arizona hired several firms to conduct the new audit, and chose Cyber Ninjas, a cybersecurity firm, to lead it. The state lawmakers called the contractors a "qualified team" who had been selected after "months of interviewing forensic auditors." Cyber Ninja's website touts its consulting services on software application security but does not mention expertise in conducting election audits. 

The CEO of Cyber Ninjas, Doug Logan, has previously promoted the unsupported theory that there was fraud in the 2020 election, according to a review by the Arizona Mirror of his now deleted Twitter account. The Mirror also reported that Logan authored a document on former Trump campaign lawyer Sidney Powell's website with untruthful allegations of fraud concerning Dominion Voting Systems. In a statement given to the Arizona Mirror, Logan stood by the document and the assertions in it, among them, the false claim that Dominion Voting Systems has links to the late Venezuelan dictator Hugo Chavez. 

[…]

Cyber Ninjas issued a statement late last month in which Logan claimed "each member of our team has been part of election audits, including Cyber Ninjas, which was part of election audits in Michigan and in Georgia." But officials in those states told CBS News that Cyber Ninjas wasn't involved in any of the audits carried out by election officials.  
And what they are looking for would be humorous if all this didn't have significant consequences:
Tammy Patrick, a former elections official in Maricopa County, said the audit includes a "high-level forensic analysis of the paper" and workers are "keeping track of folds on ballots," to check to see if ballots were actually mailed, even though Patrick noted that not all mail ballots end up with folds. She said examining the folds and paper helps "fuel and continue a narrative of some of the conspiracies."

John Brakey, an official helping oversee the audit, told CBS station KPHO Wednesday that workers are examining ballots to "find out if there's bamboo in the paper." That stems from a baseless conspiracy theory that 40,000 ballots were flown into Arizona from Asia and stuffed into ballot boxes. Brakey said he didn't believe that theory about ballots shipped from Asia, but examining them is "part of the mystery that we want to un-gaslight people about." 

Election experts are also wondering if UV light being used to examine the ballots, according to procedures in one document, could damage them. A debunked conspiracy theory claimed Mr. Trump put watermarks on ballots to prevent cheating. The Maricopa County Elections Department issued a statement affirming there are no watermarks on ballots. 
Yes, that's right: they in engaging in fold analysis, a bamboo hunt, and search for secret watermarks. Because this is all a very serious business.
It is worth noting, in the context of conspiracy theories about vote-by-mail, the AZ was already a heavily VBM state, although even moreso in 2020:
In 2016, when Mr. Trump won the state by about 91,000 votes, about 76% cast their ballot early or by mail, according to data from the secretary of state's office. In 2020, about 88% voted early or by mail. 
Speaking of amateurism:
They say proper procedures aren't in place to create a chain of custody, raising concerns about whether ballots are being tampered with, which could damage their integrity as records of the election. 

For example, on the first day of the audit, a local reporter noted that workers were equipped with blue-ink pens, which are prohibited by the Arizona election procedures manual during hand counts because marks on the ballots would be indistinguishable from a voter's marks. The blue-ink pens were swapped out for red-ink pens before any ballots were taken out of the boxes. 
There is much more along these lines in the piece.
Then there's this:
There are questions about who is funding the audit. The Arizona Senate is chipping in $150,000, but Logan and Bennett have not disclosed who else is paying for it. The Senate's contribution would only cover a fraction of the cost of an effort that could go on for weeks. They're getting some help from a host at the pro-Trump One America News Network who's helping to raise some of the money. Another entity, called The American Project, is trying to raise $2.8 million for the audit. By Wednesday, it had raised over $1.5 million. 
It is difficult to see anyone not captured by conspiracy-theory level thinking looking at this process and thinking it a good idea.
---
Note this essay in WaPo (linked from the CBS piece) by Chris DeRose, a Republican elections attorney:
I know the stakes involved with election fraud. I am a proud Republican. I have and will continue to support efforts to increase the fairness of elections. This Arizona audit is not one of them.

There is no reason to question Arizona's election results. Representatives from all parties were welcome to observe every step of the process, from the machine testing in October (and retesting in November), to the operating of polling places on Election Day, to the bipartisan counting of ballots. As required by law, a sample of 8,100 ballots were hand-counted and compared with the machine totals. There was a 100 percent match.

It was a good year for Republicans in Maricopa County. Excepting a sheriff reelected over lackluster opposition, we won every countywide election while maintaining our 4-to-1 majority on the county board of supervisors. President Biden carried the county by more than 45,100 votes.
This points to one of the most amazing aspects of theories of massive fraud: they ignore that Republicans did pretty well in November. If Dems or their allies could perpetrate massive fraud across the country to help Biden win, why didn't they do it for Democrats across the board?
DeRose continues:
The Maricopa County board, despite no evidence of an unjust result, responded to public questioning of the election by performing additional audits. Two companies, SLI Compliance and Pro V&V, are certified by the bipartisan Election Assistance Commission to test election machines and software. Maricopa County hired both to run every conceivable test for fraud or errors. They found none.

The Trump campaign filed one post-election lawsuit in Arizona, which the president's attorney made clear was "not alleging fraud." It focused on a small handful of ballots and was ultimately dismissed.
This hits another important point: while the conspiracy theorists can say what they like on social media, and people like Rudy Giuliani can say crazy things to TV cameras, when it comes to court and actual consequences, the evidence is scant (which is a polite ways of saying nonexistent).
His whole piece is worth a read, but I will include his conclusion:
How could anyone expect a partisan process to yield a result more accurate and trusted than the one administered by professionals of all parties following established rules? If you're a Republican who supports this audit, ask yourself this: If the Democrats had lost, how would you feel if this was their response?
See, also, The Atlantic: The Unfolding Disaster in Arizona.
---
This whole thing should be self-evidently a very bad idea. I cannot imagine that most people, if told that an election had been conducted and audited (both in a situation of high scrutiny) and then certified would support an ad hoc review months later by a firm with a) no experience in this matters, and b) run by someone with clear partisan preferences (not to mention sympathy for conspiracy theories).
This scenario, described out of context and with the partisan stakes removed, would sound ridiculous (because there is no way around the fact that is it).
The whole thing is tantamount to a group of Chief's fan hiring a firm led by a die-hard fan to review all the penalties in the Super Bowl to prove that the NFL wanted Brady to win. It is just absurd.
Republican politicians who support this type of behavior are playing with fire because they are promoting distrust in the elections process solely for their own short-term political gain. I cannot stress enough that the belief that the 2020 election was stolen is what led to a mob storming the US Capitol on January 6, 2021. And the more people who believe the big lie that there was massive fraud in 2020 the closer we get to a repeat of January 6th in one form or another. I would further note that the fact that there are too wat many otherwise normal Americans who believe the big lie is dangerous because while most of them may not engage in the next violent anti-democracy action, they will be willing to support or forgive it.