"I am not a Crook"
Thinking about scandal in a comparative historic context.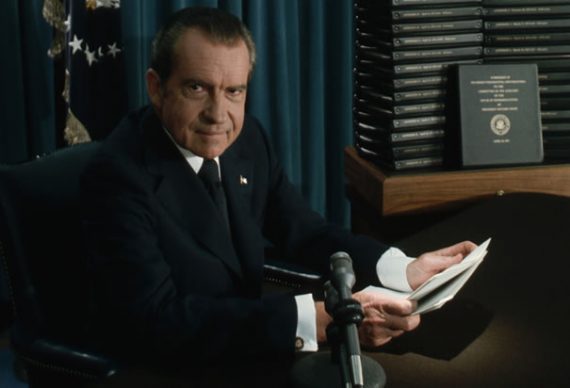 A colleague notes on his FB page this morning that today is the anniversary of Nixon's famous pronouncement:  "people have got to know whether or not their president is a crook. Well, I'm not a crook."
Here's the video:
It got me to thinking:  while there have been any number of scandals in DC since Watergate (the most recent being the ongoing Petraeus mess), has there been a scandal as perfidious as Nixon's since that time?  By this I mean a clear abuse of power for personal political gain in an attempt to influence the outcome of an election?
In terms of potential consequences, the Lewinsky scandal comes the closest (i.e., Clinton was impeached, and Nixon would have been).  However, regardless of the sanction, there is hardly a comparison in terms of actual behavior and goals of the two men.
Iran-Contra in the Reagan administration was pretty serious, and arguments could be made that circumventing congress on the international stage was worse than the break in and coverup during Watergate, but there is the lack of abuse of power for personal gain.
The question of the potency and depth of scandal is a relevant one in contemporary politics, since many have likened (I noted a few here) Watergate to the current discussion over Benghazi.  I would suggest that this is something that only those who don't know their history make (but, of course, there have been those who certainly should know better who have made the comparison).
So here's the question:  what scandal do you think since Watergate is actually worse than Watergate, or do you think that Watergate is still the top of the leaderboard?
Note:  there have been legitimate policies that have been worse than Watergate in effects, to be sure, but that's not the question.