Watergate Forty Years Later
Even with the passage of time, Watergate remains a singularly important event in American history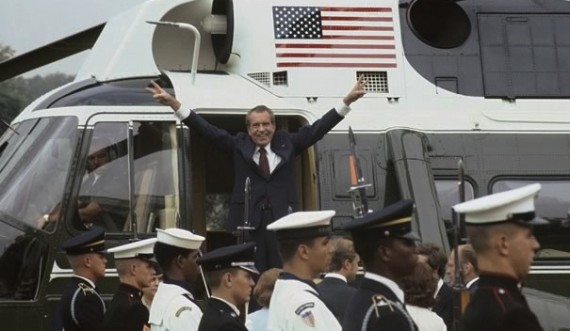 Forty years ago today at Noon Eastern Time, Richard Milhous Nixon became the first and so far only President to resign from office, bringing and end to a scandal that had engulfed his Presidency after his historic landslide win in the 1972 election and putting Gerald Ford in office as the first President of the United States who had never been elected as either President or Vice-President before assuming office.. In the time that has passed, Watergate has gone become part of American political memory to the point where pretty much every political scandal that has followed has had the suffix "gate" attached to it in some way or another. Even more than the impeachments of Andrew Johnson and Bill Clinton or things like Iran/Contra or the various Clinton scandals, it arguably stands as the single worst political crisis in American history and one which has shaped our political culture in innumerable ways ever since. As Politico's Nicholas Fandos notes, however, in many ways the dark days of Watergate are fading from memory, leading one to wonder just how it it will be viewed by history in the end:
At the time, it must have all seemed unforgettable: the endless revelations of wrongdoing, the painful congressional investigation and, finally, the soft black-and-white image of Richard Nixon resigning the presidency.

But ask today's students about the events of Watergate 40 years ago and odds are that many have never heard of the scandal, or, at best, are vaguely aware that something happened once that lives on in a suffix attached to the occasional controversy.

A major reason is that in U.S. classrooms and textbooks, the discussion of Watergate is going the way of the Teapot Dome Scandal and the Petticoat Affair: increasingly simplified and shortened.

"Watergate is just slowly being condensed, as is the entire time period," said Kyle Ward, a professor at St. Cloud University in Minnesota who has studied the evolution of American history textbooks. "We are not spending as much time as they did in the late '70s and early '80s dwelling on Watergate."

Lesson plans and textbooks don't have the space for nuanced discussions about the House Judiciary Committee's political motives or the legality of forcing Nixon to release his Oval Office recordings. And demanding national and state testing standards only add to the pressure on teachers to move through events such as Watergate faster, they say.

That can make for some interesting moments with students.

"Usually they are pretty surprised to find out that Watergate was a hotel, that it was a standing building that had office spaces in it," said Matt Moore, who teaches at Mankato West High School in Mankato, Minnesota.

Francis Couvares, a history professor at Amherst College, said his students know "almost nothing" about the scandal. "Why would they?" he adds.

Ryan Moran, who just graduated from Warren Hills High School in New Jersey, said that although Watergate attracted better-than-average interest from his classmates, they were generally more intrigued by subjects such as Vietnam or World War II.

"I think people know the word, but they don't know what it means — most high schoolers, anyway," he said.

Historiographers (those who study the study of history) say the case of Watergate is really nothing new. History is always under revision, after all, becoming more compact over time as the event recedes. Blow-by-blow details are slowly replaced by an assessment of impact and legacy.

Watergate is somewhat unusual in that its impact still lingers in the public realm, even as knowledge of its details become less ubiquitous. The same students who know nothing about the scandal's finer points live in a culture shaped by everything from open-records laws to hyperpartisanship in Washington.

Several teachers interviewed said they tend to budget two or three class periods for Nixon's entire presidency. After discussing Nixon's rise, his foreign policy and the Vietnam War, that leaves just half a class or less for Watergate.

"It is painful to have to teach a topic like Watergate in a half an hour or 45 minutes, but it's reality," said Eric Hahn, who has taught high school history for more than 20 years in a wealthy suburb outside of St. Louis.
Related to this is a new CNN/ORC International poll that shows that the public attitudes toward Watergate have changed significantly over the years, and that they vary depending on the age of the respondents:
Four decades after President Richard Nixon resigned, a slight majority of Americans still consider Watergate a very serious matter, a new national survey shows. But how serious depends on when you were born.

The CNN/ORC International poll's release comes one day before the 40th anniversary of Nixon's resignation on August 9, 1974. With the Watergate scandal escalating, the second-term Republican president had lost much of his political backing, and he faced almost certain impeachment and the prospects of being removed from office by a Democratic-dominated House and Senate.

There's a big generational divide over the significance of the scandal, with a majority of those older than 40 describing Watergate as a very serious problem and those under 40 saying it was just politics.
It isn't too surprising that people who weren't even alive during the Watergate scandal, or were too young to really appreciate its impact, don't have the same view of it that older people do, of course. For these people, Watergate is nearly as far back in time as the Teapot Dome scandal was for those who were younger adults in the early 1970s. These people didn't have the same emotional investment in the Nixon Presidency that the rest of the country did, for example. Personally, I was six years old on the day that Richard Nixon left office and, while I do remember watching it happen on television at the time, I can't say that I fully appreciated what was going on. More importantly, they have grown up in a post-Watergate era in which cynicism about politicians and the operation of government has been a part of the political culture and, indeed, has reached record levels in recent years. Given that, it's probably hard for someone teaching history to explain to them why Watergate is really different from what they unfolds on cable news, talk radio, and the Internet on a daily basis today.
That being said, it is important to recognize that, in many respects, Watergate, a term which as come to encompass not just the break-in and cover-up but also a whole host of other nefarious policies and actions during the Nixon Administration, really is unique in American history. For one thing, it was serious enough to lead to the first and only Presidential resignation, and had Nixon not resigned he would most assuredly have been impeached and removed from office. Additionally, the scandal involved Presidential manipulation at its most extreme levels. In addition to spying on political enemies, Nixon and his cronies attempted to interfere with and FBI investigation, use the IRS for political purposes, break into to a psychiatrists office to get information about Daniel Ellsberg, and cover-up a crime. When it became clear that the investigation was getting too close to the White House for comfort, the President removed the Special Prosecutor from office, although he lost an Attorney General and Deputy Attorney General in the process. Numerous top Nixon associates went to jail because of their actions.
Finally, there's simply the fact that Richard Nixon is, for better or worse, one of the most fascinating political characters in American history.. From the dawn of the Cold War to the fall of the Soviet Union, he played a role some way. Even in his final days, he apparently became something of an informal counselor to Bill Clinton, who had worked on a campaign to beat him back in 1972. Stephen Ambrose captured much of this aspect of Nixon in his three volume biography which covered the period up until his loss to Pat Brown, his resurrection and downfall, and then his improbable rebirth as an elder statesman. Whatever one might think of him, it's hard to deny that Nixon was one of the most influential American political leaders of the later half of the 20th Century. For that reason alone, the events that led to his downfall and removal from office are something more than just another political scandal.
The night before he left office, President Nixon addressed the nation in what remains one of the most important Oval Office addresses in history. This version of the video includes excerpts of Nixon rehearing before the speech started, the actual speech starts at the 7:02 mark:
]
And mere hours before he left the White House as President for the last time, he gave a speech to the White House Staff that said as much about him as it did anything else.
Hopefully, the nation will never have to live through something like this again, but the possibility that it will becomes more likely if we forget what Watergate was really all about.