What do I Mean by "Benghazi Conspiracy Theories"?
An attempt to lay down some basic groundwork for discussing this story.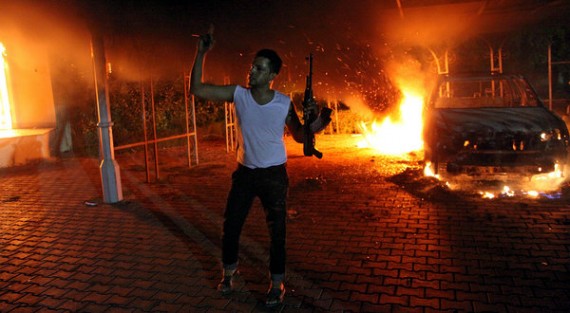 I think that my quick post from last night (What Do Benghazi Conspiracy Theories and the Romney Electoral College Landslide Have in Common?) needs a bit of elucidation.
First, I very much think that the basic dynamic that has made, for some, Benghazi a huge story of epic significance (rather than just an important story) and that made it possible for so many people to think that Romney was going to win in a landslide are the same.  I suspect that if I had the data necessary to draw a Venn diagram of people who were certain the polls were wrong and that Romney would win and who think that there is a massive cover up/conspiracy/massively under-reported by the mainstream media story in regards to Benghazi, that the circles would almost encompass one another.  This is largely conjecture, I will admit, as I do not have the polling capabilities to do an actual study of the public.  However, I will say that it goes beyond sheer guesswork in the following sense:  it is clear that similarly oriented media outlets have been pushing both narratives.
One has to recognize, by the way, that the Benghazi story plays into two right wing tropes: 1)  that Obama is weak and incompetent (and in the more extreme camps, a Muslim, terrorist sympathizer who wants to impose Sharia on America*) and. 2) that the mainstream press is hopelessly liberal and that only the conservative press tells the truth.
Second, the election story is rather easy to deal with, and indeed brings the problem of news-as-entertainment, and especially the conservative entertainment complex (CEC) itself, into sharp focus.  We can look at the pronouncements and predictions of specific commentators (see here for an impressive run-down) and then compare them to actual events.  This makes the debunking of the bullshit** easy:  we had empirical claims that were easy to understand (specific EV predictions) and empirical results (election night) that could be compared.  This provided a singular moment of clarity and cast an appalling light on the conservative entertainment complex.  This is empirically incontrovertible (and, indeed, as Doug Mataconis noted yesterday, Romney's campaign bought the BS as well, demonstrating the real world ramifications of this problem—and yes, it is a problem).
Third, there is a profound and important difference between treating Benghazi as an important story and a massive coverup/conspiracy/massively underreported by the mainstream media story.  Let me be clear:  the death of a US Ambassador, along with three other American in the context of an attack on a US consulate is an important story.  It deserves attention.  It should be thoroughly investigated.   However, I am not talking about a legitimate interest in a legitimate story when I deploy the notion of BS here and compare it to the polling discussion.  No, I am talking about stories, almost all (if not all) in the CEC that touted Benghazi as a massive cover up.  For example:
The American Spectator:  Media Bias 101: Benghazi vs. Watergate and Iran-Contra
The Blaze: BENGHAZI ATTACK COVER-UP IS WORSE THAN WATERGATE
World Net Daily:  BENGHAZI COVER-UP: 'THIS DWARFS WATERGATE'.   Note that this story gets the notion from Rush Limbaugh, King of the CEC:
"This dwarfs Watergate, weapons of mass destruction, whatever," said radio host Rush Limbaugh Wednesday afternoon.

"This dwarfs Iran-Contra, about which the media spent three solid years trying to take out Ronald Reagan. The latest shoe to drop in the Benghazi disaster is the news that the State Department was e-mailing about the attack on the consulate and the terrorists who they thought were behind it within two hours, and the e-mails went to the Situation Room of the White House. Obama knew."
I would note that the invocation of Watergate is to assert that a conspiracy to cover up events is actively taking place at the highest levels of government.  This, alone, is enough to state that the CEC is engaging in conspiracy theories.
Two other, and more specific, conspiracy theories (one of recent vintage, and the reason I started thinking about this again):
1.   They Watched!
A clear example of conspiriacy theories (which contain the hope of a massive anti-Obama gotcha): (again via The Blaze):  RETIRED LT. COL.: MY SOURCES SAY OBAMA WAS IN THE ROOM WATCHING BENGHAZI ATTACK HAPPEN.
While it has been reported that a drone was diverted for use in dealing with the event, it was not the case that the folks in the White House just sat down to watch events like it was a TV show or something:
A four-hour lull in the fighting beginning shortly after midnight seemed to suggest that the worst was over. An unarmed military drone that the C.I.A. took control of to map possible escape routes relayed reassuring images to Tripoli and Washington. But just before dawn, and soon after a C.I.A.-led team of reinforcements, including two military commandos, arrived from Tripoli, a brief but deadly mortar attack surprised the Americans. Two of the C.I.A. security officers who were defending the base from a rooftop were killed.
That is from a NYT piece that bears reading.  It contains far more details than any of the sloppy conspiracy-minded stories have.  Further, it paints a picture of the complicated nature of the situation (unlike the video game-like versions in the CEC where help is easy and immediate if only someone would allow that help to come) and it also debunks the notion that people were told to "stand down" (another conspiracy theory) and that no attempt at aid was rendered.
2.  Petraeus.
I have seen several attempts to state that the Petraeus resignation was part of the Benghazi cover-up.  See some examples here (including the God Emperor of the CEC, Rupert Murdoch and CEC headliner Laura Ingraham).   Some blogospheric examples  here and here.
Question:  if the Obama administration wanted to use Petraeus' affair in some draconian way to influence his testimony, wouldn't it have made more sense for them to have kept him in place and used the information against him?  Further, why do people think that his resignation would mean that he could not be called before Congress to testify if they thought it necessary?  None of this makes any sense unless, of course, one is looing for a conspiracy built on BS.
Let me be clear:  the events in Benghazi need to be investigated, but they need to be investigated because we need to understand why it happened and prevent such happenings in the future.  However, it would appear that many do not want to simply understand the events, they are convinced that there is a deep, dark secret to be uncovered.  Prior to Tuesday, many thought it was the key to defeating Obama at the polls (Romney thought he had a massive win on this topic in the second debate, for example), and now many still think that it is cudgel with which they can beat him, if not impeach him.  The latter is from the land of wish (which, to bring this full circle, is where the CEC's electoral projection originated).
The main problem with a story like Benghazi is that it is much harder to demonstrate the BS because of its complexity, while with the election it was quite easy to do.  Indeed, almost all political stories are more like Benghazi than the election, which makes debunking the BS on a daily basis nearly impossible.
Still, one concluding plea:  those who consume massive amounts of the CEC, please consider the degree to which you were mislead over the election and then, perhaps, start to apply some grains of salt when the exact same people spin various conspiracy theories (whether on Benghazi or on the next thing, because there will be numerous next things).
Much more could be written, but I will leave here for now.  To conclude, however, let me say this:  my fundamental point is that there is a difference of great importance between wanting to understand what happened in Benghazi and wanting to turn Benghazi into a massive scandal based on conjecture and animosity towards the administration.  And, most important of all:  evidence and careful analysis are far more likely to lead to a useful conclusion than is wishful partisan ranting presented in a sensationalistic fashion.
*One need look no further than Dinesh D'Souza's ridiculous 2016 to demonstrate this fact.
**I use that term in Harry G. Frankfurt's sense of the term, as taken from the description of the essay:  "bullshitters seek to convey a certain impression of themselves without being concerned about whether anything at all is true. They quietly change the rules governing their end of the conversation so that claims about truth and falsity are irrelevant. Frankfurt concludes that although bullshit can take many innocent forms, excessive indulgence in it can eventually undermine the practitioner's capacity to tell the truth in a way that lying does not. Liars at least acknowledge that it matters what is true. By virtue of this, Frankfurt writes, bullshit is a greater enemy of the truth than lies are."  Clearly, a lot of the discussion of polling that we saw, and can now see were wrong (like Jay Cost's claims about PA or George Will's about MN, to name tow very specific examples in a sea of BS) fit well into what Frankfurt was talking about.