Larry Hogan 2024
Could a blue state governor be the future of the Republican Party?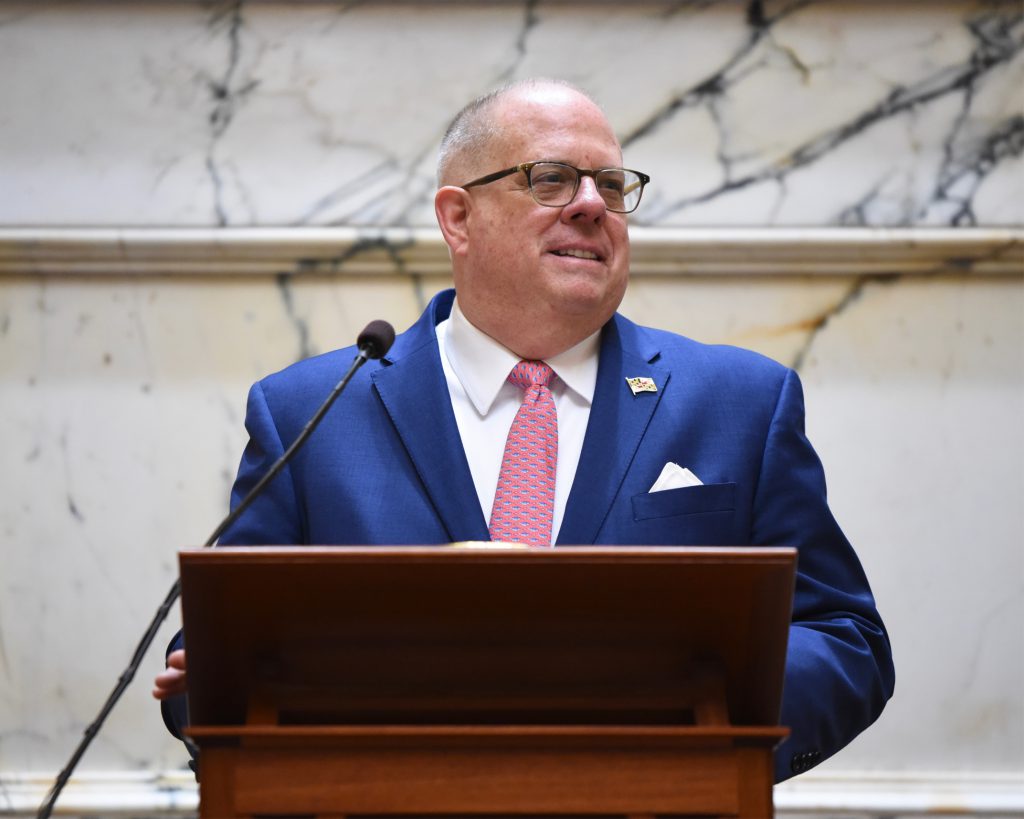 Longtime Republicans who grown disgusted with the party in the age of Trump are pining for a savior to guide the party to a more moderate direction. The governor of Democratic stronghold Maryland could be the answer but, alas, likely won't.
POLITICO ("Larry Hogan argues for a 'bigger tent' GOP as 2024 rumors swirl"):
As rumors swirl that Larry Hogan is eyeing a run for president in 2024, the Republican governor of Maryland has some advice for the post-Trump GOP: Be more like me.

"I don't know what the future holds in November, but I know that the Republican Party is going to be looking at what happens after President [Donald] Trump and whether that's in four months or four years," Hogan said Sunday on NBC's "Meet the Press."

That, Hogan argued, should include becoming more inclusive.

"I think they're going to be looking to, 'How do we go about becoming a bigger tent party?'" he told host Chuck Todd.

The second-term governor pointed to his 2018 reelection as a model, when he won in deep-blue Maryland by almost 12 points "by reaching out, by trying to find that middle ground where people can stand together and by avoiding divisive rhetoric."

Hogan pointed out that he also won votes from suburban women, a demographic that appears to have ditched Republicans — something that could prove detrimental to Trump in November's election. He also cited Democrats, independents (with whom Trump has also lost ground in recent polling) and minority voters (among whom Republicans historically underperform).

"I think that's something the Republican Party's going to have to look to. We're going to have to find a way to appeal to more people and have a bigger tent," he said.

The governor has made a national name for himself as one of the few, prominent elected Republicans unafraid to speak out and criticize Trump. Since his reelection, Hogan has fueled speculation that he might have presidential ambitions, but last summer ultimately decided against a primary challenge against Trump.

As the head of the National Governors Association, Hogan has been an outspoken critic of the White House's initial coronavirus response, and is reportedly mulling a run for president in 2024. Hogan recently penned a memoir about his experience battling cancer, the riots in Baltimore in 2015 and now the pandemic.

Though he didn't address specifically his interest in running for president Sunday, Hogan argued that there is a sizable chunk of the electorate disillusioned by politics as it currently exists.

"I think regardless of what happens in November, there are an awful lot of people in America that are completely frustrated with politics today and the divisiveness and dysfunction in Washington," he said.

Hogan also would not divulge who he plans to vote for in November; he wrote in his father's name in 2016.
Granting that it's somewhat absurd to be talking about 2024 when we haven't yet held the 2020 election, much less the 2022 midterms, the future of the Republican Party is a matter of interest.
Earlier this month, Matt Lewis, an iconoclastic conservative columnist, mused as to both the future of the leaders of the #NeverTrump movement and of the GOP. He rightly notes that diehard conservatives will hate them for helping hand the reins of power to Joe Biden, especially if the progressive wing of the party pushes him to adopt significant chunks of their agenda.
For those of us hoping to restore the GOP, a radicalized Democratic Party, as dangerous as that sounds, creates a niche for a sane and serious alternative party to emerge. Left-wing overreach could prompt Republicans to get their house in order, purge toxic Trumpism, and quickly return to power as a safe counter to the scary, radical left. Rather than losing power for a generation, bada bing, bada boom, you're back in business—with a new paint job!

Again, I'm not holding my breath for this storyline to develop—and if it does, nobody will think to thank the Never Trumpers.

Most Never Trumpers believe that the ability to salvage the GOP is contingent on the scale of a Biden victory. If Trump loses narrowly, they fear that Trumpism won't be fully purged. Their hope is that a massive electoral drubbing will extirpate Trumpism root and branch. If that happens, then Rick Wilson, Mike Murphy, and Bill Kristol et al. could find themselves back inside the GOP tent.

But do people who have been defeated—even (especially?) when utterly humiliated—really want to admit they were wrong? Even if forced to change their ways in order to win future elections in the 21st century, it seems unlikely that Sean Hannity and Laura Ingraham and Rush Limbaugh will apologize to the Cassandras and say, "You were right all along!"

Rather than returning to the party of Reagan or Bush, we are more likely to see someone like Tom Cotton or Josh Hawley nominated for president in 2024 against some successor who is to the left of Joe Biden. That is to say, moving on from Trump probably doesn't mean moving back to the good old days, it means moving on to a more populist and nationalist GOP that is smarter and more eloquent and more disciplined than Donald Trump, while still embracing many of his positions.
Sadly, I think that's the more likely outcome, at least in the short run.
Many in the comments here have argued that the Republicans could go the way of the Whigs, fracturing into warring wings and ultimately replaced by another party. But that happened 160 years ago, in a much less mature political system. The institutional momentum behind the "Democratic" and "Republican" vehicles is likely irresistible unless we amend the Constitution or otherwise radically reshape the way we elect Presidents and the Congress.
In the modern era, the Republicans only took the one humiliating smackdown of 1964 to snap back to offering a more moderate alternative in 1968 (the same they'd offered in 1960, oddly). It took the Democrats five losses in six cycles from 1968 to 1988 to rebrand themselves as New Democrats in 1992. They've won the popular vote in every election save one since but, alas, the vagaries of the Electoral College have given the Republicans three wins, masking their unpopularity.
Let's posit a complete Trump smackdown in November, in which Biden wins 400-odd Electors, carrying the likes of Texas and Georgia and sweeping in a Democratic Senate majority. Let's assume also that the Democrats abolish the filibuster at the outset.
Do the Republicans come back with someone like Hogan? He'll be 68 at that point, so no spring chicken—but much younger than the octogenarian Biden. (Unless he steps aside for a younger nominee. Or, tragically, passes and his Vice President is handed the reins.) Or Jeb Bush, who'd be 71? Or John Kasich, who'd be 72?
Nikki Haley, who seems to be the only high-level Trump official who has emerged largely unscathed, is another alternative in that direction. And she'd be much younger, at only 52.
Or, as Lewis projects, do they double down with someone like Josh Hawley (who'd only be 44!) or Tom Cotton (47)?
The party produced all manner of post-defeat moratoria after 2008, most of which said they needed to figure out how to expand their base beyond bigots and the elderly. In 2012, they avoided disaster because the crazies were divided into too many camps and wound up rallying around Mitt Romney. While many argued for a bigger tent, many took the opposite lesson: that the party needed a more full-throated conservative. But, in 2016, the worst possible scenario emerged: the moderates had too many candidates, none of whom were charismatic, and they were beaten by a demagogue who played to the worst instincts of white's seeing their domination challenged.
How 2024 plays out is ultimately impossible to predict, since we have no idea what the conditions on the ground will be. One presumes COVID-19 will have been eradicated by then and hopes that it's not replaced by another pandemic. Has the economy recovered? Are we at war with China, Russia, or Iran?
Do the progressives overplay their hand, giving conservatives something to fuel a comeback? And do they respond with Trumpism in younger, smarter packaging or some sort of New Republican messaaging?
Part of the problem for the GOP—and it's one I've been harping on for a decade or more—is that it really hasn't had any new ideas since 1994—arguably since 1980.
Hogan and Haley both have some charisma and have demonstrated the ability to govern competently. But managerial competence alone isn't enough to win election; just ask Michael Dukakis.
Hogan's tenure in Maryland has been interesting as he has gone along with some rather progressive legislation on LGBTQ rights, marijuana legalization, and the like. But I don't know how that plays out on a presidential level. Is that seen as moderate or simply Democrat Lite?