Bill Weld Launches Primary Challenge To Trump
Former Massachusetts Governor Bill Weld has officially joined the race for the 2020 Republican Presidential nomination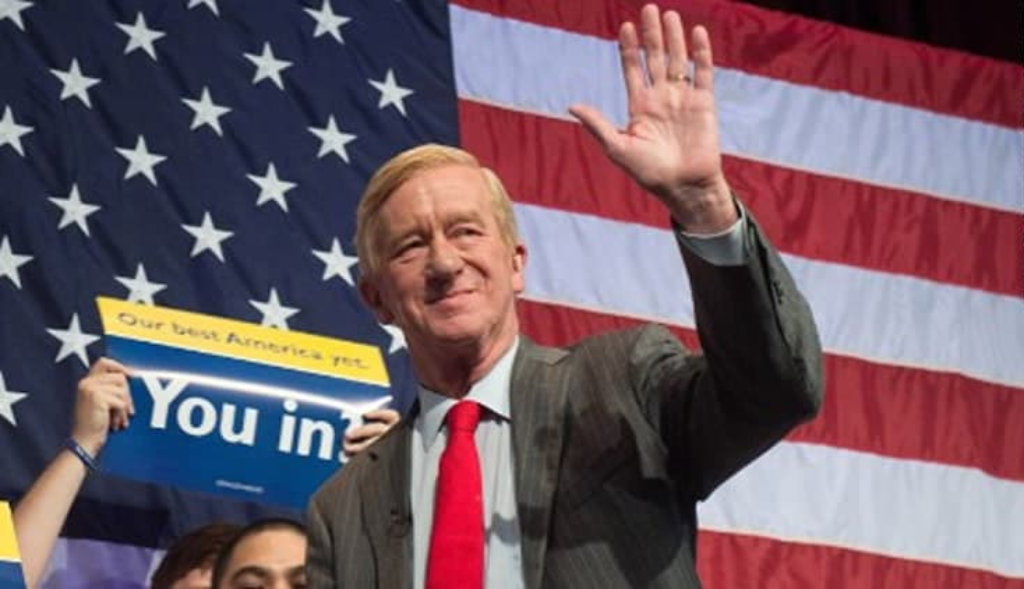 William Weld, who previously served as Governor of Massachusetts in the 1990s and was the Libertarian Party's nominee for Vice-President in 2016, has become the first Republican to formally announce a challenge to President Trump for the 2020 Republican nomination:
Former Massachusetts governor Bill Weld officially announced Monday that he will challenge President Trump for the 2020 Republican presidential nomination, after several months of mulling a long-shot bid that would appeal to traditional GOP voters.

Weld made the announcement in an appearance on CNN's "The Lead With Jake Tapper," where he described himself as "a Republican who works across the aisle and gets things done."

"Donald Trump is not an economic conservative. He doesn't even pretend to be. The country deserves to have some fiscal constraint and conservatism," he said.

Weld, 73, will face a steep climb against Trump, an incumbent who is deeply popular with Republican voters. Weld last won an election in 1994 and has drifted politically in recent years, even serving as the vice presidential candidate for the Libertarian Party in 2016. But he is now determined to offer the GOP a moderate alternative.

Weld filed official papers with Federal Election Commission on April 1, according to his campaign.


Weld's entry comes as the Trump political team has touted the president's standing, both financially and politically. Trump's reelection campaign raised more than $30 million in the first three months of the year, the campaign said Monday.


"The President is in a vastly stronger position at this point than any previous incumbent president running for reelection, and only continues to build momentum," Trump campaign manager Brad Parscale said in a statement, unrelated to Weld's announcement.


Still, if Weld's campaign did somehow get traction, it could present a headache to the Trump operation, and history has demonstrated the effect of such challenges.

(…)

A White House official, who was not authorized to speak publicly, dismissed Weld on Monday as a "relic" and someone who "is a big liberal" on climate change and drug issues. Weld has called climate change a dire threat to the nation and backed the use of medical marijuana for veterans suffering from post-traumatic stress disorder.


"Republican voters don't want what he's selling," the official said. "They want to support the president."


Weld has previously defended his decision to challenge Trump, saying in February that "Republicans in Washington want to have no election." His team acknowledges he faces many hurdles but maintains that GOP voters deserve a choice in 2020.


"It is a long shot. But it's certainly less of a long shot than Donald Trump was when he announced and no one thought he was serious," Stuart Stevens, Weld's strategist and adviser since the 1980s, said in an interview. "Tonally, he's going to run a very different campaign. He's not mad at the world. He's not a victim."


Weld has been a fierce critic of Trump's nationalism and called it an outgrowth of movements of hate groups in Europe and elsewhere. He told the New Yorker this year that Trump uses a "dog whistle loud and clear" to win support from white supremacists and others.


Stevens, the former chief strategist for Mitt Romney's 2012 presidential campaign, said he has left his longtime firm, Strategic Partners Media, to work for Weld. His former partner at that firm, Russ Schriefer, is an adviser to Maryland Gov. Larry Hogan (R), who is considering his own presidential bid against Trump.
Realistically speaking, of course, Weld stands no chance of actually winning the Republican nomination over Trump absent some truly extraordinary circumstances. As I've pointed out before, no primary challenge to a sitting President has been successful in the modern era, Ronald Reagan came close in his bid against Gerald Ford in 1976, and Ted Kennedy put up a strong challenge against Jimmy Carter in 1980, but neither one managed to deny an incumbent the nomination. Pat Buchanan also challenged George H.W. Bush in 1992, but at least in terms of votes didn't really come as close as Reagan or Kennedy did. The closest example that we have is the 1968 election when Lyndon Johnson decided not to run for re-election after a disappointing, albeit still victorious, performance against Eugene McCarthy in the New Hampshire primary that year. There is no reason to believe that the outcome will be any different this year.
The unlikelihood of an intra-party challenge to Trump being successful is made even more apparent when one looks at the current state of the Republican Party. As I've noted many times since 2016, most especially here and here, the Republican Party is basically now Trump's party and, outside of a handful of members of the House and Senate and some political leaders outside Washington, there is very little dissent from the President's agenda and almost nobody speaking out when the President does or says something outrageous. Additionally, while Trump's job approval with the general public remains historically low, his support among Republicans generally stands at 88% approve and higher. Add to this the fact that the Republican National Committee has effectively become a branch of the Trump 2020 campaign to the point where one member of committee has suggested that the party should ban primaries altogether for the 2020 election and the odds of any candidate, least of all Weld, being able to pick much momentum is fairly low.
In no small part because of this, CNN's Grace Sparks notes that Weld has a tough road ahead of him:
Former Massachusetts Gov. Bill Weld's numbers against President Donald Trump aren't looking good for him — or any other Republican who decides to challenge the President for the 2020 Republican presidential nomination.

Only 8% of Republicans and Republican-leaning independents said they would definitely support Weld in a matchup against Trump and 10% said they weren't sure but could support him, according to a March poll conducted by Monmouth University. Over half (54%) said they would definitely be supporting Trump, and 2 in 10 also reported they would probably support Trump but consider Weld as an option.

With just 8% definite and 30% possible, it's not a good base for the former governor as he starts his official campaign.Weld's biggest support comes from moderate and liberal Republicans and leaners, 16% of whom said they would definitely support him over Trump.

Unfortunately for Weld, only 4% of registered Republicans in Iowa, the first primary state to hold a caucus, have a favorable opinion of him, according to the March CNN/Des Moines Register/Medicom poll. Few, however, have an unfavorable opinion of him — 81% said they aren't sure.

And in a University of New Hampshire survey of New England state, one where Weld could be expected to perform better due to its proximity to Massachusetts, only 3% of Republican primary voters said they'd support Weld over former Ohio Gov. John Kasich (17%) or Trump (68%).
All of this is consistent with what we already know about the modern Republican Party. In the past, there was arguably a far wider audience for the mix of libertarian and center-right positions that Weld takes on issues. and the contrast between his somewhat patrician New England demeanor and the bombastic ridiculousness of Donald Trump could not be more apparent. Additionally, much like his Libertarian Party running mate in 2016, Weld's experience in government and in dealing with a recalcitrant legislature makes him far more qualified than Trump even after the President's first four years in office.
None of that will matter to Republican voters, of course. Despite everything that has happened over the course of the past two years, or perhaps because of it, President Trump remains immensely popular within the Republican Party and, as James Joyner and myself have both noted, the GOP is basically now Donald Trump's party. Given that, a challenge from Weld or anyone else, such as former Ohio Governor John Kasich or Maryland Governor Larry Hogan, isn't likely to go very far. Nonetheless, Weld is a candidate that I could personally see myself supporting even if his bid is entirely quixotic.