Time for a National Primary
The consolidation of Super Tuesday makes the current system even more broken than before.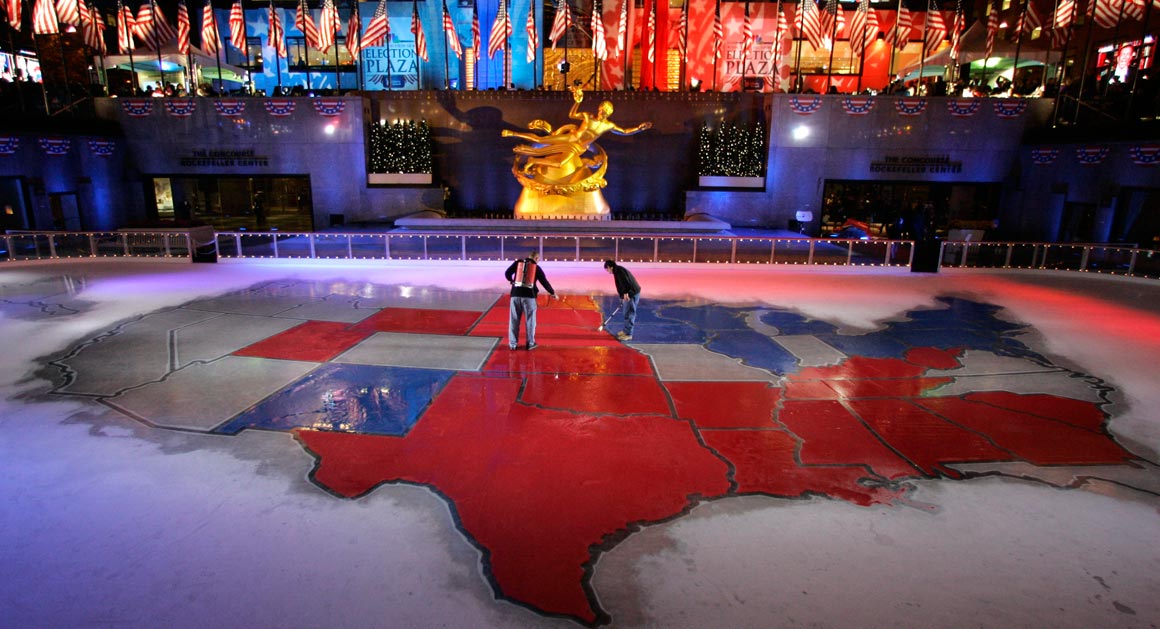 The Hill ("Super Tuesday bonanza raises stakes for Dems"):
A glut of Super Tuesday contests in 2020 is adding to the importance of the Democratic presidential primary's first four contests in Iowa, New Hampshire, Nevada and South Carolina, underscoring the need for a strong early showing ahead of what will become a nationalized campaign.

States eager to influence the outcome of the Democratic primary race are stacking next March 3 with a huge pool of delegates that will be at stake from coast to coast.

Without a big win or a surprisingly strong showing in one of those early states, candidates are likely to find their media attention and fundraising ability evaporating — particularly given the crowded field of high-profile politicians.

Many of the names battling for attention today are unlikely to even survive to March 3.

"We don't know how many candidates will make it to Super Tuesday," said Jeff Berman, who has run delegate operations for several Democratic presidential campaigns, including Barack Obama in 2008 and Hillary Clinton in 2016. "It's always a sequential process."

At least 10 states will hold nominating contests on Super Tuesday 2020, in addition to a territory and Democrats living abroad.

As it stands, at least 41 percent of all Democratic delegates will have been allocated after votes are counted on Super Tuesday. And a few states looking at moving up their contests to March 3 could add to the total.

Super Tuesday's states vary widely in geography, racial diversity and economic outlook, from mega-state California to tiny Vermont, largely white Massachusetts to states like Texas and North Carolina, where African-American and Hispanic voters are pillars of the Democratic electorate.

Georgia Secretary of State Brad Raffensperger (R), who has the sole authority to schedule his state's primary, is likely to add the Peach State to the fray.

New York legislators are eyeing the same date, while Oregon state lawmakers this week introduced legislation to move their contest to March 3 as well.

The cluster of contests will force campaigns to pivot quickly from retail politics in the living rooms of Iowa and New Hampshire to fly-ins and larger rallies in a broad range of states across three time zones — making momentum all the more critical.

"Even a well-resourced presidential campaign has a hard time communicating at the level you need to in all these Super Tuesday states," said Jed Ober, a top delegate counter in Clinton's 2016 operation who now serves as chief of staff to Rep. Susan Wild (D-Pa.).
Having candidates spend a year or more engaged in "retail politics" in two tiny, unrepresentative states has long been a rather silly way to winnow the field. But, as campaigns start earlier and earlier with each passing cycle and states race to move their primaries earlier and earlier lest they become afterthoughts, the process makes even less sense.
The Iowa Caucuses have started this process since the dawn of the modern, primary-driven system. There was some charm to having voters from the "American Heartland" get to know the candidates up close and personal. But a population that's 90.9% Caucasian, 3.3% African American, 2.1% Asian, 1.3% other race, 2% two races, and .4% Natives of North America is increasingly unrepresentative of a diverse nation.
Further, the very nature of a caucus means that the outcome isn't even representative of Iowa partisans. With the notable exceptions of Dick Gephardt in 1988 and Tom Harkin in 1992, the eventual Democratic nominee won in Iowa. But they've almost always backed a Republican who would fail to win the nomination in competitive years: George H. W. Bush in 1980 and Bob Dole in 1988 (premature in both cases) and Mike Huckabee in 2008, Rick Santorum in 2012, and Ted Cruz in 2016.
Next, we move on to New Hampshire—which is even whiter than Iowa and a third its size. In terms of picking the eventual winner, it has been the opposite of Iowa. It almost always gets the Republicans right, with the notable exceptions of going for Pat Buchanan over sitting Republican President George H.W. Bush in 1992 and slightly favoring John McCain in 2000 over eventual nominee George W. Bush. By contrast, they almost always get the Democrat wrong, most recently going with Bernie Sanders in 2016 and Hillary Clinton in 2008.
Regardless, it makes no sense at all to have lily-white rural states (neither has a metropolitan area to speak of) winnow the candidates. They tell us nothing about their appeal to the broader country and yet a candidate who doesn't make a strong showing in at least one of the two states is declared a loser and tends to have difficulty raising money and getting positive news coverage. That's especially true in a cycle like this one, with a huge array of candidates desperate to break out of the pack.
Then, as noted in the Hill report, we get into a mad dash of primaries across the country, with the race likely all-but-decided on Super Tuesday, March 3. During this phase of the campaign, candidates have to make strategic choices as to which primaries and caucuses to invest resources in and which ones to skip altogether.
My longstanding preference, as noted here at least as early as January 2007, is a national primary:
The idea that candidates build name recognition in Iowa and New Hampshire and then slowly build momentum as the process moves on is a quaint one but largely mythological. Since Jimmy Carter in 1976, has any candidate emerged as a major party nominee who wasn't an early front-runner and well-heeled? Certainly, the nominees in the past several cycles have all been early front runners.

A national primary in, say, March, with a run-off in, say, June, would be much preferable to the way we do it now. If a candidate got 50% of the vote, he'd be the nominee. If not, the top two candidates would run against one another for another six to eight weeks.

That would force everyone to engage in retail politics on the issues rather than hanging around Merrimack Restaurant with the locals. And it would virtually guarantee substantive campaigning would continue into the early summer since only shoo-ins such as sitting presidents would likely capture a majority in a multi-candidate race.
To some extent, the addition of huge states to Super Tuesday starts to get us there. But, first, it doesn't eliminate the Iowa and New Hampshire problem. And, second, it still encourages targeting individual states more than a true national primary would.
I'm also amenable to the idea of having, say, four regional primaries with the order rotating in successive cycles. But we're chosing nominees for the only nationally elected office in the country. We should do so on a national basis.