The GOP Is Donald Trump's Party Now
The transformation is complete. The GOP is now the party of Donald Trump. If you're sticking around and not speaking out against what the President represents, you're part of the problem, not part of the solution.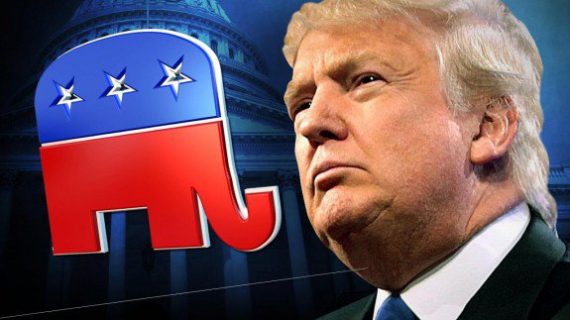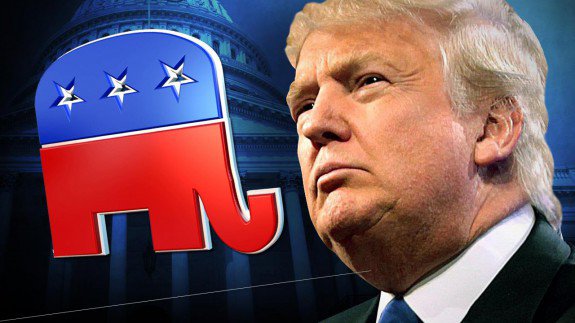 Much of the reporting about the 2018 midterms has focused on the extent to which President Trump, his rhetoric, and his lower than average job approval numbers could impact Republican fortunes in November. The conventional wisdom, of course, is that Republicans stand to hurt themselves by the extent to which they have tied their political futures to the Trump Administration and that they are putting their political fortunes on the line by backing a President who clearly doesn't seem to have their political interests at heart. Notwithstanding all of that, Jeremy Peters at The New York Times notes that rather than running away from the President, many candidates are trying to out-Trump Trump:
Don Blankenship likes to believe he knows something about rough justice and who deserves it.

"We don't need to investigate our president. We need to arrest Hillary," one of his campaign ads proclaims, mimicking President Trump's crude 2016 rallying cry, "Lock her up!"

Mr. Blankenship, who has a respectable chance of winning the Republican nomination for Senate in West Virginia on May 8, is, in more ways than one, the ideal candidate for the Trump era. He spent a year in prison on charges rising from the collapse of one of his coal mines, which killed 29 people. Mr. Blankenship nurses a deep sense of grievance, and he has no political experience to speak of.

But he does have a natural inclination for one of the most distinctive and defining contributions that Mr. Trump has made to American politics: its sound.

In Republican races across the country, candidates like Mr. Blankenship are parroting the president as they try to prove to voters that they are cut from the same cloth as he is. They recite the Trump lexicon, spouting his trademark phrases and slurs like "Drain the swamp," "Build the wall," "rigged system," "fake news" and "America first."

They are channeling Mr. Trump's belligerent and profane style of speaking, seeking to capture that essential but elusive quality that matters so much to voters these days — authenticity.

And they wear his hats.

In Indiana, Representative Todd Rokita, a Republican candidate for Senate, proudly slaps on a red "Make America Great Again" cap in a new ad as he promises to "proudly stand with our president and Mike Pence to drain the swamp."

Not to be outdone, one of Mr. Rokita's opponents, Luke Messer, tarred Mr. Rokita as "Lyin' Todd," an echo of Mr. Trump's epithet for Senator Ted Cruz, "Lyin' Ted." Mr. Messer's gripe? Mr. Rokita falsely claimed to have received the president's endorsement.

Representative Martha McSally, a Republican who is running for the Arizona Senate seat of Republican Jeff Flake, who is retiring, offers a testimonial in one of her campaign videos from Mr. Trump about how "tough" and "real" she is. She tells a story about how she once told Washington politicians to "grow a pair of ovaries." As further proof of her saltiness, Ms. McSally offers up an old, bleeped out quote from a news article. "McSally stood up," the text onscreen reads, "and said let's get this '@#$% thing' done."

Marsha Blackburn, a congresswoman from Tennessee, wants it known that she will pick the same fights as the president. In an ad announcing her candidacy for the Senate seat of Bob Corker — who also plans to retire — right after she mentions her skeet-shooting skills and the gun she packs in her purse, she promises to stand with Mr. Trump "every step of the way to build that wall."

Mr. Trump has so thoroughly rewritten the rules of engagement in politics that restraint and polish have become signs of weakness for many candidates. No longer do they assume as they once did that a special set of rules applies to him, and that they would be punished for trying to mimic his behavior.

"Today the goal is linguistic," said Frank Luntz, a Republican strategist who specializes in the words and messages that candidates use. "We are no longer rewarding policy; we are rewarding rhetoric."

"On a personal level," Mr. Luntz added, "it sickens me."
These examples from around the country appear to be just a handful of what is happening in numerous primary battles around the country. Rather than running on tax cuts or any substantive issues, candidates for the House and the Senate are following in the footsteps of the leader of their party and appealing to the xenophobia, anti-immigrant, protectionism that propelled him to the White House. Another example of this can be found in the Republican primary in Indiana to take on Democratic Senator Joe Donnelly, who is viewed as one of the most vulnerable Democratic candidates in the country. As National Journal's Josh Kraushaar notes, one of the candidates in that race, Mike Braun, is the candidate who appears to be gaining ground against his opponents in a race where he is basically mimicking the President on issues such as trade, "draining the Swamp, and immigration. As Greg Sargent notes in The Washington Post, Braun's ads are essentially redefining "true conservatism" as identical to the populist, nationalist rhetoric that propelled Trump to the Presidency. With respect to the same race, the Indianapolis Star has noted that one of the candidates in the race has adopted Trump's rhetoric regarding "crooked Hillary Clinton" and mimicked the President's attacks on the investigation being conducted by Special Counsel Robert Mueller while another has claimed that the only thing the Mueller probe has uncovered is proof of Hillary Clinton's culpability in seeking to improperly influence the election.
On some level, of course, it's easy to understand why these candidates are seeking to mimic the rhetoric and positions of the President simply by looking at the 2016 election results. In West Virginia, for example, Trump walked away with 77% of the vote and well north of a 150,000 vote margin over his nearest competitor, Texas Senator Ted Cruz and he won the General Election by a margin of over 300,000 vote margin and 68.5% of the vote. In Indiana, Trump won the Republican primary by nearly 200,000 votes over Cruz, and won the General Election by more than 500,000 votes over Hillary Clinton. Finally, of course, there's the fact that although Trump's job approval is historically low with the population as a whole, it is overwhelmingly positive among Republican voters. Given these numbers, particularly with respect to the numbers that Trump garnered in the respective Republican primaries, it's not entirely surprising to see Republican candidates mimicking Trump and, apparently, seeking to drag the party even further into the populist xenophobic ethnonationalism that Trump has come to represent.
Beyond the political strategy that might behind all of this, though, lies something far more telling about the impact that Donald Trump is having on the Republican Party. There's a reason why the small handful of politicians who have been critical of Trump in one respect or another, such as Senators Jeff Flake or Bob Corker, are also politicians who either aren't standing for reelection this year or who have decided to retire. Another frequent Trump critic, Senator John McCain, is obviously at that point in his life that he clearly doesn't care about the political consequences of picking a fight with the likes of Trump. Beyond that, though, pretty much every Republican on Capitol Hill, and no small amount of the conservative pundit class that appears on cable news on a daily basis. As I've said before, the modern Republican Party is basically now made up of Trump supporters who are beyond reason, sycophants who are cozying up to Trump because they think it will advance their careers, sellouts who had sold themselves to a man with no principles, and cowards who know what they're seeing is wrong but are too afraid to speak out against it. The result is that the GOP is moving further and further into the Trumpidian populist category in a way that will have a lasting impact on the GOP long after Trump is gone. Hopefully, the American public will stand up against it, but after what happened in November 2016, I'm not particularly optimistic about that.