Commenting Policies: A Reminder
Challenge the ideas of those with whom you disagree, not their patriotism, decency, or integrity.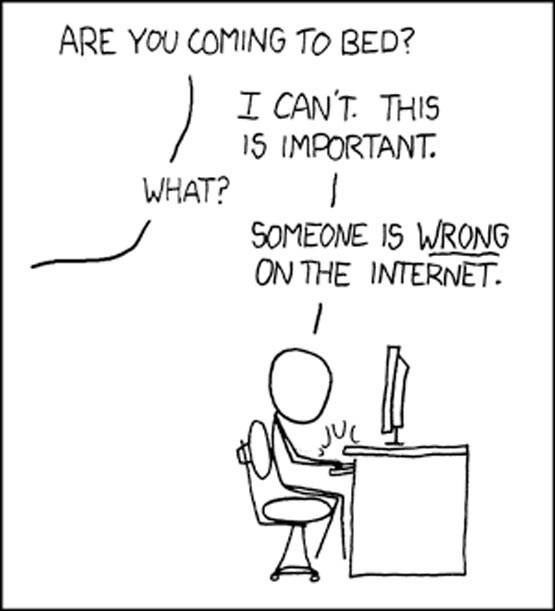 Over the weekend, Walter Russell Mead closed comments on his blog at The American Interest, declaring "To make the comments section work in its present form we would have to edit and curate much more aggressively than we do now and in our current judgment the effort needed to do that is better spent improving other features of the blog."
While we're nowhere near that point at OTB, it's nonetheless true that the comments have gotten increasingly tedious, with too many regulars riding the same hobby horse or nursing the same tired personal grudges in thread after thread. While some of this is inevitable in an open forum with regular contributors that allows unmoderated posting in real time, the editors believe it's worth reminding the readerships of our commenting policies:
Commenting and trackback/pingback capability is provided to encourage thoughtful discussion of the ideas posted on this site. We welcome open debate and viewpoints that differ from those of the post authors. That said, we wish to keep the conversation civil and the following policies, subject to change without notice, apply:

Remember that the people under discussion are human beings. Comments that contain personal attacks about the post author or other commenters will be deleted. Repeated violators will be banned. Challenge the ideas of those with whom you disagree, not their patriotism, decency, or integrity.
The use of profanity stronger than that normally permitted on network television is prohibited. A substantial number of people read this site from an office or in a family environment.

While any comment deemed abusive or offensive may be deleted without warning or appeal by the post author, the following will almost always be deleted:

Comments that are completely off topic.
Comments, especially long ones, that are posted on multiple sites for propaganda purposes.
Trackbacks from posts that do not link back to the post that received the trackback.
Trackbacks from what appear to be spam blogs.
Duplicate trackbacks to the same post.
Comments that advocate violence towards posters, commenters, private, government officials, or pretty much anyone not strongly suspected of terrorism, violent crime, or a declared enemy of the United States.
Comments that contain personal information about others such as home addresses and personal phone numbers.
Any form of trolling, defined as comments that appear intended to send the discussion in a fruitless direction, including repeated raising of only tangentially related points.
I've emphasized the policies that are most frequently abused. Admittedly, the editors have been at best sporadic at enforcing them. We'll endeavor to be more vigilant.
The underlying rule here: "Challenge the ideas of those with whom you disagree, not their patriotism, decency, or integrity."