Obama's War on White People
Victor Davis Hanson thinks President Obama plans to win the back the White House by alienating the white man.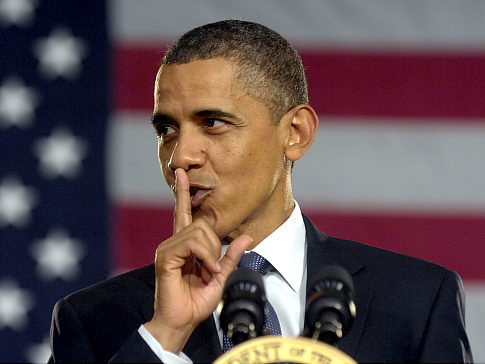 Victor Davis Hanson argues President Obama plans to win the back the White House by alienating the white man.
The election of the biracial Barack Obama was supposed to usher in a new era of racial harmony. Instead, that dream is becoming a tribally polarized nightmare -by design, and intended to assist in the reelection of Barack Obama.

Consider the increasing obsession with the term "white" (as in versus "black"), along with the old standby charge of "racism" — nearly all of it emanating from the president's surrogates and celebrity supporters. Upon the announcement of Paul Ryan as Mitt Romney's vice-presidential pick, almost immediately Donna Christensen, the non-voting congressional delegate from the Virgin Islands, tweeted: "Wait a minute! Are there black people in Va? Guess just not w Romney Ryan! At least not seeing us. We know who's got our back & we have his."

"Got our back" — compare the Chicago Bears coach Lovie Smith's video appealing to African-Americans to cover the president's back — of course implies that Paul Ryan is a veritable racist who by virtue of his skin color and conservative politics will stab blacks in the back. In that vein, Mia Farrow, viewing the initial Romney/Ryan rally, offers, "Camera pans crowd: whole bunch of white people."

Here is what Melissa Harris-Perry, the weekend host of MSNBC's Hardball, said of Paul Ryan's referring to the Declaration of Independence: "The thing I really have against him is actually how he and Gov. Romney have misused the Declaration of Independence. I'm deeply irritated by their notion that the 'pursuit of happiness' means money for the richest and that we extricate the capacity of ordinary people to pursue happiness. When they say 'God and nature give us our rights, not government,' that is a lovely thing to say as a wealthy white man." In the postmodern world of Ms. Harris-Perry, which is the world of Barack Obama, what we say has no innate meaning apart from our class, race, and gender.

Expect the Ryan selection in the next few days to spawn a new flurry of "wealthy white man" invective in a manner that two Clinton-Gore tickets, a Gore-Lieberman ticket, and a Kerry-Edwards ticket never did.
There's several more paragraphs of this but no need to belabor the point.
Look, I yield to no man in my whiteness. And I tire of race constantly being dragged into the political discussion when plain old ideology and partisan hackery are sufficient explanatory variables. But Hanson's argument here makes no sense.
While it's true that the Republican Party's inability to attract black and, increasingly, Hispanic voters is incredibly problematic, the fact of the matter is that whites are still 72.4 percent of the American population.  It would be an electoral strategy bordering on madness to try to divide the country along racial lines when you're on the other side.
Ah, says Hanson, that just shows how clever Obama is:
For whom is this new staged anger at "whites" calibrated?

Surprisingly, I think most likely the independent swing voters. For all the talk of softer support in minority communities, Obama will probably win huge majorities among them, comparable to those of 2008. He might increase voter turnout by revving up fears of white racism, but in general he has few worries over the minority vote.

In contrast, Obama will not do well with the so-called working white voters, and apparently has written them off; he has few worries that the current "white" obsession can do much more damage among the "clingers." But among moderate independents, the Obama campaign is seeking to brand Romney as someone well beyond the mainstream. If the Obama labeling campaign is successful, voting for Romney will mean becoming socially unacceptable; it will be tantamount to embracing a Neanderthal sort of mindset that opposes Obama not on his disastrous economic policies but simply because of his race.

The key to such stigmatization is to Palinize Romney — not merely as a near-felon who lies on federal disclosure forms; not just as an international financial pirate who avoids taxes through overseas scams; not simply as 1-percenter who has a car elevator in his house; and not even as a near-murderer who supposedly likes to fire innocent men and throw their cancer-stricken wives out into the street without health care.

Well beyond even all that, Romney must be portrayed as something like a Bull Connor or a David Duke. If Obama can stigmatize Romney voters as racists and "white" supremacists, then perhaps he can peel away 3 to 5 percent of the critical independents, who desperately fear being associated with a reactionary racist.
But that's madness. It's one thing to try to portray Romney and Ryan as extremists on tax policy or as insufficiently concerned about the plight of the poor—including poor blacks and Hispanics. That's a winnable fight, especially if Romney doesn't up his game at delivering his message. But it's going to be a hard sell, indeed, to portray a guy who was governor of arguably the most Democratic state in the union and a guy who represents a Democratic-leaning district in Wisconsin as analogs of Bull Connor or David Duke. It's an absurd notion.
If the exit polls are to be believed, in the last election John McCain took 55 percent of the white vote to Obama's 43 percent; Obama nonetheless won easily by sweeping 95 percent of blacks and 67 percent of Hispanics.   Obama isn't the first man to win the presidency while losing the white vote; indeed, every Democrat elected in my lifetime has done so. Bill Clinton did it in 1996 and 1992. So did Jimmy Carter in 1976; that's pretty amazing given that the country was a lot whiter then.  Lyndon Johnson was the last Democrat to win the white vote, way back in 1964.
Given that 2008 was a perfect storm for Democrats, I fully expect Romney and Ryan to win the white vote again, likely by a larger margin than McCain and Palin did last go 'round. Given that Republicans have done little to pull away the support of black and Hispanic voters, that might not be enough. But it would nonetheless be crazy for Obama and company to consciously to to alienate white voters when they still need probably 40 percent of them to go their way.