Sandra Day O'Connor Announces She Has Dementia
Sad news from the first woman to serve on the United States Supreme Court.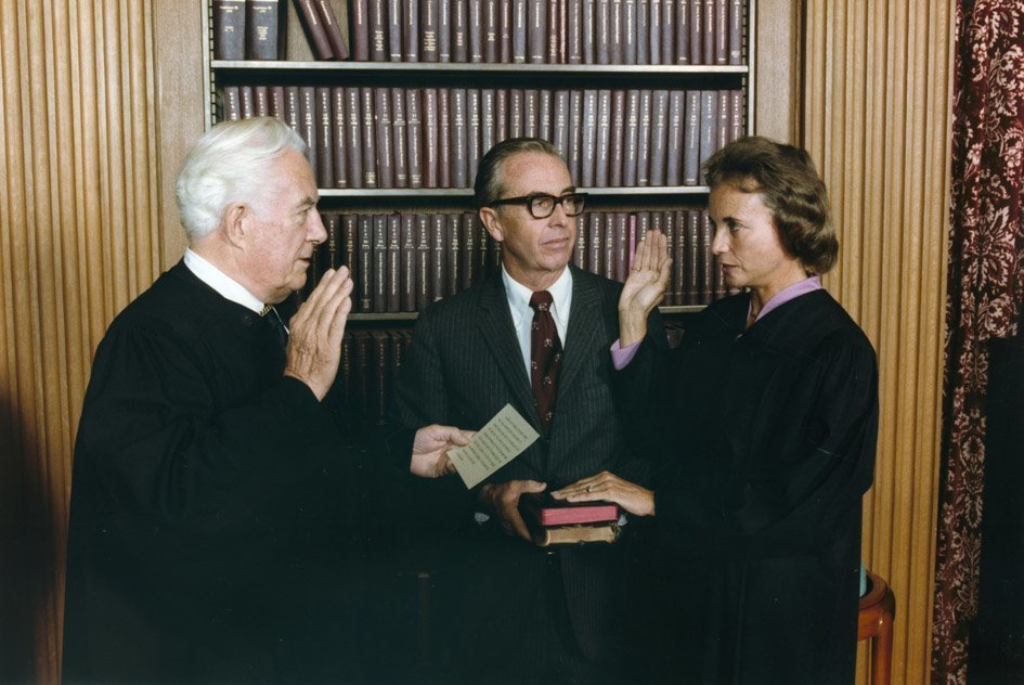 As several news outlets, including The New York Times and Washington Post, are reporting, retired Supreme Court Justice Sandra Day O'Connor has announced that she is withdrawing from public life due to a diagnosis of dementia that is most likely the early onset of Alzheimer's Disease:
Retired Justice Sandra Day O'Connor, the first woman to sit on the Supreme Court, announced today that she has been diagnosed with dementia, "probably Alzheimer's disease," and that as her "condition has progressed," she is "no longer able to participate in public life."

O'Connor's announcement came one day after Jessica Gresko of the Associated Press reported that O'Connor had "stepped back from public life" and that her sons had cleared out O'Connor's office and files at the Supreme Court. O'Connor announced in 2005 that she planned to step down from the court in no small part to spend more time with her husband, John, who was suffering from Alzheimer's disease. John O'Connor died in 2009.

In a letter released by the Supreme Court's Public Information Office that was addressed to "Friends and Fellow Americans," the 88-year-old O'Connor was characteristically straightforward. Noting that "many people have asked" about her health and activities and that she wanted "to be open about these changes," O'Connor wrote that "[s]ome time ago" she was "diagnosed with the beginning states of dementia."

O'Connor used her announcement today as an opportunity to promote civics education, a cause that she has supported since her retirement 12 years ago. O'Connor explained that she feels "so strongly about the topic because I've seen first-hand how vital it is for all citizens to understand our Constitution and unique system of government, and participate actively in their communities."

In particular, O'Connor put in a plug for iCivics, the online civics education program that she started eight years ago. The program, she observed, currently reaches half of the young people in the United States, but she insisted that it should reach them all. "There is no more important work than deepening young people's engagement in our nation." And although she "can no longer help lead this cause," she wrote, she urged "new leaders to make civic learning and civic engagement a reality for all."
Soon after O'Connor's letter was made public by the Supreme Court's public information office, Chief Justice John Roberts released a statement on behalf of the Court in which he praised O'Connor's legacy on the Court, which began in 1981 when she was appointed by President Ronald Reagan after the retirement of Associate Justice Potter Stewart and ended when she retired in 2005. Initially, of course, Roberts was named by President George W. Bush to succeed O'Connor but that changed when Chief Justice Rehnquist died in September 2005. At that point, Roberts was named to replace Rehnquist as Chief Justice and Associate Justice Samuel Alito was named to replace Justice O'Connor. In his letter, Roberts referred to Justice O'Connor as "a towering figure in the history of the United States and indeed the world." Noting that she "broke down barriers for women in the legal profession to the betterment of that profession and the country as a whole." Roberts also noted that he was not surprised that O'Connor used the occasion of what is essentially her farewell to the American public to promote civic involvement, noting that she used that opportunity to "think of our country first, and to urge an increased commitment to civics education, a cause to which she devoted so much of her time and indomitable energy." Roberts went on to say that "no illness or condition can take away the inspiration she provides for those who will follow the many paths she has blazed."
When she was appointed by President Reagan, O'Connor had a background that was somewhat different from what we've come to expect from Supreme Court Justices today. Rather than coming from one of the Circuit Courts of Appeal, O'Connor had served in both legislative and judicial positions in Arizona prior to being elevated to the nation's highest Court. From 1969 to 1975, for example, O'Connor was a member of the Arizona State Senate. In 1974. she was elected as a Judge to the Maricopa County Superior Court, the trial-level court in Arizona, where she served from 1975 to 1979. In 1979 she was elevated to the Arizona Court of Appeals for Division One until being nominated to the Supreme Court of the United States. It was this diverse legislative and judicial background that likely contributed to the manner in which O'Connor approached cases during the 24 years that she served on the nation's highest court.
While O'Connor started out as most decidedly a member of the nascent conservative wing of the Supreme Court in her early years alongside Justices such as William Rehnquist on the right and stalwarts of the left such as William Brennan and Rehnquist, O'Connor's role on the Court slowly shifted to the point where she was often the swing vote on many of the court's most important rulings. In no small part, this was due to the changes that were made to the Court by things such as the elevation of Justice Rehnquist to Chief Justice and the appointment in her wake of Justices such as Anthony Kennedy, Antonin Scalia, and Clarence Thomas. This was especially true when it came to hot-button issues such as abortion rights, affirmative action, and other headline-grabbing issues that the Court dealt with during her near quarter-century on the Court. By the time she had retired in 2005, O'Connor proved to be the decisive vote in several landmark cases and the author of some of the Court's most important opinions. After retiring, O'Connor served as Chancellor of William & Mary University in Virginia and also served from time to time as a replacement Judge in one of the Circuit Courts of Appeal and even, on a few occasions, as a trial Judge in United States District Court.
The circumstances of her withdrawal from public life, of course, are not all that different from those of the President who appointed her. It was in 1994, of course, that President Reagan sent his own letter to the public announcing his diagnosis of dementia. Additionally, one of the reasons that O'Connor retired in 2005 was due to the fact that her husband had been diagnosed with dementia himself and had been moved to a residential care facility where he spent the rest of his life before passing away in 2009. Hopefully, O'Connor will have as easy a time as possible given her condition and will still have time to her family and friends.
Here is Justice O'Connor's letter:
Letter From Sandra Day O… by on Scribd
And here is the statement released by Chief Justice Roberts:
Letter From Chief Justice R… by on Scribd