Acknowledging and Understanding Government
The GOP (and our politics in general) will not be healed until there is an honest assessment of what government is (and is not).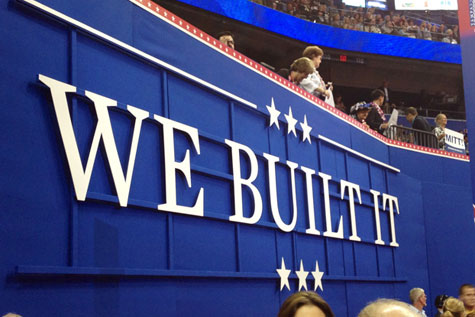 It was, if you all will pardon the pun, the elephant in the room:  government.
Sure, there was the oft-noted in pro-democratic circles fact that the building in which the convention was housed was built largely with government funds (not to mention the fact the convention itself was funded by tax dollars).  These simple facts made the whole "We Built It" theme a bit confused.
However, beyond that was the simple fact that the politicians themselves and the speeches they gave reminded us that government, you know, does stuff and it is often good and useful stuff, whether we are talking about national goals or personal development.
For example, we know that Paul Ryan funded his college education by banking the Social Security survivor's benefits that he received as a result of the untimely death of his father.
Or, take Romney's own speech.  In the biographical section he noted: "My dad had been born in Mexico and his family had to leave during the Mexican revolution. I grew up with stories of his family being fed by the US Government as war refugees."
Moreover, when he wanted to make an appeal to a grand national accomplishment he pointed to the moon landing, a wholly government-created and funded endeavor:
I was born in the middle of the century in the middle of the country, a classic baby boomer. It was a time when Americans were returning from war and eager to work. To be an American was to assume that all things were possible. When President Kennedy challenged Americans to go to the moon, the question wasn't whether we'd get there, it was only when we'd get there.
On the one hand, it is an example of an accomplishment that remains a truly great, and unmatched, achievement of the United States of America.  On the other hand, it was the direct opposite of letting "job creators" and the magic market do its thing.  Indeed, it is an illustration of the fact that sometimes collected, directed effort is required to achieve great things.
Moving beyond Romney, we can look to Chris Christie speaking about his father:
After returning from Army service, he worked at the Breyers Ice Cream plant in the 1950s. With that job and the G.I. bill he put himself through Rutgers University at night to become the first in his family to earn a college degree.
So, we have here a number of examples, both personal and rhetorical, in which government did good things.  It would seem, then, that instead of pretending like the argument is between people who look to the government for a handout (all those socialists, donthca know) and those who do it all by themselves, that we would be better served by a discussion that fully acknowledges that government plays a role of significance in the lives of Americans, and then have a debate about how best that should function.
I am not arguing that all good flows from government.  Indeed, I think that the actions of individuals are key and that hard work is a significant variable in success.  However, I also think that pretending like government doesn't have an important and ongoing role to play is folly and that belief is part of the GOP's problem at the moment.  Moreover, I find it remarkable that Romney can cite NASA and Christie the GI Bill, and at the same time argue that what we need more than anything is to look at government like it is a business.
Indeed, part of Romney's trouble at the moment is because he largely negates government's role in his rhetoric (because that is what the base wants to here) he in running a vague, nearly themeless campaign.  It is difficult to say that government can't do anything at the same time one is saying that one wants to be the chief executive of that government as a means of making things better.
Update I must confess, these days when I hear Republicans talk about government, I always think of the following clip from The Life of Brian:

(Which was mentioned today in a comment thread, I forget which one, by John Personna. I must confess that this clip comes to mind with great frequency of late).