Blog Comments a Tragedy of the Commons
Comments sections on larger blogs seem inevitably to turn into cesspools. Is it worth trying to stop it happening?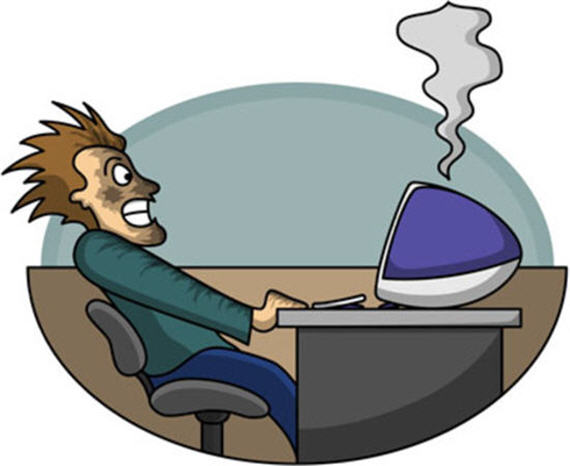 Frustration that trolls are overwhelming the comments section is a periodic topic of discussion among the writers here at OTB.   This despite having a much more constructive set of commenters than most every other blog with comparable traffic discussing controversial public policy matters.
We are, surprisingly, not alone.   Peter Boettke would like to ban anonymous and pseudonymous commenters at  Coordination Problem, while his co-bloggers want to ban all comments or allow a free-for-all.
I am all in favor of critical dialogue, but among people who face the appropriate incentives. That science should hurt, was an important argument made by Jonathan Rauch in Kindly Inquisitors.  Freedom of inquiry is always disciplined by accountability, and for accountability to work you have to be able to identify the parties.

If there is no identity, and thus no accountability, then the "resource" will be depleted in a sub-optimal manner.  To get a more optimal use of the "resource" we need to assign accountability, and institute a policy of sanctions for violation of those rules of resource use and social interaction.
Eli Dourado notes that, first off, this is only an issue for blogs that get substantial amounts of traffic.  For 99.9% of the blogs, getting any comments at all is a cause for rejoicing.   Furthermore,
The commenting dynamic is very different on small blogs than it is on popular blogs. On small blogs, people typically comment when they have something to contribute or ask that is relevant to the post. These are frequently of high quality (relatively speaking; recall Sturgeon's Law: 90 percent of everything is crap). On more popular blogs, this positive commenting dynamic is confounded by the presence of eyeballs. Every post is read by many thousands of people. For the self-involved who could never attract such a large audience on their own, this is an irresistible forum for expounding pet hypotheses, axe-grinding, and generally shouting at or expressing meaningless agreement with the celebrity post-authors.
Leaving aside whether there's such a thing as a blogosphere "celebrity" when most people still don't know what a blog is and have never heard of Glenn Reynolds or Markos Moulitsas — much less James Joyner — this comports with my experience over the years.  If you're wanting to spout off on your pet theories and spar with other commenters, you need to either start a successful blog or piggyback on one.   It makes no sense, after all, to troll a site nobody reads.
Dourado's countermeasures also ring true:
The first step, therefore, to higher quality comments is "be more niche." Discourage your marginal readers with technical language, obscure references, and lengthy posts. Your marginal readers are not of high value anyway, and driving them away is an excellent way to improve the average comment of your inframarginal readers.
Many of the scholarly blogs I read, including very popular ones like Volokh Conspiracy, Crooked Timber, or even Unfogged do this quite well.  They're simply not trollable by ordinary trolls.  Most people attempting to emulate this, however, would simply produce unreadable blogs.
If you cannot bring yourself to do this, or you have delusions about being the next mainstream blog, then you must adopt some sort of rules to govern commenting. Because the incentives for commenting on blogs vary with the popularity and other characteristics of the blog, different blogs should use different rules to govern commenting (straightforward application of Ostrom 1990). Most smaller blogs probably do not need any sort of rules at all. My own blog, unpopular as it is, gets consistently high-quality comments with virtually no rules or policing. The comments section at the blogs of major media outlets (such as the New York Times), however, are a sewer. Again, there are too many eyeballs.
Proposals discussed include registration requirements, rating systems, tying commenting to Twitter or Facebook accounts, and banning the worst offenders.  All have substantial downsides and are more likely to drive away casual but thoughtful commenters than trolls, who after all have more incentive to jump through the hoops.
Robin Hanson, who pointed me to Dourado's piece, nods approvingly and points to a posting he wrote earlier this year on "Why Comments Snark," which aimed at explaining why comments on blog posts tended to be harsher than posts at other blogs commenting on the same piece of writing.
Comments disagree more than responding posts because post, but not comment, authors must attract readers.  Post authors expect that reader experiences of a post will influence whether those readers come back for future posts.  In contrast, comment authors less expect reader experience to influence future comment readership; folks read blog posts more because of the post author than who they expect to author comments there.

This induces snarkier comments for two reasons:

Intelligent post authors can usually anticipate the main post "corrections."  Posts written for readability simply cannot mention every related disclaimer, caveat, alternate interpretation, or follow-on question.  This leaves a huge opening for comments to seem smart by pointing out such things, even when they are boring.
When you post a friendly response to someone else's post, you can hope for reciprocal posts later, where they respond to one of your posts.  This is less likely when your post is critical, or if you just comment on their post; they may not even know you have a blog.

A similar theory explains why large email lists and usenet groups were often so harsh; each contributor had relatively little influence over the subscriber experience.
His preferred alternative is a rating system that allows commenters to ignore commenters they find annoying, thus changing the incentives.
My own inclination over the years has been to allow something approaching a free-for-all in the comments, while posting and occasionally enforcing a comments policy encouraging civility.  I've banned less than half a dozen commenters over the years, and they were more spammers than trolls.   I'll sometimes weigh in and delete comments that too egregiously violate policies against personal attacks on posters or advocacy of truly odious positions but, for the most part, figure people will ignore obvious idiots.
It does seem that the problem has gotten worse in recent months.  It's been especially pronounced in posts dealing with illegal immigration and the rights of American Muslims.   Whether that's a function of more diversity in site co-authors, the vagaries of the current political climate, or some other factors, I can't say.
It's particularly annoying to the post authors, since we read each and every comment on our pieces.  But I'm not sure how much it matters to readers.    Is this an issue worth deploying additional resources to fix?  Or just something to live with in the Wild West that is the Internets?
UPDATE: One of the things noted in Dourado's post is threaded comments, such as seen on the various Atlantic  blogs, which allow commenters to respond directly to other commenters.   The upside is that it allows little side debates between two commenters to carry on while others can comment on the substance of the post.  The downside is that it essentially gives aggressive commenters a post-within-a-post.    Is this something we should implement here?  Or is the current single thread preferable?  I'm agnostic on the matter.