Feeding The Trolls Only Makes Them Stronger
Deny them the pleasure of an angry reaction, and they'll probably leave you alone.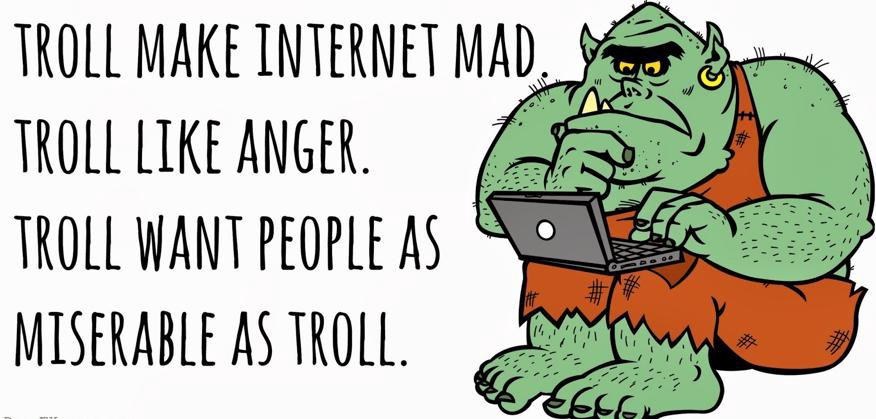 This is your periodic reminder that OTB's comment policies prohibit, among a variety of other things,
Any form of trolling, defined as comments that appear intended to send the discussion in a fruitless direction, including repeated raising of only tangentially related points.
Relatedly, they state,
A note on pseudonyms:  In an ideal world, Internet conversations would happen under our real names and likenesses. That would both make it easier to see each other as people rather than as targets but also tend to induce more caution than posting under the cloak of anonymity. That said, there are legitimate reasons people need to protect their identity. We ask that those who can't post under their name establish a pseudonym, sign up for a Gravatar with an associated email account, and stick with that pseudonym over time. Doing this at least establishes a modicum of an identity in the community.  Relatedly, commenters who post under pseudonyms—or who frequently change pseudonyms—will be scrutinized more closely than those who post under a "real" name with an associated email address, simply because the presumption that they are trolls is heightened.
On balance, OTB's is relatively free from trolling and sockpuppetry compared to most online fora that allow open commenting. We've attempted to rid ourselves of the worst offenders, with a decent amount of success. Still, we have a couple of folks who continue to resurface time and again under different aliases, apparently enjoying the game despite being repeatedly told they're unwelcome here. Additionally, some regular commenters occasionally de-rail threads either by taking the conversation into tangents having nothing to do with the post topic or, worse, by giving trolls what they want and repeatedly engaging them.
Don't feed the trolls. It only makes their task easier.
I started this site more than sixteen years ago and Steven Taylor soon followed suit with the now-defunct PoliBlog. A few months in, he started a regular satirical feature called Parade of Trolls to name and shame the worst offenders. He canceled a few months later because he found it just encouraged them.
Evita March, a Lecturer of Psychology at Federation University Australia, provides an excellent backgrounder ("'Don't feed the trolls' really is good advice – here's the evidence"):
Trolling behaviours typically include deliberately posting inflammatory comments and argumentative messages in an attempt to provoke, disrupt and upset others. "Trolls" may pretend to be part of the group, but their real intent is to create conflict for their own amusement. Shockingly, more than a quarter of Americans have admitted to engaging in trolling behaviour at some point.

Most concerning, however, is that harassing behaviours online (such as cyberbullying and trolling) are shown to have psychological outcomes similar to those of harassment offline. These outcomes can include depression, social anxiety and low self-esteem.

But while cyberbullying is a clear extension of offline bullying, there is no obvious real-world counterpart to online trolling. This can make it harder to grasp exactly why it happens.

Who are the trolls?

Research has defined a typical troll as an internet user who takes on a fake identity, which they then use to cause disruption and trigger conflict among others for their own amusement.

The cover of anonymity allows the troll to treat the internet as their personal playground, throwing provocative comments into forums like grenades into a crowd. Trolls remain unknown to victims and, unlike cyberbullying, their victims are unknown to them.

Online organisations and government bodies have made various attempts to govern and combat trolling. These include anti-troll.org and the online group Zero Trollerance.

But trolling has largely eluded most attempts to control it – as shown by the huge numbers of people who admit to having done it.

Is there a trolling 'type'?

One way to try to understand why people engage in trolling is to investigate whether they are likely to show particular personality traits, such as narcissism, psychopathy, Machiavellianism and everyday sadism – known as the "dark tetrad".

These traits commonly underpin many forms of social manipulation and deception, and involve a drive for ruthless self-advancement, aggression and, most notably, a lack of empathy and severe callousness. Taking each of the tetrad in turn, narcissism is associated with feelings of superiority and ego-inflation; psychopathy is linked to impulsivity and callousness; Machiavellianism is associated with manipulation and exploitation of others; and sadism is defined as the enjoyment of inflicting pain on others.

A 2014 study found that people with higher levels of sadism, psychopathy and Machiavellianism were more likely to engage in online trolling behaviour, with sadism being the strongest predictor.

What's the ultimate motivation?

But research on trolling behaviours has not yet considered the direct motivating factors. So my recent research sought to understand what motivates individuals to engage in trolling behaviours.

If a behaviour is rewarding, an individual is more likely to do it. Because trolling depends on interaction with others, we were interested in the social rewards experienced by those who provoke these interactions.

[…]

The effect of negative social potency was far stronger than the effects of psychopathy and sadism.

This means that while antisocial personality traits do play a role, what really influences trolling behaviour is the social pleasure derived from knowing that others are annoyed by it. The more negative social impact the troll has, the more their behaviour is reinforced.

Fighting back

Happily, this discovery suggests an easy way to deal with trolls: ignore them, rather than giving them the satisfaction of an angry reaction.

Individuals seeking a negative social reward may still engage in trolling. But if they don't receive that negative social reward, then their motivation to engage in this behaviour will likely diminish.

So it appears that the classic internet adage really does hold true: don't feed the trolls. Deny them the pleasure of an angry reaction, and they'll probably leave you alone.
I'll continue to do what I can on the backend to deal with commenters who are pure trolls. They can be persistent but I can delete their comments en masse, limiting their impact on the site.
But we also have a handful of commenters, mostly from the conservative side of the aisle, who are only occasionally trollish. Sometimes they genuinely post comments simply to derail the discussion. Mostly, though, they're just frustrated that the front-pagers and most other commenters are ignoring the Fox News/Breitbart talking points of the day and trying to inject their perspectives. They can be frustrating to deal with, especially when they move the goal posts, but they're not garden variety trolls and there are so few commenters from that side of the debate remaining in our stable that I'm loathe to simply ban all of them and risk turning the site into an echo chamber.
Regardless, they can't derail the discussion without help. So, please, refrain from giving it to them. Engage them if they're making an honest effort to contribute to the discussion. Otherwise, just ignore them.