Memetic Warfare and Stochaistic Terrorism
America's tradition of unlimited free expression increases the danger of violence.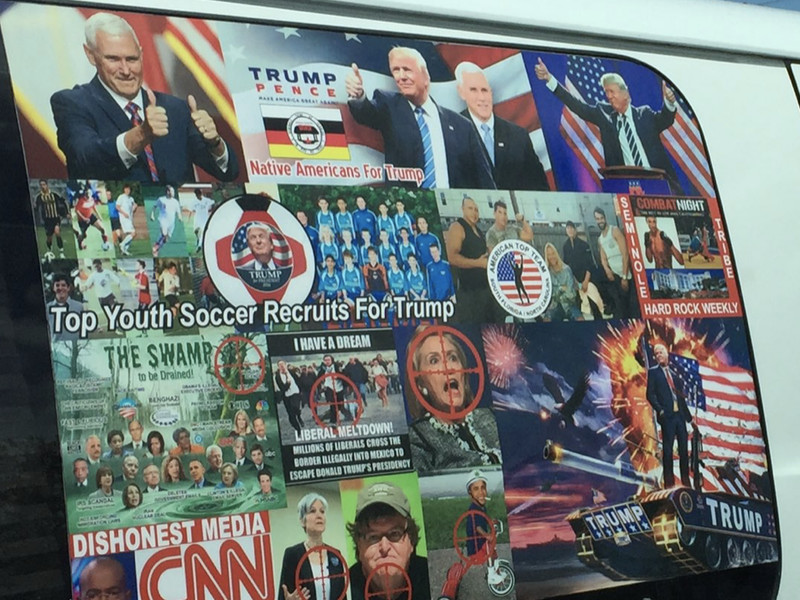 The arrests of a man who sent pipe bombs to critics of President Trump and another who murdered eleven in a Pittsburgh synagogue has renewed a longstanding debate about the limits of speech in a country that values free expression more than any other. Not only were both actively sharing hateful memes on social media but both were tuned in to a political culture—and, indeed, a President—that routinely villainizes political opponents and deliberately inflames cultural cleavages. While the ultimate responsibility, of course, lays with the perpetrators, do social media companies and political leaders have an obligation to temper the debate to avoid inflaming those particularly susceptible? Or is unfettered speech worth the risk?
BuzzFeed's Charlie Warzel argues that "The Conspiratorial Hate We See Online Is Increasingly Appearing In Real Life."
This week, reporters dredged up the online pasts of two monsters: a Florida man who was arrested for sending pipe bombs to at least a dozen of President Trump's critics, and a neo-Nazi sympathizer who opened fire in a Pittsburgh synagogue, killing 11 worshipers on Saturday morning. In both instances, their digital footprints offered all the expected clues — the internet profile of a modern extremist, teeming with all-caps memes; hundreds of breathless, almost frantic tweets, likes, and shares of violent fantasies; and hateful ideologies repeated over and over again, sometimes to an audience of seemingly no one.

Scrolling through these internet histories, what's remarkable isn't the roiling hatred — tragically, that's become almost commonplace online. But what's truly alarming is how familiar the digital trail left behind by these dark extremists feels. The violent errata left by these domestic terrorists aren't inaccessible, hundred-page, hand-scrawled manifestos or garages filled with red string and corkboards; instead, they're Facebook posts and tweets and enthusiastic online trolling, the likes of which many of us come in contact with on a daily basis. And it's that familiarity — just one turn of the screw more extreme than a normal shitpost — that makes a tour of their digital pasts so upsetting.

Connecting the online footprints to tragedies in the physical world also reveals an undeniable truth: that the dichotomy between an online world and "real life" is (and has always been) a false one. The hatred, trolling, harassment, and conspiracy theorizing of the internet's underbelly cannot be dismissed as empty, nihilistic performance. It may be a game, but it's a game with consequences. And it's spilling into the physical world with greater, more alarming frequency.

Arguably, nothing better demonstrates the permeability of the online/IRL membrane better than the mail bombing suspect's white van, which was discovered Friday afternoon after the suspect's arrest. The van's windows and rear doors were covered in pro-Trump stickers and memes from online message boards — a sort of twisted paint job brought to you by 4chan. Some depicted Donald Trump riding triumphantly on a tank, while others depicted media figures and Democratic politicians with targets over their faces. Had the images been posted to a Twitter feed instead of onto a car window, they would have been the hallmark of an individual said to be "extremely online."

The van is, according to Kate Starbird, a researcher studying online conspiracies and misinformation at the University of Washington, an interesting metaphor "showing memetic warfare transcending the digital and moving into the physical world."

"It's powerful in a way that shows he was clearly radicalized in an online world," Starbird told BuzzFeed News. "It's almost copied and pasted from the internet and put into the physical world." For Starbird, it's also anecdotal evidence of the effect of radicalizing propaganda and online communities. "It's not just receiving messages, it's also actions and participations. You're part of something in this online world and I think you're seeing more individuals internalizing that and using it to motivate action in the physical world."
While Warzel's quotation of Starbird is the first time I recall seeing the term "memetic warfare," it has been around at least since then-First Lieutenant  Brian J. Hancock wrote about it for a 2010 issue of the Military Intelligence Professional Bulletin. But Hancock, and a handful of others I encountered in some brief research this morning, were literally talking about military and intelligence officers using the techniques of memes and online trolling to combat insurgencies and the likes of ISIL at their own game. Starbird seems to be referencing something seemingly more benign—trolling to frustrate domestic political opponents—having triggering effects.
Retinal neuroscientist Bryan William Jones introduced me to a related concept, "stochastic terrorism," yesterday via Twitter. He defines it, "The use of mass, public communication, usually against a particular individual or group, which incites or inspires acts of terrorism which are statistically probable but happen seemingly at random." An essay by Quartz White House correspondent Heather Timmons, "Stochastic terror and the cycle of hate that pushes unstable Americans to violence," from earlier in the week, digs deeper.
Terrorism is rising in the US, and falling around the world, the Global Terrorism Database shows. That rise is fueled mostly by right-wing and religiously-affiliated groups, as Quartz's Luiz Romero wrote.


Homegrown violent extremists "clearly represent the most immediate and most ubiquitous threat to us here inside the United States on a daily basis," Nick Rasmussen, the outgoing head of the US's National Counterterrorism Center, said last November. "Most terrorists are either born or raised here, or only became radicalized well after they came to the United States," he said.

In recent years, America has experienced a "dramatic increase in attacks by disaffected people, and people searching for some sense of accomplishment," Cohen said. They connect with a "cause" whether it is white supremacy or Al Qaeda, and then "use for a motive of committing a violent attack," spurred on by what they're seeing on social media and the internet. The people most easily swayed by hateful rhetoric are often "looking for legitimacy and a sense of validation for their violent tendencies," Cohen said.

The National Institute of Justice, the US DOJ's research arm, published a report this June synthesizing different research that it had funded in recent years on the US's homegrown terrorism problem. So called "lone-wolf" terrorists "frequently combined personal grievances (i.e., perceptions that they had been personally wronged) with political grievances (i.e., perceptions that a government entity or other political actor had committed an injustice)," the report found.

In particular, "feeling that one (or one's group) has been treated unfairly, discriminated against, or targeted by others may lead individuals to seek justice or revenge against those they blame for this situation," the report notes.

Those grievances feed into a cycle of reinforcement and radicalization that culminates in a violent act, the report finds:

Dylann Roof, the ninth grade dropout who killed nine African Americans in a church in 2015, was radicalized after reading the white supremacist website "Council of Conservative Citizens," online, he claimed. Nikki Haley, then governor of South Carolina, warned on the one-year anniversary of Roof's massacre that Trump's divisive campaign statements could spur similar incidents. James Alex Fields, who killed a woman protesting a white supremacist rally in Charlottesville, was a violent teenager who was kicked out of Army basic training, then seemed to find a community in online white supremacist groups.

James Hodgkinson, who shot at a Republican baseball team last summer, had been arrested for punching a woman, and had posted increasingly angry social media messages directed at Trump and Republicans before the shooting.

Back in 2011, an anonymous writer coined the term "stochastic terrorism" to refer to "the use of mass communication to incite random actors to carry out violent or terrorist acts that are statistically predictable but individually unpredictable," or, in other words "remote control terror by lone wolf."

Stochastic means "having a random probability distribution or pattern that may be analysed statistically" but are hard to predict precisely. Vitriolic messages disseminated by pundits like Glenn Beck, Sean Hannity, and Bill O'Reilly will have the same effect as Osama bin Laden's videotaped calls to violence, the writer warned way back in 2011.

Someone, somewhere, would react—it's just hard to predict who and when.

Trump has often been accused of inciting violence. In August 2016, as a presidential candidate, he suggested that the "Second Amendment people" could do something to stop his opponent Hillary Clinton from picking liberal judges, if she won that year's election.

The implication was clear: People who rely on the constitutional right to bear arms (presumably gun owners) had a unique means of stopping his Democratic rival. Trump denied that he was calling for Clinton to be shot. Rolling Stone and and others dubbed it a case of stochastic terrorism.

The term was quickly embraced by the Pell Center for International Relations and Public Policy, among others, to describe Trump's violence-tinged campaign statements. Pell also recalled a potential example of stochastic terror from the 1960s: Dallas newspapers and flyers accused John F. Kennedy Jr. of being a "traitor"and a "communist," just before he was assassinated there.

The motives of Kennedy's killer, Lee Harvey Oswald, have never been fully understood. But some biographers believe the atmosphere of "hatred, hysteria and fear" in Dallas culminated in his death.

For years, US officials have been saying that homegrown terrorism is surging, particularly on the right. But after Trump took office, the administration cut funding for the Department of Homeland Security's Countering Violent Extremism (CVE) program—except to address Islamic-inspired terrorism. It was a dangerous mistake, anti-terror activists said at the time.

"We have hundreds of thousands of homegrown sovereign citizens and militia members with ties to white nationalism, training in paramilitary camps across the US and standing armed in front of mosques to intimidate marginalized Americans," warned Christian Picciolini, a former skinhead who co-founded Life After Hate, to rehabilitate extremists, last year. "The greatest terror threat we face as a nation is already within our borders, yet we refuse to even call it terrorism when it happens."
While I somehow missed the terminology, the concept isn't particularly new or hard to grasp. That some number of people may be susceptible to act violently in response to a charged political environment has been understood for decades. I was also reminded yesterday via Twitter of a quotation from Dr. Martin Luther King, Jr. in response to the killing of  Jimmie Lee Jackson by a police officer while marching peacefully, "We must be concerned not merely about who murdered him but about the system, the way of life, the philosophy which produced the murderer."
The related question, of the culpability of those who contribute to the larger milieu, is much more controversial. Going back to at least the 1990s, politicians have been quick to seize upon acts of violence perpetrated by crazies from the other side of the aisle as evidence that the leaders of the other side have stoked hate. Back in 1995, President Bill Clinton blamed Rush Limbaugh and other conservative commentators for Timothy McVeigh's bombing of the Oklahoma City federal building.
President Clinton today denounced "promoters of paranoia" for spreading hate on the public airwaves and promptly found himself in a confrontation with conservative radio talk show hosts, whom he had not named but who interpreted his remarks as attacks on themselves.

After days of measured statements of grief and outrage over the Oklahoma City bombing, Mr. Clinton edged today into a new discussion of the civic and political climate that might have encouraged it. As soon as he finished speaking, senior White House aides became concerned that his remarks would be interpreted as an attack on radio hosts like Rush Limbaugh and rushed to insist that the President had only been urging Americans to protect free speech by speaking out against hatred.

"We hear so many loud and angry voices in America today whose sole goal seems to be to try to keep some people as paranoid as possible and the rest of us all torn up and upset with each other," Mr. Clinton said in a speech to the American Association of Community Colleges in Minneapolis before flying to Iowa for a conference on rural America. "They spread hate. They leave the impression that, by their very words, that violence is acceptable.

"You ought to see," Mr. Clinton continued, "I'm sure you are now seeing the reports of some things that are regularly said over the airwaves in America today. Well, people like that who want to share our freedoms must know that their bitter words can have consequences, and that freedom has endured in this country for more than two centuries because it was coupled with an enormous sense of responsibility."

But Mr. Limbaugh said on his radio show today that it would be "irresponsible and vacuous" to suggest that debate heard on the radio contributed to the events in Oklahoma City.

He asserted that liberals intended to use the bombing "for their own gain," and added, "The insinuations being made are irresponsible and are going to have a chilling effect on legitimate discussion."
Last January, when a Bernie Sanders supporter shot up a Congressional softball game last summer, Limbaugh and others blamed Democrats.
RUSH: A crazed Bernie Sanders supporter, 66-year-old James Hodgkinson, deranged and delusional, no doubt driven to that to some degree, as we've been able to ascertain by examining the Facebook pages of groups that he watches, joins, interacts with, as well as the media he consumes. He's from Belleville, Illinois.

A CNN anchor asked the governor of Virginia today, The Punk, Terry McAuliffe, "How did he get here from Illinois?" I'm not kidding. The anchorette actually said, "How did he get here from Illinois?" What? Why was he here and not in Illinois? CNN is really, really, really, really low-key today 'cause they know, they know. I want to take you back to just yesterday, ladies and gentlemen. Unfortunately, I essentially predicted this tragedy yesterday.

RUSH ARCHIVE: They better be very careful because their base donors and their base voters I don't think can handle many more of these rising expectations and assurances that Trump is gonna be put in jail only to find there's no evidence he did anything wrong. At some point these people are gonna crack, and they're not gonna just start cutting heads off of dolls, and they're not gonna just start using fake knives to stab people at Central Park.

RUSH: And, lo and behold, 24 hours later, less than 24 hours later, the gunman opens fire at a baseball practice involving members of the Republican Party, the annual baseball, softball game between the Democrats and the Republicans. One of the last events of genuine bipartisanship and unity is this charity baseball game, and now that has been blown to smithereens.

Mr. Hodgkinson is clearly — well, he has passed away. He was clearly deranged, and he was enraged and obsessed. Now, whenever something like this happens, let's remember the movie house shooting in Colorado. The first thing that Brian Ross at ABC News did was try to find out whether or not the shooter was a member of the Tea Party. And, lo and behold, there was a Tea Party member somewhere in Colorado that had a name very close to the name of the shooter. So Brian Ross goes on the air with it at ABC News. "We can't be sure, but it looks like" da-da-da-da-da-da-da-da.

Gabby Giffords gets shot, what happens? They blame Sarah Palin and then me. And, by the way, I am being blamed for this shooting on C-SPAN today as the source of all of this partisanship, as the source of all of this rancor. It's me and Roger Ailes who are responsible for it, according to two callers on C-SPAN today. The sad and unfortunate fact is that, as evidenced by the sound bite of me yesterday, I have foreseen this coming.

You can't continue to enrage people the way the left, and predominantly the media, has been doing. The Democrat Party and the left for years have been feeding this. And particularly since the election of Trump they have virtually assured their supporters that Trump is guilty, guilty of treason. And every congressional hearing is going to provide the proof. Every one. Sessions yesterday, Comey a couple of times, Sally Yates, you name it.

They build up these expectations that Trump is not really the president. He shouldn't have been. He cheated. He colluded with the Russians. There isn't any evidence for it, and so every time the left builds up an event where this is going to be established as fact and it blows up in their faces, it creates rising expectations followed immediately by rank disappointment and anger and letdown over the fact that it's not happening.
Using the theory behind both memetic warfare and stochastic terrorism, there's something to these claims.
Limbaugh, Ann Coulter, and other bombastic conservative commentators' heated rhetoric against Bill Clinton in particular and the federal government in general certainly helped create an atmosphere in which a McVeigh could be radicalized to the point of violence. The conservative machine played up the Waco and Ruby Ridge incidents to a fever pitch and the NRA was likening federal law enforcement agencies to Fascist secret police, calling them "jackbooted thugs" in fundraising appeals.
While there isn't an equivalently prominent equivalent on the left, Limbaugh isn't wrong to point to a concerted effort to delegitimatize Donald Trump's presidency from the moment of his shocking election. We were in fact bombarded by editorials calling for the Electoral College to overturn the result of the election of the grounds that Trump was a horrible person and got nearly three million fewer votes than Hillary Clinton. Before he even taken office there was a Resistance movement marching the streets of our major cities. And a deluge of articles, tweets, speeches, and the like shouting This Isn't Normal.
Again, I don't think the two are the same. Going back to Newt Gingrich's wildly successful campaign to take back the Congress in 1994, Republicans have deployed a strategy to divide the country and portray Democrats as literally un-American, if not enemies of the country. But Democratic leaders have gone out of their way to portray rural Americans as racist, misogynist, homophobic, stupid, bitter, and generally deplorable.
Trump is Gingrich on steroids. Gingrich was at heart an intellectual, legitimately interested in ideas and convincing others to adopt his policies through debate. But he poll-tested buzzwords like "death tax" and "partial-birth abortion"—memes, if you will—for their polarizing effect as wedge issues. Trump is all wedge, all the time. And, naturally, the rhetoric Democrats deploy against him is going to be especially heated.
My longstanding position on the question that started this post remains unchanged. That is, ordinary speakers have no duty to temper their rhetoric because someone, somewhere might take it to extreme conclusion and act violently. We're only responsible for direct incitement of violence, not the potential actions of the unhinged. At the same time, I advocate for civil discourse. Not only is name-calling and otherwise insulting people who disagree with you argumentatively lazy, it has no hope of persuading. While performative speech and virtue-signaling seems to be especially popular in the age of social media, preaching to the choir is ultimately useless.
Combining those two principles, however, means that those in positions of high leadership have a responsibility to choose their words judiciously. While I don't hold Trump responsible for violence committed by his supporters, fanning the flames of division is a failure of leadership. And, certainly, portraying the press and political opponents as the enemies of the Republic is outrageous.
A related question is the duties of the ownership of social media platforms. The founders of Twitter and Facebook could not possibly have foreseen what their creations would have become and the skills that went into building them aren't necessarily the ones necessary for leading what have evolved into global platforms. I'm honestly not sure that they have an especial obligation to police the content that others place on their fora.
Granting the OTB is a side gig and one that has been a money-loser in recent years, not a massive enterprise with thousands of employees, it's next to impossible to monitor and moderate the discussion forum even at this small a scale. We have done our best to ban the most annoying trolls here, simply because they derail the conversation and make participating unenjoyable. There are a lot of crackpots out there sharing a lot of crackpot memes. The overwhelming number of them are harmless. It's unreasonable to hold Facebook, Twitter, Reddit, or various more fringe platforms responsible for the fact that some tiny number of their users will become radicalized and act dangerously.