Trump, the GOP, and Stochastic Terrorism
A conversation in two parts.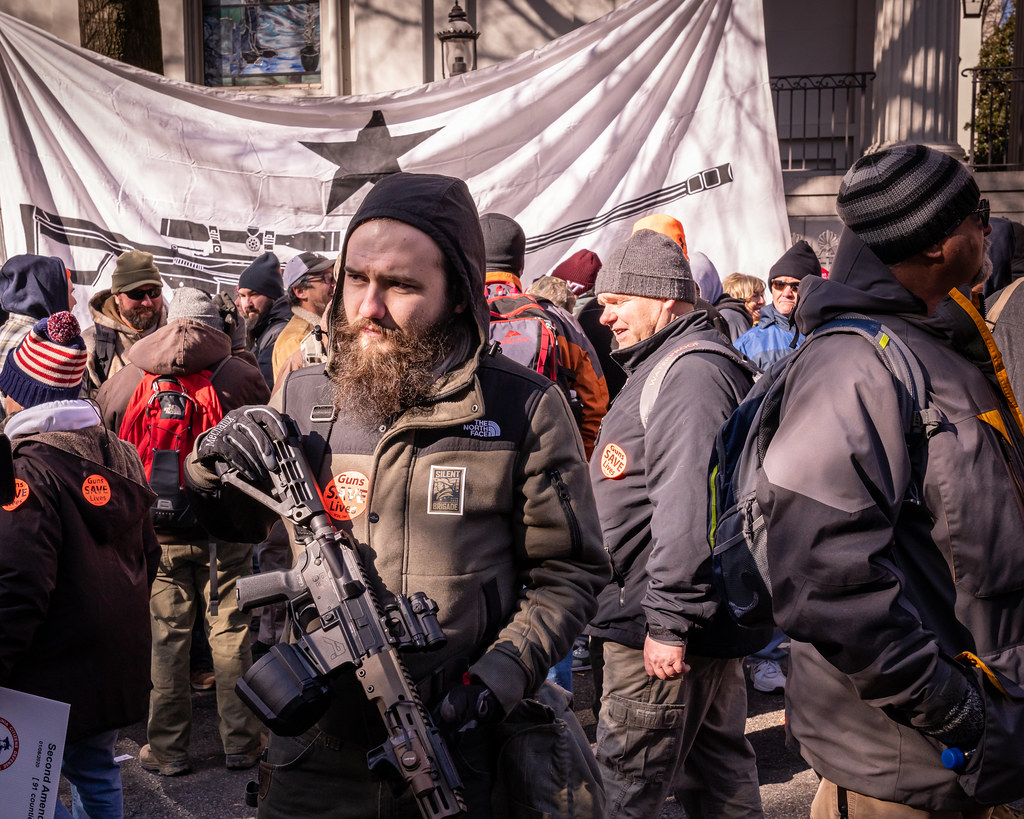 Reporters Lisa Lerer and Astead W. Herndon have an important front-page feature in today's NYT under the headline "Menace Enters the Republican Mainstream."
At a conservative rally in western Idaho last month, a young man stepped up to a microphone to ask when he could start killing Democrats.

"When do we get to use the guns?" he said as the audience applauded. "How many elections are they going to steal before we kill these people?" The local state representative, a Republican, later called it a "fair" question.

In Ohio, the leading candidate in the Republican primary for Senate blasted out a video urging Republicans to resist the "tyranny" of a federal government that pushed them to wear masks and take F.D.A.-authorized vaccines.

"When the Gestapo show up at your front door," the candidate, Josh Mandel, a grandson of Holocaust survivors, said in the video in September, "you know what to do."

And in Congress, violent threats against lawmakers are on track to double this year. Republicans who break party ranks and defy former President Donald J. Trump have come to expect insults, invective and death threats — often stoked by their own colleagues and conservative activists, who have denounced them as traitors.

From congressional offices to community meeting rooms, threats of violence are becoming commonplace among a significant segment of the Republican Party. Ten months after rioters attacked the United States Capitol on Jan. 6, and after four years of a president who often spoke in violent terms about his adversaries, right-wing Republicans are talking more openly and frequently about the use of force as justifiable in opposition to those who dislodged him from power.

In Washington, where decorum and civility are still given lip service, violent or threatening language still remains uncommon, if not unheard-of, among lawmakers who spend a great deal of time in the same building. But among the most fervent conservatives, who play an outsize role in primary contests and provide the party with its activist energy, the belief that the country is at a crossroads that could require armed confrontation is no longer limited to the fringe.
As Lerer and Herndon acknowledge, violent imagery and even violent rhetoric are hardly new in American politics. Even in recent times, people openly displayed assault rifles and strapped-on pistols at Tea Party rallies more than a decade ago. Not-so-subtle threats of violence have long been part of fringe websites, t-shirts, posters, and the like. But it was incredibly rare for a politician, much less an office-holder, to actively participate.
Political violence has been part of the American story since the founding of the country, often entwined with racial politics and erupting in periods of great change: More than 70 brawls, duels and other violent incidents embroiled members of Congress from 1830 to 1860 alone. And elements of the left have contributed to the confrontational tenor of the country's current politics, though Democratic leaders routinely condemn violence and violent imagery.

But historians and those who study democracy say what has changed has been the embrace of violent speech by a sizable portion of one party, including some of its loudest voices inside government and most influential voices outside.

In effect, they warn, the Republican Party is mainstreaming menace as a political tool.
During the rise of the Tea Party, we certainly saw some candidates for Congress who used fringe rhetoric. But they either lost in the primaries to more mainstream candidates or lost in the general election.
Omar Wasow, a political scientist at Pomona College who studies protests and race, drew a contrast between the current climate and earlier periods of turbulence and strife, like the 1960s or the run-up to the Civil War.

"What's different about almost all those other events is that now, there's a partisan divide around the legitimacy of our political system," he said. "The elite endorsement of political violence from factions of the Republican Party is distinct for me from what we saw in the 1960s. Then, you didn't have — from a president on down — politicians calling citizens to engage in violent resistance."
The obvious turning point was the emergence of Donald Trump during the 2016 primaries.
From his earliest campaigning to the final moments of his presidency, Mr. Trump's political image has incorporated the possibility of violence. He encouraged attendees at his rallies to "knock the hell" out of protesters, praised a lawmaker who body-slammed a reporter, and in a recent interview defended rioters who clamored to "hang Mike Pence."
But the fact that Trump not only won but did so rather easily would indicate that the time was already ripe for his brand. Plenty of hard-right candidates with populist, angry appeals had presented themselves before but they'd been defeated in the primaries by more "normal" candidates. Even after the Tea Party became the dominant wing of the party, the primary electorate chose Mitt Romney from a field of more extreme candidates.
Yet even with the former president largely out of the public eye and after a deadly attack on the Capitol where rioters tried to overturn the presidential election, the Republican acceptance of violence has only spread. Polling indicates that 30 percent of Republicans, and 40 percent of people who "most trust" far-right news sources, believe that "true patriots" may have to resort to violence to "save" the country — a statement that gets far less support among Democrats and independents.

Such views, routinely expressed in warlike or revolutionary terms, are often intertwined with white racial resentments and evangelical Christian religious fervor — two potent sources of fuel for the G.O.P. during the Trump era — as the most animated Republican voters increasingly see themselves as participants in a struggle, if not a kind of holy war, to preserve their idea of American culture and their place in society.
Again, this isn't a new development. Folks like G. Gordon Liddy were saying this kind of stuff during the Nixon administration and Pat Buchanan campaigned on it during the 1992 Republican primaries. But the leaders who were the face of the party were much more moderate in their messaging and vision. More importantly, they operated under the assumption that working with Democrats was part and parcel of governing. Nixon, Reagan, and both Bushes routinely brokered compromises with the opposition party. And, when out of power, the likes of Bob Dole and even Newt Gingrich figured out how to get deals done with Democratic Presidents and colleagues.
Notably few Republican leaders have spoken out against violent language or behavior since Jan. 6, suggesting with their silent acquiescence that doing so would put them at odds with a significant share of their party's voters. When the Idaho man asked about "killing" political opponents at an event hosted by the conservative activist Charlie Kirk, Mr. Kirk said he must "denounce" the question but went on to discuss at what point political violence could be justified.

In that vacuum, the coarsening of Republican messaging has continued: Representative Paul Gosar, Republican of Arizona, this week tweeted an anime video altered to show him killing Representative Alexandria Ocasio-Cortez and swinging two swords at Mr. Biden.
There was quite a bit of hostility from Democrats to the younger Bush, both because they believed the 2000 election was illegitimate and especially after the Iraq invasion. But I don't remember anything as coarse as Let's Go Brandon being mainstreamed, much less violent rhetoric from Members of Congress.
Certainly, things got more heated during the Trump years. There were mass protests ahead of is inauguration and plenty of vitriol directed at him over various controversial policy decisions. And, even at the elite level, there was harsher-than-customary rhetoric. But even noted firebrand Maxine Waters didn't go so far as to suggest Trump should be killed. Indeed, she drew outrage (and rightly so) from the mere suggestion that people should harass his senior officials when they showed up in public places.
Lee Drutman, a senior fellow at the left-leaning group New America who has studied political violence, said there was a connection between such actions and the growing view among Americans that politics is a struggle between enemies.

"When you start dehumanizing political opponents, or really anybody, it becomes a lot easier to inflict violence on them," Dr. Drutman said.

"I have a hard time seeing how we have a peaceful 2024 election after everything that's happened now," he added. "I don't see the rhetoric turning down, I don't see the conflicts going away. I really do think it's hard to see how it gets better before it gets worse."
There's much more to the piece, but you get the point.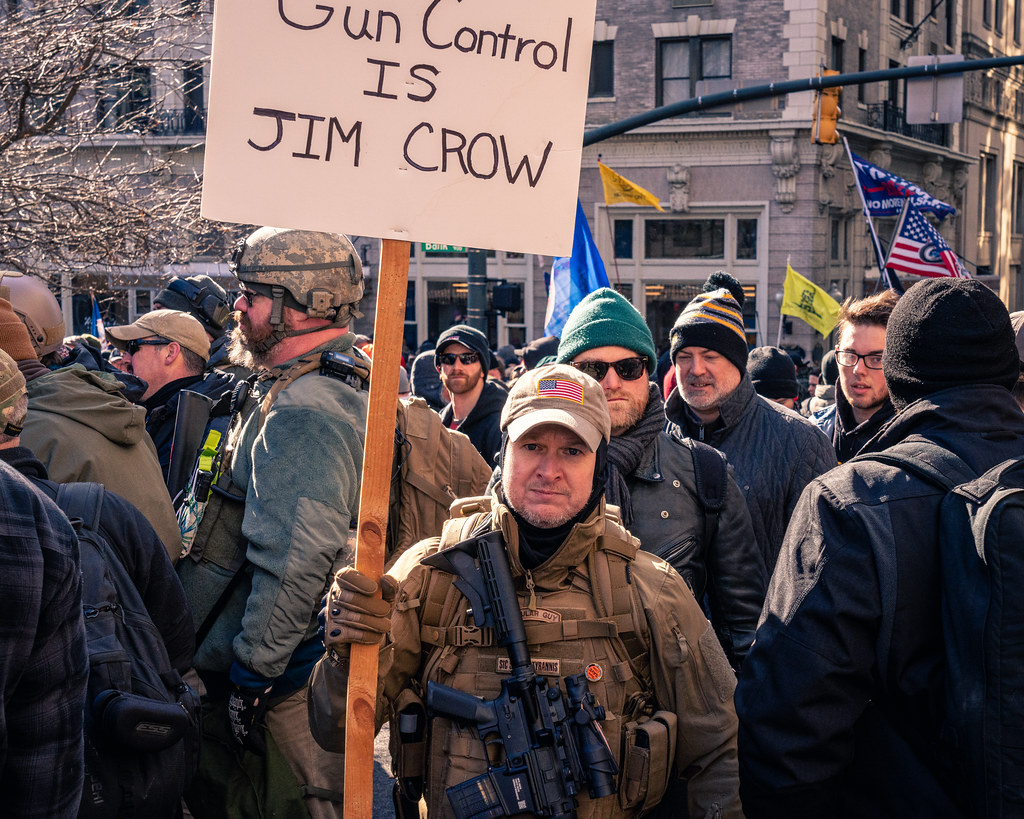 There has been hateful rhetoric, including some with violent undertones, on the fringes of the conservative moment for quite some time. The fringe somewhere became the mainstream and Trump was the face, if not the cause, of that. And he has either allowed others in the party to take the mask off or, at very least, turned them into utter cowards afraid to stand up for the basic norms they've long championed.
I have been pushing back for some time against the notion that Trump and other Republican leaders are engaged in "stochastic terrorism." As best I can tell, it was first leveled in late 2018 by Quartz White House correspondent Heather Timmons, went mainstream when former Obama Homeland Security official Juliette Kayyem leveled it vaguely in an August 2019 WaPo op-ed, went viral when Kayyem tweeted a far more incendiary thread last December, and pushed by Mother Jones national affairs editor Mark Follman and Slate legal analyst Dahlia Lithwick, among others.
The term was apparently coined in 2011, by a Daily Kos diarist under the handle G2geek in the wake of the Gabby Giffords shooting:
Stochastic terrorism is the use of mass communications to stir up random lone wolves to carry out violent or terrorist acts that are statistically predictable but individually unpredictable.

This is what occurs when Bin Laden releases a video that stirs random extremists halfway around the globe to commit a bombing or shooting.

This is also the term for what Beck, O'Reilly, Hannity, and others do. And this is what led directly and predictably to a number of cases of ideologically-motivated murder similar to the Tucson shootings.
After pushback from commenters, G2geek added,
The person who actually plants the bomb or assassinates the public official is not the stochastic terrorist, they are the "missile" set in motion by the stochastic terrorist. The stochastic terrorist is the person who uses mass media as their means of setting those "missiles" in motion.

Here's the mechanism spelled out concisely:

The stochastic terrorist is the person who uses mass media to broadcast memes that incite unstable people to commit violent acts.

One or more unstable people responds to the incitement by becoming a lone wolf and committing a violent act. While their action may have been statistically predictable (e.g. "given the provocation, someone will probably do such-and-such"), the specific person and the specific act are not predictable (yet).

The stochastic terrorist then has plausible deniability: "Oh, it was just a lone nut, nobody could have predicted he would do that, and I'm not responsible for what people in my audience do."

The lone wolf who was the "missile" gets captured and sentenced to life in prison, while the stochastic terrorist keeps his prime time slot and goes on to incite more lone wolves.

Further, the stochastic terrorist may be acting either negligently or deliberately, or may be in complete denial of their impact, just like a drunk driver who runs over a pedestrian without even realizing it.

Finally, there is no conspiracy here: merely the twisted acts of individuals who are promoting extremism, who get access to national media in which to do it, and the rest follows naturally just as an increase in violent storms follows from an increase in average global temperature.
Here's the thing: I absolutely believe that irresponsible, hateful rhetoric can trigger violence. My problem is that what bin Laden did is categorically different from what Hannity, Beck, O'Reilly and their ilk do. Unlike G2geek, I think intent matters. It simply makes no sense to apply the label "terrorism" or "terrorist" to those who aren't seeking to incite violence since it's definitionally a part of what makes something terrorism.
Kayyem's argument is even more insidious. In the above-linked op-ed, she explains,
Public speech that may incite violence, even without that specific intent, has been given a name: stochastic terrorism, for a pattern that can't be predicted precisely but can be analyzed statistically. It is the demonization of groups through mass media and other propaganda that can result in a violent act because listeners interpret it as promoting targeted violence — terrorism. And the language is vague enough that it leaves room for plausible deniability and outraged, how-could-you-say-that attacks on critics of the rhetoric.

Trump fails to shame white supremacy. That is all anyone needs to know. And a responsible president — one who was appalled that his language might have been misconstrued and was contributing to the greatest terror threat in America today — would surely change his rhetoric. The failure to do so doesn't mean Trump welcomes the violence; it does mean that he isn't shaming its adherents.
This is simply outrageous guilt by association. And it goes beyond G2geek's definition, including even failure to shame unacceptable behavior as terrorism. In the Twitter thread, she goes further still, asserting—weeks before the January 6 attack on the Capitol—that Trump's "goal was to promote violence for political gain."
Am I prepared to be convinced that he deliberately orchestrated the violence that day? I am. After all, he seemed positively gleeful that his supporters stormed the Capitol and took hours before coming out to ask them to stop. But I've yet to see real proof of that. But the evidence provided thus far doesn't quite rise to the level of coup mastermind. I'm not asking for evidence beyond a reasonable doubt, as befitting a criminal trial. But we should demand at least a preponderance of the evidence standard before labeling someone a "terrorist."
But here's the thing: I'm objecting to the label "terrorism" much more than I am to the explanation. My disagreement on the substance with Timmons, Kayyem, and Follman about what's happening is at the margins.
It simply makes no sense to term hateful or polluting rhetoric "terrorism" absent proof of intent to cause violence to achieve political ends. That, after all, is what terrorism means. It does us no good to add a modifier that negates the noun. But there's no doubt that Trump and many other Republican leaders are intentionally adding to the country's polarization and creating an atmosphere that makes violence seem justified.
In many posts leading up to the 6 January attacks, I expressed concern that Trump's attempts to delegitimate the election could lead to violence. His rhetoric was absolutely dangerous. And, in the aftermath of the attacks, it seemed rather obvious that, while he almost certainly didn't meet the strict requirements to be charged with criminal incitement—the barriers are correctly high, given how sacrosanct the freedom of expression is in this country—he was rightly impeached for his role in inciting the violence. Impeachment is a political process, not a criminal one, and he absolutely acted with gross malfeasance. And, by failing to support his ouster, all but a handful of Republican Representatives and Senators made future violence more likely.