Does It Matter Whether Charleston Was Terrorism?
The debate is ultimately academic.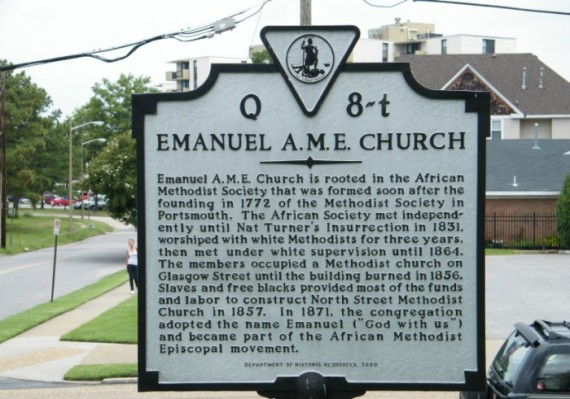 Doug Mataconis' post "Yes, Dylann Roof Is A Terrorist" has 146 comments and counting, most quite thoughtful. I'm in a distinct minority among the commentariat in disagreeing with the position staked out there.
Over at Lawfare, Jane Chong ("White Hate but Islamic Terror? Thoughts on Charleston, Hate Crimes and Terrorism") thoughtfully stakes out two reasons why this debate is so passionate. She contrasts the "immediate reactions" of political leaders, including President Obama and Lindsey Graham, to the 2013 Boston Marathon bombing and the killings at Charleston's Emanuel African Methodist Episcopal Church and concludes that they represent "our collective insistence on seeing violence motivated by Islamic extremism as a systemic threat while minimizing right-wing supremacist violence as the work of individual madmen." Additionally—and more importantly in her judgment— we tend to automatically conclude that mass murder via explosives is "terrorism" while mass murder via firearm is ordinary crime.
There's something to both of those explanations but they only indirectly address my own reluctance to apply the "terrorist" label to Roof's crime.
First, it's not a matter of ideology. In the early days of this site, I was frequently near alone on my side of the aisle in rejecting applying the "terrorist" label to a whole series of shooting sprees and other murders and attempted murders by domestic Muslims. Similarly, I was very late to concede that Nidal Malik Hasan, the perpetrator of the 2009 Fort Hood shooting spree, was a terrorist despite his obvious Islamist leanings, until definitive proof emerged that he was working with al Qaeda. And I still think of Abdulhakim Mujahid Muhammad, who shot up a military recruiting station in Little Rock that same year, as just a deranged nut. Conversely, I've never had a problem labeling the Ku Klux Klan and similar white supremacist groups as "terrorist." Certainly, Timothy McVeigh was a terrorist; there was never a debate over that. For that matter, I readily apply the label to the Sons of Liberty, whose cause I greatly admire.
While terrorism requires a political motive—an attempt to shape public reaction and/or change the nature of state governance—that's not enough. Roof's ostensible objective—to start a race war—is simply absurd; there's no plausible expectation of anything like that ensuing from the act. Like the various Muslim perpetrators who shouted "Allah akbar!" before killing random white people a decade ago, the idea that the act was going to have some significant political impact was nonsensical. Without an organized effort beyond the individual perpetrator, or at least a plan for that perpetrator to commit a series of crimes before getting caught, there's no terrorism.
But even serial murder ostensibly motivated by political aims isn't automatically "terrorism." In the comments section of Doug's posts, I equated Roof's crime with that of the Manson family. The common tie was an ostensible motivation to generate a race war through murder. I've never heard Charles Manson referred to as a terrorist. The rebuttal was that this is simply a function of Mason's crimes taking place in the late 1960s, when terrorism wasn't really on our minds. But we don't think of Manson as a terrorist even in hindsight, while we do apply that label to the KKK's activities of the same period. We just think of Manson as a sick, evil individual.
Second, it's not simply a matter of guns being different from explosives. While it's true that setting off a bomb in a public venue creates an immediate presumption of terrorism (not unreasonably given the potential to kill a massive number of people, completely indiscriminately) we often label politically motivated shooting sprees "terrorism." The 1972 Munich Olympics massacre was immediately labeled a terrorist attack despite being carried out with guns.  The 2002 Beltway Snipers spree was clearly terroristic even though they used guns—and even when we presumed it was a single individual and before we knew the perpetrators were Muslim. The murders were calculated,  there was a plausible scenario whereby the snipers would continue their spree for some time, and the serial nature of the crimes created real terror that the community was in danger.
Chong rightly identifies why this debate is so emotional:
Terrorism is more than a word; it has displaced the term "hate crime" as the ultimate cipher, one that informs us which atrocities need only be lamented and which atrocities warrant wholesale reconsideration and reconstruction of our social fabric. It is understandable, this fear of ours, that failing to affix the "terror" label to the horrors of Charleston amounts to permitting our grief to be relegated to the bottom of an ever-expanding grief hierarchy, for that hierarchy has real implications for how we as a nation choose to allocate our resources and how valiantly we battle which demons within.

I agree that only by recognizing the systemic nature of the derangement that motivated Roof and others like him can we properly treat root causes and contain future threats. But I also hope for the day when the t-word no longer commands such a monopoly on our willingness to do that.
For me, at least, this is mostly an academic debate. Whether Manson or the Beltway Snipers or Hassan or Roof are "terrorists" or mere "mass murderers" doesn't change the level of evil associated with their acts. Their mental state matters somewhat, in that those who are truly mentally ill have less moral culpability for their actions, but their political cause is morally irrelevant. Mass murder of noncombatants is evil regardless of the merits of one's cause.
The only reason it really matters whether an act is terrorism vice ordinary crime is in crafting public policy. One reason I'm loathe to apply the label to lone wolfs is that, one they're killed or captured, the problem is contained—just as it is with ordinary criminals. Taking out one member—even a key leader—of al Qaeda or the Islamic State or the Ku Klux Klan is but a temporary setback for the cause.
The comedian-pundit Jon Stewart's emotional response to the Charleston shootings was moving and rightly sparked considerable debate. The crux of his frustration:
I honestly have nothing other than just sadness once again that we have to peer into the abyss of the depraved violence that we do to each other and the nexus of a just gaping racial wound that will not heal, yet we pretend doesn't exist. And I'm confident, though, that by acknowledging it, by staring into that and seeing it for what it is, we still won't do jack shit. Yeah. That's us.

And that's the part that blows my mind. I don't want to get into the political argument of the guns and things. But what blows my mind is the disparity of response between when we think people that are foreign are going to kill us, and us killing ourselves.

If this had been what we thought was Islamic terrorism, it would fit into our — we invaded two countries and spent trillions of dollars and thousands of American lives and now fly unmanned death machines over five or six different countries, all to keep Americans safe. We got to do whatever we can. We'll torture people. We gotta do whatever we can to keep Americans safe.

Nine people shot in a church. What about that? "Hey, what are you gonna do? Crazy is as crazy is, right?" That's the part that I cannot, for the life of me, wrap my head around, and you know it. You know that it's going to go down the same path. "This is a terrible tragedy." They're already using the nuanced language of lack of effort for this. This is a terrorist attack. This is a violent attack on the Emanuel Church in South Carolina, which is a symbol for the black community. It has stood in that part of Charleston for 100 and some years and has been attacked viciously many times, as many black churches have.
I share his frustration with both the fact that these killings are so damn common that they blend into a blur and that we're ultimately doing, as he puts it, "jack shit" about it. Further, he's right that our reaction to this circumstance as compared to our response to the much smaller threat of Islamist terrorism is irrational.
The difference is not, however, shocking. While terrorism is merely a "nuisance" in comparison to other risks that we face in our lives, our overreaction to it isn't surprising. We could save more lives investing much smaller amounts of resources in mosquito nets, child vaccinations, and smoking cessation programs. But those threats aren't orchestrated. Evil people organized to kill us simply a much more emotionally focusing threat.
Despite sharing his frustration and revulsion that we still have white supremacists who hate blacks enough that they want to murder them while they pray, I'm not sure what it is that Stewart wants to do about it. Open racism, let alone the virulent strain that Roof espoused, has been vilified for half a century. Should we take down the handful of Confederate battle flags that fly over statehouses in the Old South? Absolutely. But the short term impact of that is likely to animate, not eliminate, the worst of the worst, who would see it as a further sign that white culture is under seige.
Further, while Stewart makes a passionate case that blacks in Charleston and elsewhere are terrorized by this latest evidence that there are people out there who want to kill them simply for the color of their skin, that doesn't make the crime itself an act of terrorism. Indeed, most of us simultaneously found the Shoe Bomber and Underwear Bomber objects of ridicule rather than fear and nonetheless readily called them terrorists.
Presumably, Stewart's bigger point is that we should take drastic action in curtailing the ability of people like Roof to get their hands on guns.While I absolutely support keeping guns out of the hands of crazies and those with a propensity towards violence—and Roof demonstrated these repeatedly ahead of his spree—it's unlikely to happen. Aside from our cultural affinity for firearms, which is built into our founding documents, it's not obvious to me how you'd craft a law at this point short of a blanket ban on firearms possession that would have much impact. We're awash in guns. Even if Roof had been prohibited from buying a gun from a licensed dealer, he'd have been able to buy, borrow, or steal one from a private citizen.
So, ultimately, "Hey, what are you gonna do?" is our default reaction. We hunted down the perpetrator and will almost certainly lock him away for life, if not execute him. But there will be another Dylan Roof at some point, likely sooner rather than later.