Rush Limbaugh, 1951-2021
The talk radio megastar has died, aged 70.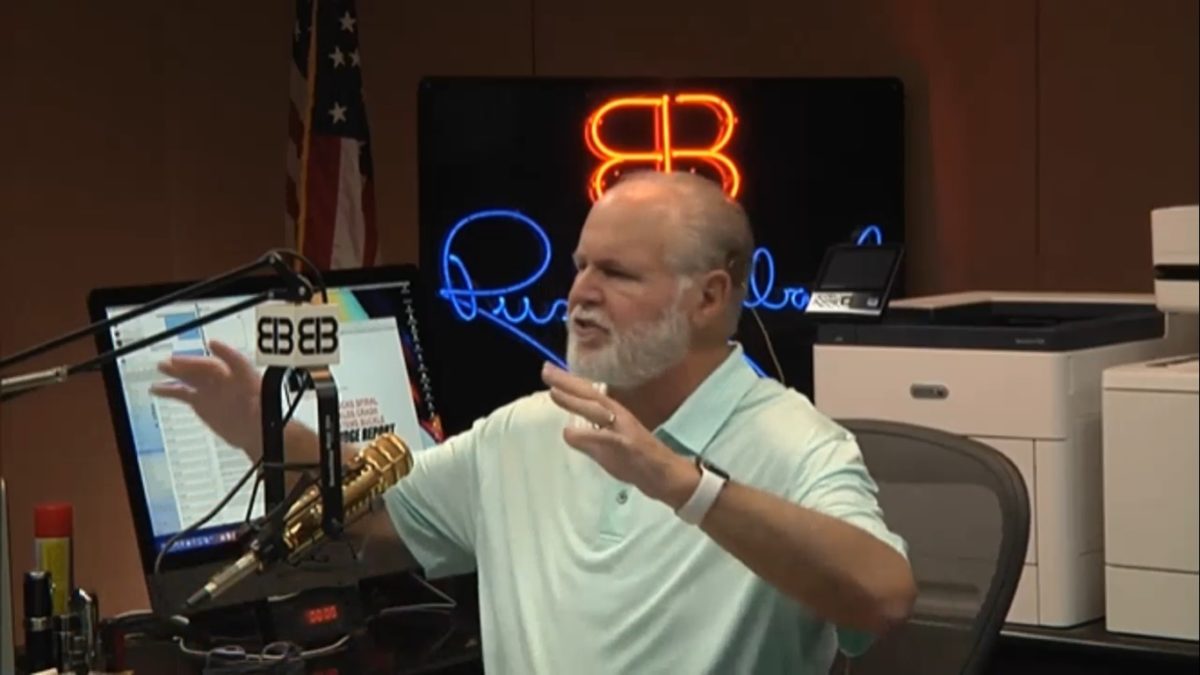 New York Times ("Rush Limbaugh, Talk Radio's Conservative Provocateur, Dies at 70"):
Rush Limbaugh, the relentlessly provocative voice of conservative America who dominated talk radio for more than three decades with shooting-gallery attacks on liberals, Democrats, feminists, environmentalists and other moving targets, died on Wednesday. He was 70.

His wife, Kathryn, announced the death at the beginning of Mr. Limbaugh's radio show.

"I know that I am most certainly not the Limbaugh that you tuned in to listen to today," she said. "I, like you, very much wish Rush was behind this golden microphone right now." She added, "It is with profound sadness I must share with you directly that our beloved Rush, my wonderful husband, passed away this morning due to complications from lung cancer." She did not say where he died.

Mr. Limbaugh had announced on his show last February that he had advanced lung cancer. A day later, President Donald J. Trump awarded him the Presidential Medal of Freedom, the nation's highest civilian honor, during the State of the Union address.

Mr. Limbaugh soon resumed his broadcasts, and his adoration for Mr. Trump. As the Covid-19 pandemic swept the nation, he likened the coronavirus to the common cold. And in October, as Election Day neared and Mr. Trump recuperated from the virus himself, he joined Mr. Limbaugh on the air for a two-hour "virtual rally," largely devoted to his grievances.

"We love you," Mr. Limbaugh assured the president on behalf of his listeners. But 10 days later, Mr. Limbaugh told his audience that his cancer had grown worse and, despite treatments, was "going in the wrong direction."

A divisive darling of the right since launching his nationally syndicated program during the presidency of his first hero, Ronald Reagan, Mr. Limbaugh was heard regularly by as many as 15 million Americans. That following, and his drumbeat criticisms of President Barack Obama for eight years, when the Republicans were often seen as rudderless, appeared to elevate him, at least for a time, to de facto leadership among conservative Republicans.

Such talk became obsolete in 2016 with the meteoric rise of Mr. Trump, who, after several flirtations with presidential races that were never taken very seriously, suddenly burst like a supernova on the national political landscape. Mr. Trump became president and Mr. Limbaugh, off the hook, became an ardent supporter.

"This is great," Mr. Limbaugh, sounding positively giddy, said of his new champion in the White House. "Can we agree that Donald Trump is probably enjoying this more than anybody wants to admit or that anybody knows?"

Like dreams coming true, Mr. Limbaugh hailed the president's efforts to curtail Muslim immigration, cut taxes, promote American jobs, repeal Obamacare, raise military spending and dismantle environmental protections.
Washington Post ("Rush Limbaugh, conservative radio provocateur and cultural phenomenon, dies at 70"):
Rush Limbaugh, who deployed comic bombast and relentless bashing of liberals, feminists and environmentalists to become the nation's most popular radio talk-show host and lead the Republican Party into a politics of anger and obstruction, died Feb. 17 at 70.

[…]

For more than two decades, starting in the late 1980s, Mr. Limbaugh dominated the airwaves, inspiring a generation of conservative talk show hosts and politicians. He parlayed his popularity on the radio into stints as a TV commentator, football analyst on ESPN and best-selling author of incendiary political books.

[…]

He saw himself as a teacher, polemicist, media critic and GOP strategist, but above all as an entertainer and salesman. Mr. Limbaugh mocked Democrats and liberals, touted a traditional Midwestern, moralistic patriotism and presented himself on the air as a biting but jovial know-it-all who pontificated "with half my brain tied behind my back just to make it fair," as he often said.

Especially during the Democratic presidencies of Bill Clinton and Barack Obama, Mr. Limbaugh played a leading role in demonizing liberals and pushing conservative elected officials to hard lines on issues such as immigration, government spending and denial of global warming.

During Republican presidencies, Mr. Limbaugh became a leading defender of the faith, even when that meant veering away from long-standing principles. A lifelong deficit hawk who supported Sen. Ted Cruz (R-Tex.) in the 2016 Republican presidential primaries, Mr. Limbaugh often blasted businessman Donald Trump, saying, "Trump is not a conservative."

But in the general election, Mr. Limbaugh embraced Trump. The radio host and the new president became dinner and golf friends, and Mr. Limbaugh emerged as a staunch supporter of Trump's battles against the news media and Republican establishment. He railed against Trump's impeachments in 2019 and 2021 and allied himself with Trump during the coronavirus pandemic, insisting that the disease was no worse than the common cold.

After Trump lost the 2020 election, Mr. Limbaugh echoed the president's baseless allegations of voting fraud and suggested that pro-Trump states consider seceding from the union.

Trump, Mr. Limbaugh said on his show in February 2021, "represents an uprising of the people of this country against Washington, against the establishment, and it had been building for a long time,… since Perot in 1992…. Trump was just the first guy to come along and actually weaponize it."

Like Trump, Mr. Limbaugh mastered the art of portraying himself as a man of the people who fought the elites even as he relished a luxe life in which he collected $5,000 bottles of wine, owned a $54 million private jet, outfitted the vast salon of his Florida manse in the manner of Versailles, and socialized with top corporate and political leaders. Mr. Limbaugh often praised Trump for succeeding despite never having won over the kind of people who ran large media organizations, Wall Street firms and political parties.

And like Trump, Mr. Limbaugh craved the respect of those he criticized most vociferously. His commentaries about Trump became notably more favorable as he became a frequent golf partner with the president, just as his on-air attitude toward President George W. Bush became more supportive after the chief executive invited the radio host to dinner, a show and an overnight in the Lincoln Bedroom.
Fox News ("Rush Limbaugh, conservative talk radio pioneer, dead at 70"):
Rush Limbaugh, the monumentally influential media icon who transformed talk radio and politics in his decades behind the microphone, helping shape the modern-day Republican Party, died Wednesday morning at the age of 70 after a battle with lung cancer, his family announced.

[…]

Limbaugh is considered one of the most influential media figures in American history and has played a consequential role in conservative politics since "The Rush Limbaugh Show" began in 1988. Perched behind his Golden EIB (Excellence in Broadcasting) Microphone, Limbaugh spent over three decades as arguably both the most beloved and polarizing person in American media.

The program that began 33 years ago on national syndication with only 56 radio stations grew to be the most listened-to radio show in the United States, airing on more than 600 stations, according to the show's website. Up to 27 million people tuned in on a weekly basis and Limbaugh has lovingly referred to his passionate fan base as "Dittoheads," as they would often say "ditto" when agreeing with the iconic radio host.

In his final radio broadcast of 2020, Limbaugh thanked his listeners and supporters, revealing at the time that he had outlived his prognosis.

"I wasn't expected to be alive today," he said. "I wasn't expected to make it to October, and then to November, and then to December. And yet, here I am, and today, got some problems, but I'm feeling pretty good today."

Limbaugh helped boost Trump's influence prior to the 2016 election simply by taking him seriously as a candidate when other established conservatives didn't want the former reality television star anywhere near the Republican Party. Many of Limbaugh's listeners eventually became Trump supporters and the radio legend continued to defend Trump throughout his presidency despite occasional disagreements.

In the heat of the 2020 presidential election, Limbaugh hosted Trump in October for what was an unprecedented two-hour "radio rally", during which the president was virtually given control of the coveted golden microphone to answer questions from the host and his listeners.

Limbaugh, born in Cape Girardeau, Mo., on Jan. 12, 1951, began his radio career in 1967 as a "helper" when he was only 16 years old. He eventually graduated to disk jockey and worked at a small station roughly 100 miles south of St. Louis while attending high school.

"I was totally consumed," Limbaugh told the New York Times in 1990, noting that his idol was a Chicago radio host named Larry Lujack. By 1971, Limbaugh was a morning radio host in Pittsburgh, where he was oddly told to cover a certain amount of "farm news" because the area was surrounded by many agriculture communities. In 2007 he explained to listeners how the young radio host managed to keep listeners despite the bizarre requirement.

"The last thing that the audience of my show cares about is farm news. If farm news came on, bam! They pushed the button and go somewhere else. So, we had to figure out, 'Okay, how do we do this and protect the license?' So I turned the farm news every day into a funny bit with farm sound effects and the roosters crowing and so forth, and I'd make fun of the stockyard feed prices or whatever it was, so that we could say, 'We're doing barn news,' agriculture news. There was all kinds of things like that," Limbaugh told listeners.

The tidbit offered a glimpse into Limbaugh's early days, proving that he was a master of keeping audiences engaged from a young age. Limbaugh has said he realized America was the "greatest country ever" when taking trips to Europe and Asia in his late 20s and early 30s, an experience that helped shape his political views.
As I've recounted over the years, I was an avid fan of Limbaugh's show upon coming back to the States in early 1992 after four years overseas in the military. As both a political conservative and a political news junkie, I'd never encountered anything like it: three hours of impassioned discussion of the news of the day.
My early years listening to the show coincided with my time in graduate school and the juxtaposition was a bit jarring. Limbaugh was a consummate entertainer who combined canned bits, humor, provocation, and analysis. It wasn't long before I saw many of his schticks as intellectually dishonest and internally inconsistent, but I was able to write it off as the nature of show business.
Still, I turned away from Limbaugh long before I turned away from conservative politics. Given the ephemeral nature of the shows, it's hard to know how much was him changing and how much was me, although it was certainly some of both. But, clearly, Limbaugh's rants got meaner over time as he had to compete with less talented but more charged imitators like Glenn Beck and Michael Savage. And, over time, he seemed to even stop pretending that he was espousing a political philosophy beyond Owning the Libs.
Regardless, while he is almost certainly the best ever to do what he did in terms of sheer talent and ability to keep an audience coming back for three hours a day, five days a week, he almost certainly made the country and its political climate worse. He paved the way for Newt Gingrich, who paved the way for Sarah Palin, who paved the way for Donald Trump.