The 140 Character POTUS
Twitter is, in some way, the most vacuous and simplistic of all social media, and it also appears to be the President's main intellectual outlet.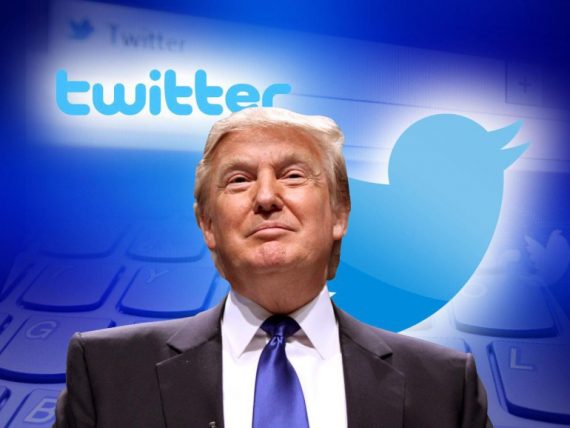 Via Michael Kruse writing at Politico:  I Found Trump's Diary—Hiding in Plain Sight
Many modern presidents have kept a diary of some sort—that no member of the public sees until long after the author has left the Oval Office. The White House didn't respond to four requests for comment on whether Trump is following suit, but people who know him well say it's all but impossible to imagine him sitting down with a pen and paper in a quiet moment. "Absolutely zero chance," one of them said. In the presumed absence, then, of a more traditional version of the form, Trump's collected tweets comprise the closest thing to a diary this presidency will produce.
This strikes me as quite likely true.  Beyond that, however, it is telling about Trump's mental and intellectual status.  Most people who use Twitter would almost certainly admit that it is only good for very limited and specific kinds of communication or for trying to point readers to more developed information that requires more than a collection of 140 character bursts.
Twitter can be fun for jokes, snark, and short observations.  It can be useful in sharing links to news and information.  It can be used to communicate the beginnings of ideas and to occasionally have mini-conversations.  It is horrible for complex ideas, making full arguments, and hashing out the subtle complexities of public policy proposals.  And, it strikes me as a pretty lousy way to even keep account of a given day in a diaristic fashion.
It is, I would submit, more than a little disturbing that it would appear that tweeting is the sitting president's main form of intellectual discourse.  But, as the piece notes:
The Twitter feed is a rolling, thin-skinned, squint-eyed stew of shouted announcements, grudges and grievances, ravaging insecurities and overcompensating bluster. "The Twitter feed," said Michael D'Antonio, the author of Never Enough, in which he wrote of Trump's "Twitter wars," "is true Trump."

He is how he tweets.
Is there any real evidence that the above is not fully accurate?  If tweeting is the height of the President's intellectual-communicative capacities, and there is a substantial amount of evidence to suggest that it is, that should be more than a little disturbing.  Indeed, his longer form speeches don't reveal much more than do his tweets, in terms of complexity of thought or understanding of policy.
Dare I say:  sad.
I will note, that as a political/rhetorical tool, Trump has used the platform with some success, although as the piece notes:
Where his staunchest supporters see evidence of say-anything, establishment-rattling, politically incorrect authenticity, others see reams of ammunition to wield against him. Trump has littered his feed with careless, self-defeating fodder—hyper-public utterances that have been used by judges to block his travel ban and digital pop-offs that constitute "a gold mine" for investigators into his or his campaign's potential collusion with Russia and his rationale for firing "cowardly" Jim Comey from his position as the head of the FBI. Trump has suggested he might not have won in November if not for Twitter. "Without the tweets, I wouldn't be here," he told the Financial Times in April. But pulsing throughout the diary of @realDonaldTrump are the makings of "the quintessential Greek tragedy," said Riley of the Miller Center. "Your strongest suit is also your greatest vulnerability."
Still, for credit to be fully given for manipulation of social media as a tool of political communication and manipulation, there would need to be more to the strategy.  If Twitter itself is the end, that is a pretty vacuous end point. I know that some have argued that Trumps is playing a larger, clever game here, but I do not see much in the way of evidence to support that position.
Instead, on all accounts it appears that the President's main source of information is cable news and his main means of intellectual output is Twitter.
This is not a good combination.