How Should We View Trump's Tweetstorms?
President Trump has been tweeting up a storm since Sunday, raising a question. Should we view his Tweets as the rantings of a cranky old man, or as something more serious?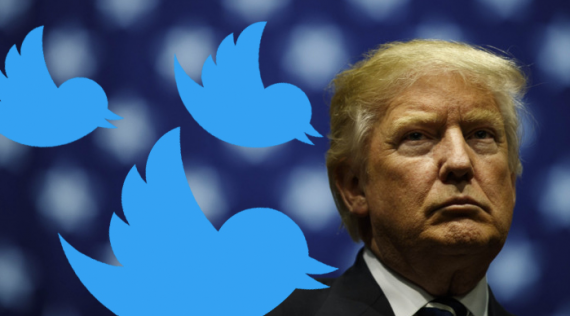 Hardly a day goes by when President Trump's Twitter feed doesn't end up driving the news cycle for some reason or another. In many cases, the Tweeter In Chief gets attention because he's lashing out whatever perceived enemy he may see out there, which can be anything from the news media, meaning anything other than Fox News Channel, the Mueller investigation, celebrities who criticize him, or reporters and pundits who report "Fake News," which Trump has recently made clear means anything negative about him whether it's true or not. Other times, he uses it to lavish praise, usually on himself but also on supporters such as Sean Hannity and other Fox News talking heads who spend their airtime obsequiously praising the President and pushing the agenda of the White House. Sometimes, such as in the case of last summer's announcement regarding the effort to change policy regarding transgender members of the military, it has been used to make policy announcements even before the White House staff or the relevant Federal Government agencies are even aware that policy would be changing. More often than not, though, he'd use his Twitter feed in such a way that it steps all over whatever message the White House Communications Office was hoping would dominate the news coverage in a given week. The most famous example of this, of course, is the fact that the White House has declared a so-called "Infrastructure Week" that would concentrate on the Administration's long-anticipated but still not delivered infrastructure program only to see that effort derailed by something the President said on Twitter.
It's hard to deny the influence that the President can have just by tweeting something. For one thing, the White House has said repeatedly that what the President tweets represents official Administration policy, so it would be irresponsible for the media to ignore what the President is saying. For another, these tweets arguably provide us with a glimpse into the mind of the President of the United States in a way we've never had before. In Trump's case, of course, that glimpse is a rather terrifying one since his tweets paint the picture of a vain, narcissistic, xenophobe who is obsessed with his attacking those who are critical of him and who displays a level of paranoia unseen since the days of Richard Nixon. It also shows us the extent to which his thinking is motivated primarily by whatever he happens to see on television. For example, much of Trump's regular morning tweeting can be correlated with things that are covered on Fox & Friends, which is apparently is morning viewing of choice although he does sometimes go on Twitter rants that correlate to things that are said on MSNBC's Morning Joe or CNN's New Day. 
At FiveThirtyEight, though, Percy Bacon Jr. and Dhrumil Mehta note that very few voters actually read the President's tweets:
President Trump's tweets often dominate news coverage, particularly on cable news. But let's be honest: We here at FiveThirtyEight have occasionally written about them too. What is more, well, newsworthy than the words of the chief executive of one of the world's most powerful nations? And since politicians are known for boring, repetitive, long-winded speeches, what could be a better political platform than one that literally forbids using more than 280 characters at a time? Twitter seems good for Trump, too: As his allies often say, it gives the president a way to speak directly to the American electorate, getting around the media's filter. Trump's Twitter account is followed by 52 million people, not that far off from the nearly 63 million who voted for him in 2016.

But some data released this week should give Trump and his supporters pause about the power of his Twitter account in directly reaching American voters — and push the media to think carefully about its coverage of Trump's tweets. Only 8 percent of U.S. adults say they follow Trump's Twitter account (@realDonaldTrump), and only 4 percent say they follow his account and regularly read the president's tweets, according to a new Gallup poll. According to the U.S. Census Bureau, about 250 million Americans are age 18 or older. So Trump's Twitter followers, based on the Gallup data, are about 20 million Americans of voting age. And the real consumers of his tweets are about 10 million.

Twenty million people isn't nothing. Neither is 10 million. It's more people than read FiveThirtyEight most days or watch any of the network news programs. But it's nowhere close to the 52 million followers Twitter says he has. And it's a small share of the roughly 325 million people who live in the U.S. or even the more than 137 million people who voted in the 2016 presidential election.

(…)

Twitter estimates that it has more than 69 million total users in the U.S., but we know that many Twitter accounts, particularly those who follow celebrities like Trump, are bots or otherwise fake. Also, remember that people of all ages and people outside of the U.S. can use Twitter. So Trump's 52 million followers surely include some American teenagers, as well as, say, Brazilian or Japanese citizens who care about his decisions. Third, Gallup's estimate that 26 percent of American adults have Twitter accounts is fairly close to the results of a 2016 Pew Research Center poll that found 21 percent of U.S. adults were Twitter users.
This leads the authors to reach this conclusion:
The Gallup report makes me think that Trump's tweets should be covered more — not less — carefully by the press. If Trump's tweets were just appeals to his political base, one that we know is susceptible to believing falsehoods like the claim that Barack Obama was not born in the U.S., that might argue that the tweets should be taken, well, seriously but not literally. If, on the other hand, these tweets are reaching a fairly small actual audience but are heavily influencing media coverage, that would suggest the actual messages in the tweets matter more. When I covered Obama as a White House reporter for The Washington Post, I was more interested in what he told small, elite audiences (Democratic congressional leaders, for example) than what he told crowds at rallies, as he was usually more candid and described his political strategy in more detail in the former settings.

It's worth considering whether we think of Twitter as Trump's megaphone and bully pulpit but it's really his inside voice — Trump's version of the off-record meetings with influential journalists that past presidents used to shape the views of other insiders.
It's certainly true that the media ought to be more critical when it comes to reporting on the things that the President tweets about, especially when they clearly aren't based on anything resembling reality. Just yesterday, for example, the President unloaded a tweetstorm regarding the Mueller investigation and the F.B.I. that contained at least 11 statements that were completely untrue. None of this is surprising, of course. This is a President who, as of earlier this month, had told more than 3,000 lies over the course of fewer than 450 days in office. Any journalist who takes what he says at face value isn't doing their job, and any American who does is either willfully blind or simply ignorant. Of course, the reality is that for many people Trump's dishonesty is already baked into their opinion about the man, and many of his supporters quite obviously don't care about the fact that he lies as long as he continues to reinforce what they believe. Additionally, Trump's continued attacks on so-called "Fake News," which we now know to be anything negative about him Those attacks, though, play perfectly with the "media bias" argument that has been popular among conservatives for at least the past twenty years or so. This, of course, means that any effort to fact-check Trump is largely doomed since his supporters aren't going to believe it anyway.
So, yes, we need to keep in mind that the actual audience for Trump's tweets is rather limited, and that most people end up hearing about what he says on Twitter via the news coverage that it gets. At the same time, though, Trump is the President of the United States, and these tweets provide a unique, often horrifying, glimpse inside his mind. For that reason alone, they ought to be paid attention to and called out when, as they often do, they push ideas that are false or misleading, or when he uses that platform to launch attacks on individuals, on the media, or on the Justice Department and F.B.I. as he did on Sunday.