Trump's Dishonesty Baked into People's Assessments
To paraphrase the late Dennis Green, he is who we thought he was.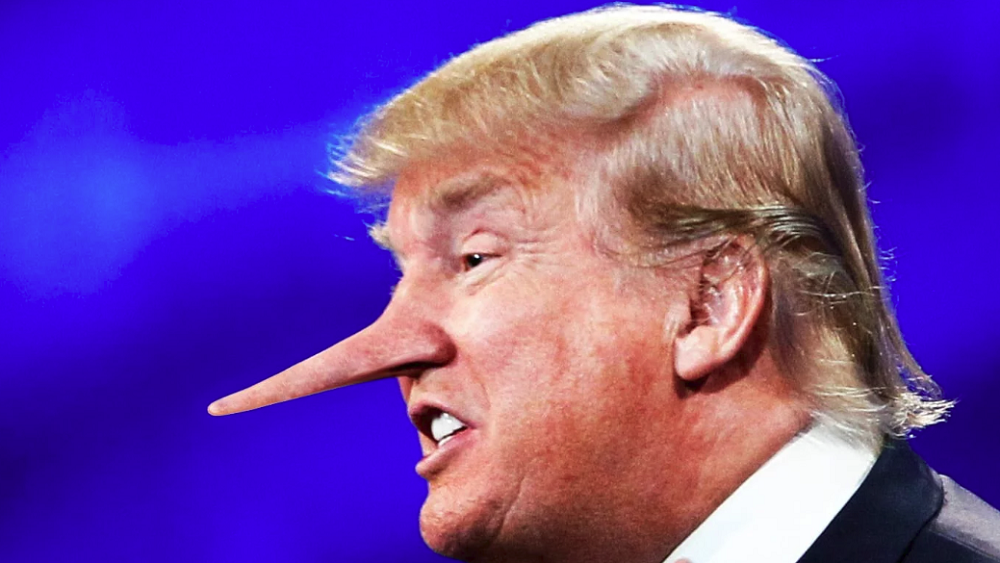 Earlier this week, Doug Mataconis noted that  President Trump has told an astonishingly large number of lies since taking office, with one fact checker counting "3,001 false or misleading claims" in his first 466 days. At the same time, one survey showed that, while 94 percent of Democrats and 76 percent of independents "believe that Trump tells the truth only occasionally or even less frequently," 76 percent of Republicans believe "he tells the truth either all or most of the time."
Doug concluded,
Trump's liberties with the truth, even when pointed out by the media, have not had much of an impact on his political fortunes. His die-hard supporters, quite obviously, don't care about something as apparently trivial as the fact that the candidate they support is a proven liar, for example, and neither do the Republicans who have rallied behind him in the wake of his clinching of the nomination. Now, as we approach his first year and a half in office, all we can be sure of is that the lying will continue and his supporters will continue to not give a damn.
CNBC Chief Washington Correspondent John Harwood has an even more depressing analysis: "Most voters have become numb to each new Trump scandal because they don't believe what he says anyway."
If you're waiting for news that President Donald Trump lied about Stormy Daniels to alter his election-year standing, stop.

Most Americans have considered Trump dishonest throughout his time in office. They judge his character indecent. But that no longer drives change in their judgments of his presidency.

The president's legal jeopardy seized this week's headlines. Exposure of specific falsehoods concerning the Daniels case scandalized even Trump-friendly quarters of the political world, drawing condemnations from Fox News and The Wall Street Journal editorial page.

Yet pollsters in both parties say the rank-and-file voters who will decide this year's midterm elections are more apt to yawn. By now it takes blockbuster information to shift their assessments of Trump, and details about porn-star hush money, as titillating as they sound, do not qualify.

For ordinary Americans, observed Republican pollster Whit Ayres, "We've learned nothing new in the last 24 hours." Surveys taken before Rudy Giuliani disclosed that Trump paid the hush money – which he and attorney Michael Cohen previously denied – back up that assessment.

In a Quinnipiac University poll last month, six in 10 Americans said they believed Trump had an affair with Daniels and knew about the hush money. But seven in 10 said it wasn't important.

Quinnipiac has measured views of Trump's honesty since his term began. The proportion of Americans who consider him dishonest has never fallen below 54 percent.

Of two big targets he frequently accuses of lying, ex-FBI Director James Comey and the news media, Quinnipiac found that majorities trust them more than the president. Fully 55 percent overall – 16 percent of Republicans, 53 percent of independents, and 92 percent of Democrats – said Trump lacks "a sense of decency."

Those assessments have damaged the president and fellow Republicans. Fewer Americans approve his job performance than that of any recent predecessor at the same point, even with the economy humming and international affairs comparatively calm.

But views of Trump's character have largely lost their ability to change his current standing. As unflattering information keeps accumulating, the share of Americans approving of him has ticked up from slightly below, to slightly above, 40 percent.

After 16 months, Americans have grown accustomed to Trump in the White House. The longer he serves without economic downturn or war, the more inured they become to his behavior.

"People have concluded that he's a liar," explained Mark Mellman, a leading Democratic pollster. "He lies every day. People know it."

At the same time, "The world hasn't come to an end," Mellman added. "The world's looking a little better. There's some good news out there."

[…]

More critically for Republicans, the small minority of voters most susceptible to changing their minds still haven't arrived at a verdict about Trump's effect on their lives. One in five of his 2016 voters viewed him unfavorably even as they elected him.

"They knew the foibles," said David Winston, a pollster for GOP leaders in Congress. "What they were trying to do was shake up the system. They have yet to reach a conclusion on: is it working, or not?"
I take the fact that an overwhelming number of Republicans claim to believe that Trump is mostly honest as a redirect of the question rather than an honest belief. Even people who get their news exclusively from Fox News and Breitbart would have to know about his constantly-changing versions of the Stormy Daniels matter and various other issues where he's contradicted himself. Hell, if all one watched was Sean Hannity's show, that would be obvious. No, affirming that Trump is telling the truth is really just an affirmation that they haven't yet given up on Trump to break the old political system and Make America Great Again.
Frankly, even as one who couldn't imagine voting for Trump from the moment he came down the golden escalator to announce his campaign, I find the daily drip-drip-drip of scandal and mayhem exhausting. I assume the very worst in the Stormy Daniels scandal and don't bloody care. That he hired a prostitute, paid her hush money, and engaged in various illegalities to cover it all up doesn't phase or interest me in the slightest. And, while others seem far more interested in the story than I am, it's not moving the needle on Trump precisely because it's so in line with his character. To paraphrase the late Dennis Green, Trump is who we thought he was.
There's been a meme going around social media for awhile now along the lines of "If Barack Obama did [thing Donald Trump did] [some horrible reaction would have occurred]." It's no doubt true. But Obama was playing by a completely different set of rules—and not just because he was a black man and a Democrat. Any of a hundred incidents during the 2016 primaries alone would have been the demise of any white, male, Republican. Ditto dozens of incidents that came to light during the general election campaign. And pretty much every day of his presidency. The "Pussy Tape" alone would have killed any other candidate in history. Even Bill Clinton couldn't have charmed his way out of that one. I'm not sure anyone else could have survived not releasing their taxes. Much less the daily corruption of leveraging the Presidency to profit his business empire. But the fact that Trump is sleazy is simply part of his brand. He's all but scandal-proof.
In the end, I suspect David Winston is right: Trump's supporters will continue to support him so long as they think he's serving their interests. All politicians lie, they believe, and at least he's not "just another politician." They hired him to shake up the system and, so far, he's doing that.  They're unlikely to turn against him unless the economy collapses or he gets us into a major war through his recklessness.