Obama Campaign Dodges Reagan's Question
The Obama campaign clearly does not want Americans to consider whether they are better off now than they were four years ago.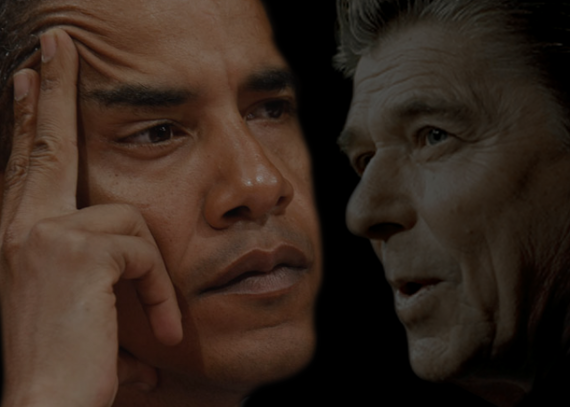 Two top Obama campaign advisers appearing on morning shows this morning refused to give a straight answer to the question of whether or not Americans are better off than when President Obama took office:
The question Democrats didn't want to answer head-on Sunday: Are Americans better off today than they were four years ago?

Asked the same question repeatedly host George Stephanopoulos on ABC's "This Week," President Barack Obama's senior White House adviser, David Plouffe, reverted to talking points about job creation and the failings of the Bush administration.

"We were this close to a Great Depression," Plouffe said at one point, pinching his thumb to his index finger.

Stephanopoulos cut him short.

"You still can't say yes," he told Plouffe.

"We've clearly improved, George," Plouffe replied. "We've made a lot of progress from the depths of the recession … We've got to continue to recover."

(…)

Earlier , Obama campaign strategist David Axelrod also declined to say whether Americans are better off today than four years ago, saying on "Fox News Sunday" that Americans are in a "better position" than they would've been had Republicans been in office.
It's not surprising that the Obama campaign would prefer to avoid answering this question, after all it is most famously known as the question Ronald Reagan put to the American people at the end of his only debate with President Jimmy Carter:
Over the course of the Carter Presidency, America had experienced slow growth combined with inflation rates unlike anything the nation had previously seen, the price of gasoline and other energy sources was persistently rising due in large part to the political situation on the other side of the world, and there was a general sense that the country had lost its way. On the international scene, the American people were treated to daily images from Iran of a hostage crisis that had been going on for nearly a year, and which included a failed rescue mission that just seemed to reinforce the post-Vietnam sense that our military had gone down hill. To make matters worse, our superpower rival the Soviet Union had just recently invaded Afghanistan and, with the help of its ally Cuba, was arming insurgent forces in nations like Nicaragua and El Salvador It's hardly surprising then that, less than a week after Reagan had uttered those words, voters answered his question with a resounding no.
By the time the 2012 election cycle was heating up, it was rather obvious that President Obama would be faced with Reagan's question when he ran for re-election. Indeed, while the Republican nomination process was just beginning to heat up last year, President Obama himself acknowledged that the country's economic condition would be a drag on his re-election campaign. At the same time, polls showed that a significant portion of the American public believed that were worse off than they had been at the start of the Obama Presidency.
None of this is surprising, of course. While it's technically true that the economic condition of the country is better than it was on January 20, 2009 in that we're not in the middle of a deep recession and shedding hundreds of thousands of jobs per months, it's also true that we are experiencing the worst economic recovery since the end of World War II. More recently, 2012 has been a less than stellar month economically given that we've seen two straight quarters of GDP growth below 2%, and pathetically weak jobs reports for the every month since March. Moreover, current economic forecasts suggest that this pattern of slow growth and anemic jobs growth will continue for the rest of this year and next year as well (that is assuming we don't get pushed into a recession by the whole "fiscal cliff" scenario.)  Given all of this, it's not surprising that President Obama's job approval on the economy remains upside down, that poll after poll has voters saying they think Mitt Romney would do a better job handling the economy, and that the bellwether  Right Track/Wrong Track poll continues to show Americans largely pessimistic about the direction of the country. Clearly, the public has not been very impressed with Obama spokesperson's efforts to continue to try to talk up a crappy economy by pointing out things such as the fact that the economy has created about 4 million jobs since January 2009, a fact which, while true, isn't impressive at all considering how many people are unemployed or underemployed.
Plouffe and Axelrod dodged the "are you better off?" question, because they know the campaign does not have a plausible answer for it. That's why the Obama campaign has spent the last several months trying to get people to pay attention to everything except the economy. Whether the voters will let them do that between now and Election Day remains to be seen. Certainly, if I were the Romney campaign I'd be hammering the incumbent on this point every day from now until November 6th, because if they are going to win that's how they're going to do it.