Report: Sexual Harassment Allegations Against Herman Cain
A story from Herman Cain's past is on the front page of Politico tonight.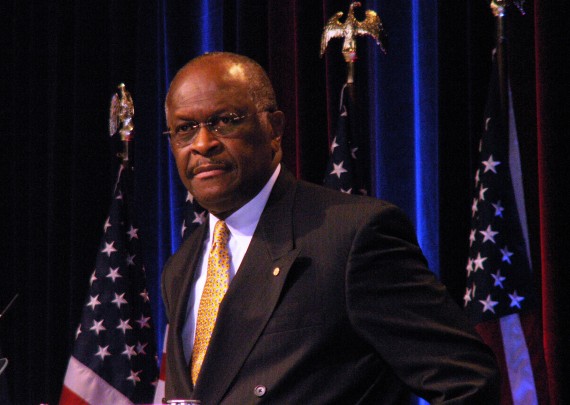 Politico is out tonight with a story that is bound to cause headaches tomorrow for Herman Cain's campaign for President:
During Herman Cain's tenure as the head of the National Restaurant Association in the 1990s, at least two female employees complained to colleagues and senior association officials about inappropriate behavior by Cain, ultimately leaving their jobs at the trade group, multiple sources confirm to POLITICO.

The women complained of sexually suggestive behavior by Cain that made them angry and uncomfortable, the sources said, and they signed agreements with the restaurant group that gave them financial payouts to leave the association. The agreements also included language that bars the women from talking about their departures.

In a series of comments over the past 10 days, Cain and his campaign repeatedly declined to respond directly about whether he ever faced allegations of sexual harassment at the restaurant association. They have also declined to address questions about specific reporting confirming that there were financial settlements in two cases in which women leveled complaints.

POLITICO has confirmed the identities of the two female restaurant association employees who complained about Cain but, for privacy concerns, is not publishing their names.

Cain spokesman J.D. Gordon told POLITICO the candidate indicated to campaign officials that he was "vaguely familiar" with the charges and that the restaurant association's general counsel had resolved the matter.

The latest statement came from Cain himself. In a tense sidewalk encounter Sunday morning outside the Washington bureau of CBS News — where the Republican contender had just completed an interview on "Face the Nation" — Cain evaded a series of questions about sexual harassment allegations.

Cain said he has "had thousands of people working for me" at different businesses over the years and could not comment "until I see some facts or some concrete evidence." His campaign staff was given the name of one woman who complained last week, and it was repeated to Cain on Sunday. He responded, "I am not going to comment on that."

He was then asked, "Have you ever been accused, sir, in your life of harassment by a woman?"

He breathed audibly, glared at the reporter and stayed silent for several seconds. After the question was repeated three times, he responded by asking the reporter, "Have you ever been accused of sexual harassment?"

Cain was president and CEO of the National Restaurant Association from late 1996 to mid-1999. POLITICO learned of the allegations against him, and over the course of several weeks, has put together accounts of what happened by talking to a lengthy roster of former board members, current and past staff and others familiar with the workings of the trade group at the time Cain was there.
There are four reporters on the byline that Politico posted tonight, indicating that at the very least that they invested considerable resources into investigating it, and it appears that at the very least there were allegations made, and a settlement was reached:
In one case, POLITICO has seen documentation describing the allegations and showing that the restaurant association formally resolved the matter. Both women received separation packages that were in the five-figure range.

On the details of Cain's allegedly inappropriate behavior with the two women, POLITICO has a half-dozen sources shedding light on different aspects of the complaints.

The sources — which include the recollections of close associates and other documentation — describe episodes that left the women upset and offended. These incidents include conversations allegedly filled with innuendo or personal questions of a sexually suggestive nature, taking place at hotels during conferences, at other officially sanctioned restaurant association events and at the association's offices. There were also descriptions of physical gestures that were not overtly sexual but that made women who experienced or witnessed them uncomfortable and that they regarded as improper in a professional relationship.

Peter Kilgore, who was the association's general counsel in the 1990s, and remains in that position today, has declined to comment to POLITICO on whether any settlements existed, saying he cannot discuss personnel matters.

But one source closely familiar with Cain's tenure in Washington confirmed that the claims related to allegations of sexual harassment – behavior that disturbed members of the board who became aware of it, as well as the source, who otherwise liked Cain.

"I happen to know there were sealed settlements reached in the plural. I think that anybody who thinks this was a one-time, one-person transgression would be mistaken," this source said.

The first woman was identified to POLITICO by a former association board member and her identity was confirmed by two additional sources.

The former board member recalled learning of the woman's departure at a 1999 association board meeting and trade expo in Chicago.

"She was offered a financial package to leave the association and she did," said the former board member. "What I took offense at was that it was clear that rather than deal with the issue, there was an effort to hush it up. She was offered a way out to keep quiet."
To be fair to Cain, allegations of this sort can be made and settlements can be reached on the advice on corporate counsel even if the question of fault is ambiguous. Nonetheless, this is a heavily-sourced story that is likely to be the biggest thing Herman Cain deals with this week, perhaps the most significant event of  his entire campaign.
More to come, I'm sure.
Update: Byron York shares a press statement released by the Cain campaign:
Inside the Beltway media attacks Cain

Fearing the message of Herman Cain who is shaking up the political landscape in Washington, Inside the Beltway media have begun to launch unsubstantiated personal attacks on Cain.

Dredging up thinly sourced allegations stemming from Mr. Cain's tenure as the Chief Executive Officer at the National Restaurant Association in the 1990s, political trade press are now casting aspersions on his character and spreading rumors that never stood up to the facts.

Since Washington establishment critics haven't had much luck in attacking Mr. Cain's ideas to fix a bad economy and create jobs, they are trying to attack him in any way they can.

Sadly, we've seen this movie played out before – a prominent Conservative targeted by liberals simply because they disagree with his politics.

Mr. Cain — and all Americans, deserve better.
So, there you have it. An attack-the-messenger response that is likely to resonate with many conservatives. That said, if there is substance to the details behind the Politico report, a response like this isn't going to be enough. Tomorrow, as York reports, Cain will be speaking at the National Press Club and taking questions. We can assume that the questions will not be related to 9-9-9 or abortion.