Cain Denies Sexual Harassment Allegations But Questions Remain
Herman Cain's response to allegations of sexual harassment 20 years ago raise as many questions as they answer.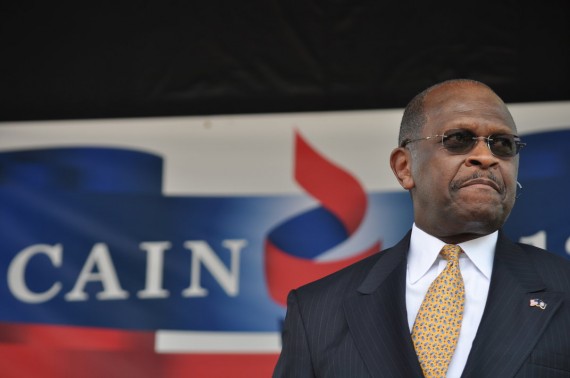 After initial responses from his staff that were fairly close to being incompetently disastrous, Herman Cain spent most of his day in Washington today responding to the allegations raised by the story posted by Politico last night regarding sexual harassment allegations made against him 20 years ago:
Herman Cain emphatically denied on Monday that he had ever sexually harassed anyone, calling allegations of harassment by two former employees "totally baseless and totally false" and saying that he is the innocent victim of a "witch hunt."

With the allegations threatening his bid for the Republican presidential nomination, Cain acknowledged in an interview with Fox News Channel the harassment charges during his tenure as head of the National Restaurant Association. He said he had been "falsely accused."

Later Monday, during an appearance at the National Press Club, Cain said that "in all of my over 40 years of business experience — running businesses and corporations — I have never sexually harassed anyone."

"I was falsely accused of sexual harassment, and when the charges were brought, as the leader of the organization, I recused myself and allowed my general counsel and my human resource officer to deal with the situation, and it was concluded after a thorough investigation that it had no basis," Cain said.

Politico reported Sunday night that Cain had sexually harassed two women while he ran the trade association during the 1990s and that the women were given financial settlements and left the association.

Cain said that he was "unaware of any sort of settlement. I hope it wasn't for much, because I didn't do anything."

Cain suggested that the report was the product of a "witch hunt" spurred by his recent surge in the polls in the GOP presidential contest.

"This bull's-eye on my back has gotten bigger. We have no idea the source of this witch hunt, which is really what it is," Cain said during a question-and-answer session following a 25-minute campaign speech before the National Press Club in downtown Washington. Cain's comments were broadcast live on national cable television news networks.

In the morning Fox interview, Cain defended his integrity and suggested someone was putting a "cloud" over his campaign.

"It is totally baseless and totally false," Cain added. "Never have I committed any sort of sexual harassment."

Cain said there were no additional harassment allegations. Should any surface, Cain said, they would be "trumped-up allegations," adding: "I assure you people will simply make them up."
Jennifer Rubin, a former employment lawyer, wonders if Cain's statement that he was unaware of any settlement — and NBC News has confirmed that at least one of the women involved received a settlement of some kind — is plausible:
For that to be true, many things would also have to be true:

●Herman Cain never asked the NRA how the claim got resolved;

●Cain never had to sign a settlement agreement or any other document;

●He trusted the NRA to obtain a complete release on his behalf, and the women never demanded that Cain release potential counterclaims (e.g., for defamation);

●He never agreed to keep the matter confidential — for example, after he left the NRA. (Arguably the association could bind him while he was still employed, but wouldn't it have had to tell him to ensure compliance?); and

●In his role as CEO, Cain never had to approve a settlement, was never told the cost of the settlement and never saw a budget entry confirming a settlement.

Is this possible? I guess so. Is it probable? Hardly. Take note that he denied knowing not just the amount of the settlement but the fact of the settlement. That's remarkable. At the very least, it would show an astounding lack of curiosity.
National Review's Kevin Williamson is similarly skeptical of Cain's statement that he was wholly unaware of any settlements with these women. Personally, I've got to say that my own experiences with setting a wide variety of legal claims over the past 15 years or so makes it hard to believe that the Chief Executive of an organization would be wholly unaware of the settlement of a claim involving a personnel matter, especially one in which that Chief Executive was being accused of wrong doing. More importantly, the questions that Rubin raises make such a lack of knowledge even less plausible. If there was a sexual harassment claim settlement that involved allegations of wrongdoing by Cain, then it's hard to see how the claim could be settled without his knowledge and involvement in the process at some point.
But that assumes that the money the women received was in settlement of a bona fide sexual harassment claim. Consider this line from the original Politico report:
In one case, POLITICO has seen documentation describing the allegations and showing that the restaurant association formally resolved the matter. Both women received separation packages that were in the five-figure range.
Separation packages typically refer to the payments given to employees when they're departing from a job, sometimes under less than ideal circumstances. Politico is pretty careful throughout the story to not describe the payments as settlements of sexual harassment claims, although one of the sources they quote in the body of the story does use that description. This suggests the possibility that that what was being alleged was something less than sexual harassment. David Frum points out another important piece of information, the fact that the reported payoffs were "in the five-figure range." Now, this could mean anything from $10,000 to $99,999, but it seems like an awfully small amount for sexual harassment. As Frum points out, back around the time that this was happening, sexual harassment claims were already bringing verdicts in the million dollar neighborhood, with one case bringing an $80,000,000 verdict. What this suggests is that this may have all been a nuisance settlement by the trade association, with the cost of settlement being cheaper than the legal and reputational costs of defending the claims.
The Cain campaign's response so far has been ham-handed to say the least. They should have been more forthright with Politico during the ten days that this story was pending. And their initial responses have raised more questions than they answer. However, that may simply be evidence of a badly run communications office rather than evidence of guilt. Until Politico releases more details about these allegations we really don't have a whole heck of a lot to go one here and piling on a candidate based simply on anonymous sources and parties required to remain silent due to the terms of a legal agreement, strikes me as a rush to judgment. If there's more, then we'll deal with it then.
One final thought, though. At the National Press Club today, Cain said in response to a question, and quite emphatically, that there was "nothing else" out there. He'd better hope that's true because if reporters don't have it already, they will shortly.