New Allegations Begin A Crucial Week For Brett Kavanaugh
New allegations of sexual misconduct mark the start of a crucial week for the confirmation of Judge Brett Kavanaugh.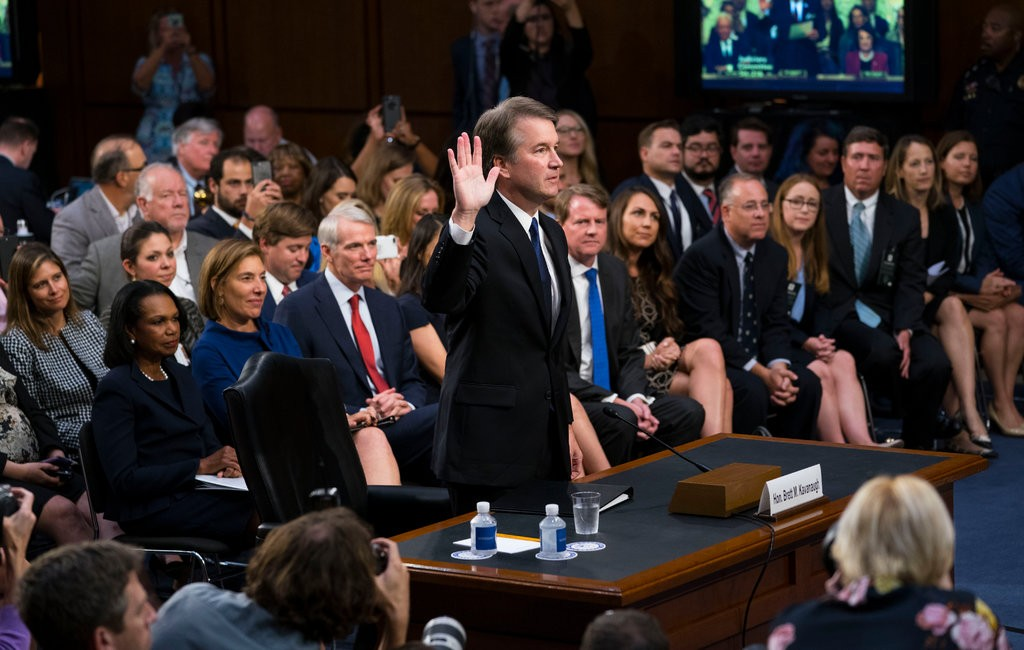 As Steven Taylor noted last night, the confirmation hearings for Judge Brett Kavanaugh were thrown yet another curveball last night in the form of a piece in The New Yorker from Ronan Farrow and Jane Mayer, who had won a Pulitzer Prize for their coverage of the sexual harassment and sexual assault charges against Hollywood mogul Harvey Weinstein, regarding allegations made by a Yale classmate who alleged that Kavanaugh had approached her in sexually aggressive manner during a dorm room party. All of this comes as plans are being finalized for the appearance of Dr. Christine Blasey Ford before the Senate Judiciary Committee to hell her own story of alleged sexual assault on the part of a 17-year-old Brett Kavanaugh at a party in suburban Maryland, but that process is being threatened by renewed calls for delay in the wake of the charges reported by Farrow and Mayer:
WASHINGTON — The woman who has accused Judge Brett M. Kavanaugh of sexually assaulting her when they were teenagers has committed to testify before the Senate Judiciary Committee on Thursday, setting up a potentially explosive confrontation unlike any seen in decades with the future of the Supreme Court at stake.

After days of intense and closely watched legal wrangling, lawyers for the woman, Christine Blasey Ford, reached final agreement with committee representatives on Sunday for Dr. Blasey to testify. While several details — including whether Republicans will use an outside lawyer to question her — remain unsettled, a spokesman for the committee said its chairman, Senator Charles E. Grassley of Iowa, considers the negotiations over, and Dr. Blasey's lawyers said the hearing would go on no matter how those details are resolved.

"Despite actual threats to her safety and her life, Dr. Ford believes it is important for senators to hear directly from her about the sexual assault committed against her," her lawyers, Debra S. Katz, Lisa J. Banks and Michael R. Bromwich, said in a statement Sunday, adding that while some logistical and other details were not yet settled, "they will not impede the hearing taking place."

But not long after the agreement was reached, Senator Dianne Feinstein of California, the committee's top Democrat, wrote to Mr. Grassley requesting "an immediate postponement of any further proceedings related to the nomination of Brett Kavanaugh," citing a second accusation of misconduct that surfaced against him on Sunday and asking that the allegation be referred to the F.B.I.

If the hearing remains on course, Dr. Blasey will appear Thursday before a committee of 21 senators for questioning that could carry unmistakable echoes of the 1991 confirmation hearings of Justice Clarence Thomas, who was accused of sexual harassment by the law professor Anita F. Hill. The Thomas hearings riveted the nation, infuriating women across the country and spurring hundreds of them to run for office. The hearing with Dr. Blasey, coming at the height of the #MeToo movement, promises to be a similar spectacle.

The on-again, off-again talks — with an appointment to the nation's highest court in the balance — have consumed official Washington, and thrown confirmation proceedings for Judge Kavanaugh, who has vigorously denied Dr. Blasey's allegations, into turmoil. Until recently, Judge Kavanaugh's confirmation seemed all but assured; Dr. Blasey's testimony has the potential to be a fatal blow.

(…)

The hearing will invariably explore Judge Kavanaugh's upbringing in the exclusive world of prep schools in suburban Washington. Both Judge Kavanaugh and Dr. Blasey attended private schools, and she has said that the judge and a friend of his were "stumbling drunk" when the assault occurred. Senator Richard J. Durbin of Illinois, the No. 2 Democrat in the Senate, said Sunday that questions about Judge Kavanaugh's high school alcohol consumption were bound to come up.

"Well, it's certainly relevant to the whole conversation," Mr. Durbin said on the ABC program "This Week." "Dr. Ford has said that they were stumbling drunk at the time that this occurred. And there have been a lot of things said about the alcohol that was consumed by the judge as well as by others in his school. That has to be part of any relevant questioning."

https://www.outsidethebeltway.com/wp-admin/post-new.phpIn a preview of his defense, Judge Kavanaugh planned on Sunday to hand over to the Judiciary Committee calendars from the summer of 1982 that do not contain evidence of a party similar to the one described by Dr. Blasey. His team plans to argue that the calendar pages represent a piece of evidence that fails to corroborate Dr. Blasey's account, according to a person familiar with the defense.

But the calendar pages from June, July and August of that year, which were reviewed by The New York Times, also in no way disprove her accusation. Along with a list of statements from other potential witnesses insisting they do not remember the episode, the pages only reinforced on Sunday that Judge Kavanaugh's fate will rest in the hands of individual senators who must decide whose account they believe.

Senators looking to confirm or refute the allegations will face a nearly impossible task. Complicating matters, Dr. Blasey has said she does not recall the specific date or location of the house where the alleged incident occurred, though she believes it was during the summer of 1982.

Judge Kavanaugh's prospects were further clouded on Sunday when The New Yorker reported on a new allegation of sexual impropriety: A woman who went to Yale with Judge Kavanaugh said that, during a drunken dormitory party their freshman year, he exposed himself to her, thrust his penis into her face and caused her to touch it without her consent.

In a statement, Judge Kavanaugh denied the allegation from the woman, Deborah Ramirez, and called it "a smear, plain and simple." The New Yorker did not confirm with other eyewitnesses that Judge Kavanaugh was at the party.

The Times had interviewed several dozen people over the past week in an attempt to corroborate her story, and could find no one with firsthand knowledge. Ms. Ramirez herself contacted former Yale classmates asking if they recalled the incident and told some of them that she could not be certain Mr. Kavanaugh was the one who exposed himself.
The Washington Post, meanwhile, focuses on Senator Dianne Feinstein's call for a delay in the hearings in light of the new allegations:
Sen. Dianne Feinstein, the ranking Democrat on the Senate Judiciary Committee, called late Sunday for a delay in further consideration of Supreme Court nominee Brett M. Kavanaugh after a second woman accused him of sexual misconduct.

"I am writing to request an immediate postponement of any further proceedings related to the nomination of Brett Kavanaugh," Feinstein (Calif.) wrote in a letter to Sen. Charles E. Grassley (R-Iowa), the committee's chairman.

Her letter came after the New Yorker magazine reported that Deborah Ramirez, a classmate of Kavanaugh's at Yale University, said he exposed himself at a party when they were both first-year students.

Ramirez, who told the magazine that they both had been drinking at the time of the incident, acknowledged some gaps in her memory but said she remembered another student shouting Kavanaugh's name.

"I would think an F.B.I. investigation would be warranted," Ramirez said.

In a statement issued by the White House, Kavanaugh denied the accusation and called it "a smear, plain and simple."

"I look forward to testifying on Thursday about the truth, and defending my good name — and the reputation for character and integrity I have spent a lifetime building — against these last-minute allegations," he said in the statement.

The new accusation further roiled Kavanaugh's nomination hours after the Senate Judiciary Committee had agreed to allow Christine Blasey Ford to testify Thursday about her claim that Kavanaugh sexually assaulted her when they were teenagers.

In her letter, Feinstein asked "that the newest allegations of sexual misconduct be referred to the FBI for investigation, and that you join our request for the White House to direct the FBI to investigate the allegations of Christine Blasey Ford as well as these new claims."

Grassley did not immediately respond to Feinstein's call for a delay. Spokesman Taylor Foy said the majority Republican committee staff learned about Ramirez's allegations from Sunday evening's New Yorker article. Neither Ramirez nor her attorney have contacted the chairman's office, Foy said, adding Democrats never informed the GOP staff of these allegations.

"It increasingly appears that they are more interested in a political takedown than pursuing allegations through a bipartisan and professional investigative process," Foy said in a statement. "Of course, we will attempt to evaluate these new claims."
In addition to these new allegations, Michael Avenatti, the attorney who is representing Stormy Daniels claimed to have a client with new allegations against Kavanaugh and corroborating evidence of his behavior in High School:
Michael Avenatti, the lawyer representing adult-film actress Stormy Daniels, is calling for the Senate to hear testimony from unnamed witnesses he claims can corroborate new allegations of sexual assault involving Supreme Court nominee Brett Kavanaugh.

Earlier on Sunday, Avenatti announced that he is representing a client with "credible information" regarding Kavanaugh and his former classmate, Mark Judge.

"I represent a woman with credible information regarding Judge Kavanaugh and Mark Judge," Avenatti said on Twitter. "We will be demanding the opportunity to present testimony to the committee and will likewise be demanding that Judge and others be subpoenaed to testify."

"The nomination must be withdrawn," he added.

The lawyer shared another tweet shortly after that included a screenshot of an email he received from Mike Davis, the chief counsel for nominations for the Senate Judiciary Committee, calling him to "advise of this information immediately so that Senate investigators may promptly begin an inquiry."

Avenatti's response to the email was also included in the photo, to which he told Davis that he is "aware of significant evidence of multiple house parties in the Washington, D.C. area during the early 1980s, during which Brett Kavanagh, Mark Judge and others would participate in the targeting of women with alcohol/drugs to allow a 'train' of men to subsequently gang rape them."

"There are multiple witnesses that will corroborate these facts and each of them must be called to testify publicly," Avenatti continued, before going on to list several questions he advised Senate investigators to pose to Kavanaugh "without delay and provide the answers to the American people."

Avenatti has not revealed the identity of the client.
Here are Avenatti's Tweets from last night:
I represent a woman with credible information regarding Judge Kavanaugh and Mark Judge. We will be demanding the opportunity to present testimony to the committee and will likewise be demanding that Judge and others be subpoenaed to testify. The nomination must be withdrawn.

— Michael Avenatti (@MichaelAvenatti) September 23, 2018
My client is not Deborah Ramirez.

— Michael Avenatti (@MichaelAvenatti) September 23, 2018
My e-mail of moments ago with Mike Davis, Chief Counsel for Nominations for U.S. Senate Committee on the Judiciary. We demand that this process be thorough, open and fair, which is what the American public deserves. It must not be rushed and evidence/witnesses must not be hidden. pic.twitter.com/11XLZJBTtY

— Michael Avenatti (@MichaelAvenatti) September 24, 2018
Brett Kavanaugh must also be asked about this entry in his yearbook: "FFFFFFFourth of July." We believe that this stands for: Find them, French them, Feel them, Finger them, F*ck them, Forget them. As well as the term "Devil's Triangle." Perhaps Sen. Grassley can ask him. #Basta

— Michael Avenatti (@MichaelAvenatti) September 24, 2018
Here are subsequent emails between me and Mr. Davis. It appears that (1) the Committee has an issue with this process being public and (2) the Committee wants to avoid Mr. Judge testifying or even requesting that he testify. Both are absolute necessities. pic.twitter.com/jiwtFFGbJd

— Michael Avenatti (@MichaelAvenatti) September 24, 2018
As noted, Avenatti has not revealed the identity of his client or the allegations that the client, presumably a woman, is raising. He has also not identified the corroborating evidence he claims to have that would tend to support Dr. Ford's allegations against Judge Kavanaugh. Additionally, it is worth noting that none of the named witnesses that Deborah Ramirez, the woman who is the focus of the piece in The New Yorker, can corroborate her report of what she alleges happened during the dorm room party and new outlets such as The New York Times has been unable to corroborate her claims. Farrow and Mayer, on the other hand, say that they have an as of now unnamed source who they have a corroborating witness who says the incident, and the identity of the persons involved became common knowledge among a certain circle of people at Yale. Whether that is accurate or not will likely become clear over the coming days.
With respect to the Thursday hearing itself, negotiations about details apparently continue to move forward but nothing about what may have been agreed to or what remains outstanding has become public since my last post on this matter yesterday. This means that it remains unclear who will testify first, although it seems likely that Dr. Blasey Ford will testify first for reasons I've stated before. Also unclear is the question of how long the committee intends to allow for questioning and whether the questioning by the Republican majority will be done primarily by Senators or by an outside counsel that Republicans hope would blunt the impact of a female claiming sexual assault being cross-examined by an all-male panel of Republican Senators.
Presumably, all of those details will be worked out between now and Thursday, but the addition of these new allegations have thrown a hand grenade into a confirmation process that has already flown wildly off the rails, and that Brett Kavanaugh's is at the very least no longer on the smooth path to confirmation that it seemed to be just a week ago. The New York Times describes Kavanaugh's nomination as being "in limbo", for example, based on the Blasey Ford allegations and the new allegations, which of course have yet to sink in given that they were just made public last night. Roll Call, meanwhile, describes Kavanaugh's week ahead being bumpy, which is an understatement to say the very least. Finally, Politico states perhaps somewhat dramatically that the nomination is in "renewed peril" amid the new allegations reported by The New Yorker and Michaeli Avenatti. Along similar lines, James Joyner argues this morning that Kavanaugh's nomination is "toast."
Personally, I am not certain that things are as imperiled as these headlines imply. While it seems unlikely now that Judge Kavanaugh will get the support from any Democrats in the Senate, even those in red states who voted for Neil Gorsuch seventeen months ago such as Joe Manchin, Joe Donnelly, and Heidi Heitkamp, the only way that the nomination becomes imperiled is if the events of the next week or so is if we see Republican Senators like Susan Collins, Lisa Murkowski, Jeff Flake, and Bob Corker peel away or call for a further investigation or simply state that they cannot support the nomination. As it stands, Senate Majority Leader Mitch McConnell can only afford to lose one Republican Senator at this point, and even then he'd have to rely on Vice-President Pence's tie-breaking vote to confirm Kavanaugh, something I don't believe has ever happened before. If he loses more than one Senator and doesn't have any crossover votes then the nomination is dead. As of this point, my guess is that the nomination will ultimately be confirmed, but it's been a volatile two weeks or so and that's likely to continue. Who knows where we'll be when it's all over.