Kavanaugh is Toast and So is Our Political Climate
We'll likely never know whether the Supreme Court nominee is a sexual assaulter. But it really doesn't matter.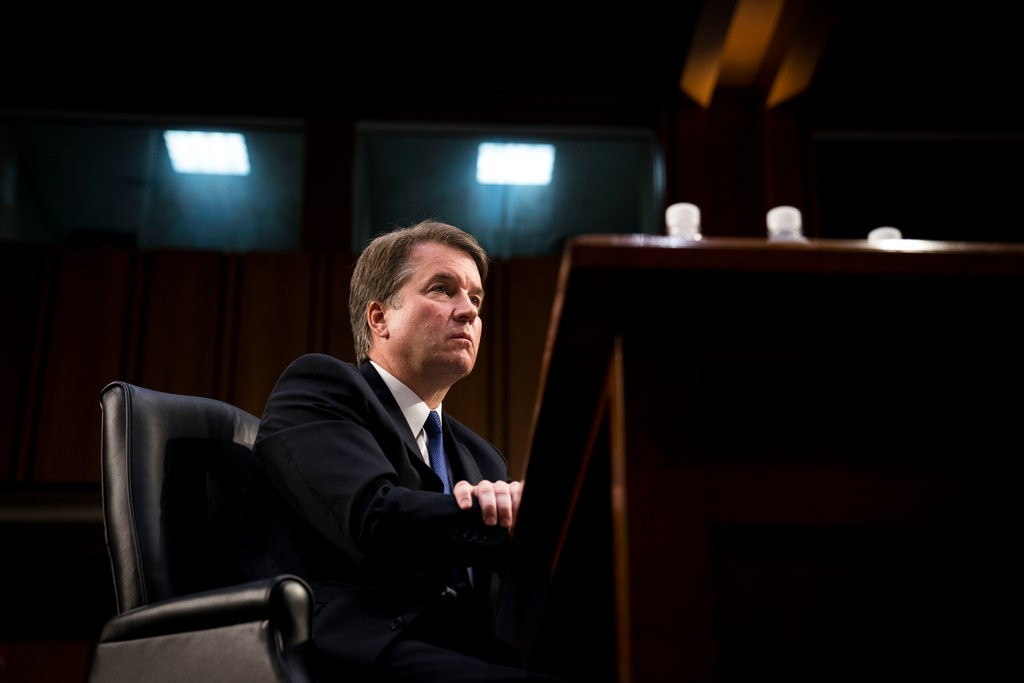 As Steven Taylor noted last evening, there is now a second allegation of sexual assault against Brett Kavanaugh, dating to his college days at Yale. The self-promoting lawyer for Stormy Daniels claims he has another alleged victim as well. What we have so far on those are much less credible than the initial allegation from an accomplished psychology professor who was more-or-less sober at the time of the incident but, given that the second report is coming from Ronan Farrow, that could well change.
Regardless, I agree with frequent commenter HarvardLaw92 that Kavanaugh is likely toast:
For better or worse, in the court of public opinion he has been convicted as an attempted rapist, in a climate where empowered women are toppling titans right & left and the GOP has a staggering unfavorable rating among likely women voters. They're even losing registered Republican women at this point.

Nothing else needs to be said. He's poisonous for the party going into an election in which they already stand to be slaughtered even without the baggage he brings to the table.

[…]

He has become the cudgel Democrats are (rightfully, in my opinion) using to extract their pound of flesh in payback for Garland. In short, he's now being used as a weapon in a political battle that is, at best, only tangentially related to his suitability for the court. Republicans will lose that battle, they know it, and whatever else might be said about them, they aren't stupid. They know that the best course of action here is to rid themselves of the problem, and do so in a way that draws a nice, bright line between themselves and Kavanaugh the Rapist, before the midterms.

It is now entirely about politics.
Given ordinary standards of proof, this is a grave injustice. But politics ain't beanbag and Republicans poisoned the well on this with their shameful treatment of Garland.
For the sake of both the public and Kavanaugh, I believe these charges ought be fully investigated by the FBI. If they're unfounded, his reputation will at least be partly restored although, in the current atmosphere, he's still permanently damaged. If they are, however, proven credible he may be subject to penalties for false statements under oath–including putting his current appellate judgeship in peril.
For his part, Kavanaugh is doing what he can to prove a negative, including supplying personal calendars from the summer of 1982:
The calendars do not disprove Dr. Blasey's allegations, Judge Kavanaugh's team acknowledged. He could have attended a party that he did not list. But his team will argue to the senators that the calendars provide no corroboration for her account of a small gathering at a house where he allegedly pinned her to a bed and tried to remove her clothing.

The calendar pages from June, July and August 1982, which were examined by The New York Times, show that Judge Kavanaugh was out of town much of the summer at the beach or away with his parents. When he was at home, the calendars list his basketball games, movie outings, football workouts and college interviews. A few parties are mentioned but include names of friends other than those identified by Dr. Blasey.

The challenge for senators trying to confirm or refute the accusation against Judge Kavanaugh is that Dr. Blasey has said she does not recall the specific date or location of the house where the alleged incident occurred. She has said she believes it was during the summer of 1982, and she remembers wearing a bathing suit with other clothing on top of it, suggesting the party might have taken place after a swim outing at a local country club.
Aside from finding it amusing that Kavanaugh, who's roughly a year older than I am, has calendars going back to his high school days, this just shows the futility of trying to refute vague charges. How the hell he's supposed to prove that he wasn't at a party that may or may not have been at the home of some person the accuser can't recollect but possibly somewhere else—almost certainly in Maryland, though—and maybe in 1982 I don't know.
But, as HL92 notes, it really doesn't matter. He's simply guilty. Because Alyssa Milano had a horrible experience 30 years ago, and so did many others.
Victims of sexual assault often don't report what happened because they know all too well that our stories are rarely taken seriously or believed — and that when it comes to sexual misconduct, our justice system is broken. Now, we are seeing our worst nightmares realized when we see the disbelief, pushback, hate, and death threats Ford is receiving just because she had the courage to speak up.

[…]

I believe Christine Blasey Ford and I demand that our Senators vote to reject Brett Kavanaugh as the next Justice on the Supreme Court. Every person who refuses to loudly and openly reject Brett Kavanaugh's nomination is telling every generation of Americans that an alleged abuser's career is more valuable than a survivor's humanity. And the highest court in our land is no place for an alleged sexual offender to sit.

To every survivor reading this, know that I am here with you. Know that I see you. I believe you. I am you. And know that we will do whatever we can to stop Brett Kavanaugh from serving on the Supreme Court of our United States.
That's simply bizarre but there have been dozens of similar columns published. The bottom line is that nobody cares whether Kavanaugh himself is a rapist; what matters is that he's been accused. Additionally, while I disagree with most of his take, Steven Hayward is on to something here:
[E]ven a story as thin as this—even if it falls apart upon further scrutiny—reinforces a subtle aspect of the leftist narrative against Kavanaugh, which repeats the argument made against the wholly innocent Duke lacrosse players a decade ago—namely, that Kavanaugh, as a product of Georgetown Prep and Yale, is a product of "privilege," which for the collective-guilt left these days means you must atone for the sins of your class. (Recall that something like 80 Duke faculty members signed a declaration attesting to the guilt of the lacrosse team based wholly on this ideological ground.)
Leaving aside the Rush Limbaughesque verbiage, Kavanaugh has become a stand-in for a certain type of bro culture. He may well have been away summering with his parents at the time the alleged rape took place but he's the type of boy who grew up using "summering" as a verb. And a lot of folks, particularly those who write for elite media outlets, grew up around people these elite boys of privilege and saw them get away with a lot of horrible behaviors because of who they were. Indeed, even the initial WaPo account of Ford's claim includes language to that effect:
The therapist's notes, portions of which were provided by Ford and reviewed by The Washington Post, do not mention Kavanaugh's name but say she reported that she was attacked by students "from an elitist boys' school" who went on to become "highly respected and high-ranking members of society in Washington."
Similarly, a New Yorker account notes,
According to many graduates of Washington prep schools, the party culture described in yearbooks often created occasions for sexual harassment and assault. More than a thousand women who attended Holton-Arms, the girls' school from which Ford graduated, have signed a letter that describes the alleged assault as "all too consistent with stories we heard and lived while attending Holton. Many of us are survivors ourselves."

Now the rest of us are learning about the hierarchy of Washington private schools—about what it meant, in the eighties, to go to Georgetown Prep as opposed to Landon or Gonzaga, and about the girls' schools Stone Ridge, Visitation, and Holton-Arms. By all appearances, the kids from these prep schools almost exclusively socialize with one another, and that social network informs their identities for the rest of their lives. As reporters have investigated Kavanaugh's high-school years, many alumni have expressed fear about going on the record and alienating themselves from a close-knit community. "I guess you could call it a fraternity between a bunch of rich kids," an anonymous alumnus of Georgetown Prep, who overlapped with Kavanaugh there, told the Huff Post. "All this shit happens, and then nobody really wants to talk about it, because if one person crumbles, the whole system crumbles, and everybody tells on everybody." I spoke with another Georgetown Prep alumnus, who hated high school but still didn't want to go on the record about what it was like there. Even for those who take less pride in the institution, what happens at Georgetown Prep stays at Georgetown Prep.
Kavanaugh is a stand-in for all manner of rage and resentment. If he's innocent, it's a grave injustice to him.
But, as I've noted previously, his defenders are doing him no favors.  Aside from the examples of outrageous and transparently stupid gambits noted in that post, Senate Republican leaders seem to be completely oblivious to the new climate. Lindsey Graham's declaration that nothing Ford says would change his mind is just mind-numbingly clueless. The leadership's trying to ram the nomination through without further investigation—apparently knowing that a second allegation was coming—is outrageous. As frustrating as it is that one side of this fight doesn't care whether Kavanaugh is guilty—that a mere accusation should be enough because women are simply to be believed—it's much worse to not care whether he's guilty because you think it's just no big deal if you did a little raping in your youth.