Attorney For Stormy Daniels: Client Was Physically Threatened To Remain Silent
A new bombshell allegation in the Stormy Daniels affair.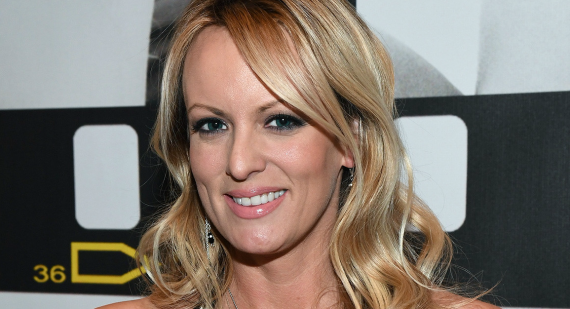 Michael Avenatti, the attorney representing adult film star Stormy Daniels, appeared on Morning Joe this morning ostensibly to discuss his client's upcoming 60 Minutes interview as well as reports that he had been in contact with other women who have alleged having had consensual affairs with President Trump in the past. Toward the end of the interview, though, Avenatti dropped a bombshell in response to a question from Mika Brezinski, alleging that she had been physically threatened to not reveal the details of her affair with the President:
Adult film star Stormy Daniels — who has said in a lawsuit that she had an "intimate" relationship with Donald Trump a decade before he became president — was physically threatened in relation to her attempts go public with her story, her attorney said Friday.

In an interview with MSNBC's "Morning Joe," Michael Avenatti, an attorney for Daniels, repeatedly said that his client had been threatened, but wouldn't say by who. He also declined to give details on the nature of the threats.

There's the act and then there's the cover-up, and the American people are going to learn about both," Avenatti said, referring to a secrecy agreement facilitated by Trump's personal attorney, Michael Cohen, that Clifford signed in exchange for $130,000 before the 2016 election.

"Morning Joe" co-host Mika Brzezinski then asked whether Clifford was "threatened in any way."

Avenatti responded, "Yes."

"Was she threatened with physical harm," Brzezinski then asked.

"Yes," Avenatti said.

"Was her life threatened?" Brzezinski inquired.

"I'm not going to answer that. People will have to tune in," he said, referring to an interview Clifford did with CBS's "60 Minutes" that is scheduled to air March 25.

A moment later, Brzezinski and co-host Joe Scarborough asked again about the threats, but Avenatti said, "I can't tell you anything beyond what I've already said."

"Can you tell us whether it came from the president directly," Scarborough asked.

"I'm not going to answer that," Avenatti said.

When asked if he would "deny that the President of the United States threatened your client," Avenatti said he "will not confirm or deny."

Brzezinski took one last stab, asking Avenatti if the threat was "verbal," or "did anyone point a gun at her?"

"I'm not at liberty to discuss that," Avenatti said.
More from Politico:
The attorney for an adult film actress who claimed to have had an affair with President Donald Trump said Friday that his client has been threatened with physical harm and suggested that she had only signed a nondisclosure agreement related to the relationship because of threats against her.

Asked on Friday by MSNBC "Morning Joe" host Mika Brzezinski if his client, Stormy Daniels, had been on the receiving end of threats, attorney Michael Avenatti replied that she had. Asked if she had been threatened with physical harm, Avenatti said yes. He did not say when Daniels received the threats.

The attorney offered no other details about the threats against Daniels, whose real name is Stephanie Clifford. He declined to say who leveled the threat against Daniels and would not say whether or not the threat had come from the president himself. Avenatti also declined to say if the threats had come from someone party to or otherwise related to the nondisclosure agreement that Daniels has filed suit to break.

Avenatti did say that an upcoming interview with Daniels on CBS' "60 Minutes" would include further revelations about Daniels' alleged affair with Trump.The interview is scheduled to air March 25. Avenatti said he was not aware of specific efforts to block CBS from airing the interview but "we've certainly heard through the grapevine and through others that it's been contemplated."

"I think that when people tune in to this interview, they're going to learn the details, the circumstances under which she signed the original agreement as well as what happened thereafter relating to the threats and coercive tactics that were used to shut my client up," Avenatti said in a separate interview later Friday morning on CNN's "New Day" that followed his MSNBC appearance.

Avenatti also suggested in his interview with CNN anchor Chris Cuomo that Daniels had signed the nondisclosure agreement under threat, although he once again did not elaborate further.

"That's one thing, [she] says, 'I want to — I'm going to speak unless we can figure out a deal.' Fine, legal, as long as it wasn't being coercive," Cuomo posed to Avenatti. "If it was, 'well, I have to do this because I'm afraid if I don't do it, something will happen to me because that has been articulated,' that's something else. Which was it?"

"Something else," Avenatti replied, suggesting that Cuomo's second scenario was the correct one.

Trump's longtime personal attorney, Michael Cohen, did not immediately respond to an email asking for comment.
Here's the full interview with Avenatti, the relevant portion begins at the 9:20 mark:
To say the very least, this allegation left the panelists on Morning Joe stunned in the aftermath of the interview, and it's likely to be a story that continues to reverberate as we get closer to the air date of the 60 Minutes interview. For what it's worth George Washington University Law Professor Jonathan Turley, who happened to be scheduled to appear in studio for other reasons immediately after Avenatti appeared on the show, vouched for Avenatti, saying that he had been a student of Turley's when he was in law school and had worked as a research assistant at the time. Turley, who has been somewhat skeptical of much of the speculation surrounding the Russia investigation and the Trump Administration in the past, said that Avenatti's reputation as an attorney is stellar and that he would not have answered Brezenski's question the way that he did if he didn't have a basis for believing that it was true.
In any case, based on the manner in which Avenatti did answer the questions, as well as the questions he didn't answer, there are a few things that we can probably conclude regarding this allegation.
First of all, while Avenatti would not say when this alleged threat was made, it seems as though we can assume that it was not made prior to the time that she entered into the agreement under which she was paid $130,000 to remain quiet about her affair with Trump. This is the same agreement that Daniels, whose legal name is Stephanie Clifford, is seeking to have nullified in the lawsuit that was filed in state court in California earlier this month. Generally speaking, an agreement that is signed under duress would be null and void on its face. One would presume, then, that if the threat were made to induce her to enter the agreement that this would have been alleged in some way in the Complaint that was filed in Los Angeles Superior Court. Since it wasn't that leads to the probability that this alleged threat was made at some point after the agreement was entered into, most likely sometime recently in the time since Daniels has entered the news cycle.
The biggest question, of course, is who may have made this alleged threat. Notwithstanding Avenatti declining to say so directly, it strikes me that we can rule out the possibility that the President himself made any kind of threat like this. While Donald Trump has proven during the time he's been President to be unpredictable and irrational at times, it would be utterly suicidal for him to actually physically threaten someone during the course of his Presidency. I'm not saying it's impossible, of course, because if this Administration has proven anything it's that "impossible" is a word that simply isn't uttered inside the walls of the White House and the West Wing, but it does seem highly, highly unlikely. That leaves the possibility that it was someone else, potentially someone close to Trump who may or may not have been acting with his knowledge or tacit approval. Given his involvement in the transaction and his long-standing reputation as a "fixer" for Trump who has often engage in hardball tactics, the most likely suspect in that regard would be Michael Cohen. However, we don't know that for sure, and it's necessary to repeat the oft-stated caveat that this is simply an allegation at this point. It may turn out to be true, and and it may even be further true that Daniels has some evidence of this threat. All of that will have to await further revelations, though, some of which may come in the upcoming 60 Minutes interview. Even taking all those caveats into account, though, these allegations and the other issues surrounding the Daniels affair and the pre-election payoff that was made for her silence are serious and likely to be part of the news cycle going forward.