Stormy Daniels Interview To Air On 60 Minutes On March 25th
The Stormy Daniels/Donald Trump story will break open wide on 60 Minutes next weekend.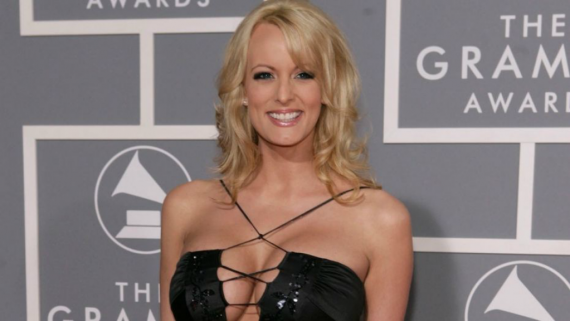 CBS News has announced that Anderson Cooper's interview with adult film star Stormy Daniels, who stands at the center of a story that just isn't going away no matter how much the Administration might want it to, will air on March 25th:
The CBS News program "60 Minutes" has set a date of March 25 for when it will show a recently conducted interview with the pornographic film actress who says she had an affair with Donald J. Trump.

A person briefed on the process, who would speak about it only on the condition of anonymity, confirmed that the segment with the porn star, Stephanie Clifford, would run then.

Ms. Clifford, who goes by the stage name Stormy Daniels, spoke with the "60 Minutes" contributor Anderson Cooper last week.

Ms. Clifford went forward with the interview, which her lawyer first hinted about in a tweet featuring a photograph of him, Ms. Clifford and Mr. Cooper. It proceeded despite an arbitrator's ruling reaffirming an agreement that she reached with Mr. Trump in October 2016 to remain silent about their alleged relationship in exchange for $130,000.

She has said she had a consensual relationship with Mr. Trump that started in 2006 and lasted several months.

In recent weeks, Ms. Clifford's lawyer, Michael Avenatti, has led a publicity blitz, appearing frequently on cable news shows, since she filed a lawsuit on March 6 seeking to break her 2016 agreement. She asserts that the nondisclosure agreement was void because Mr. Trump did not personally sign it.

That lawsuit came after Michael D. Cohen, the president's longtime personal lawyer who said he paid her $130,000 legally pressured her to stay silent. Days before Ms. Clifford sued, Mr. Cohen secretly obtained a temporary restraining [order-DM] through an arbitrator in California to prevent her from speaking about her alleged affair.

Mr. Avenatti wrote in a letter to Mr. Cohen on Monday that Ms. Clifford would be willing to pay back the $130,000 to end the deal to stay quiet. The offer had a deadline of noon Tuesday for Mr. Cohen to answer, which came and went.
The fact that there had been an interview at all when Daniels's attorney Michael Avenatti posted a photo of himself, Daniels, and Anderson Cooper on his Twitter feed that tagged 60 Minutes. Cooper is principally a host and reporter on CNN, of course, but he has been a semi-regular contributor on 60 Minutes for many years now. Not long after that tweet, reported that Cooper had conducted an interview of Daniels that would air on 60 Minutes, although the report stated that it wasn't clear when the interview would run. Earlier this week, there had been some indications that attorneys representing someone were apparently considering whether to file some sort of action to try to stop the report from airing, which includes the interview with Anderson Cooper that was aired last week. At the time, CBS had not confirmed when the interview would be aired, or even whether it would air at all. Apparently, at least part of the reason for that is that the story was being processed through the normal fact-checking and legal review that the reports that the show airs are typically subjected to. Initially, CNN had reported that the interview would air this coming Sunday but it became apparent as the weekend approached that this would not be the case.
In the meantime, though, there does not appear to have been any legal effort by any attorneys affiliated with either President Trump or Michael Cohen, the Trump attorney who claims that he negotiated the Settlement Agreement with Daniels himself and paid her $130,000 to remain silent out of his own funds. Whether we will see any effort to block the report from airing between now and March 25th remains to be seen, but as I discussed on Sunday, there is no real legal support for the kind of restraining order that would be sought in a case like this. The Supreme Court has made it clear in cases dating as far back as 1931 that prior restraints on publication are highly disfavored under the First Amendment, and it's almost impossible for any party to get a court to stop a truthful report from airing or being published. If there is any cause of action based on the interview, it would be against Daniels herself for violating the confidentiality provisions of the agreement and that alone would not be sufficient to stop the report from airing. This is especially true given the fact that the confidentiality of the agreement, which is attached as an Exhibit to the Complaint that Daniels filed seeking to have the entire Settlement Agreement nullified, includes a liquidated damages clause that provides the damages that Daniels would supposedly be obligated to pay if she breached the agreement. Given that, there really is no authority under which lawyers for Trump, Cohen, or anyone else can prevent the report from airing.