Trump Lawyers Consider Legal Action To Stop CBS From Airing Stormy Daniels Interview
Anderson Cooper has interviewed adult film star Stormy Daniels for 60 Minutes, but lawyers for President Trump are apparently considering legal action to stop the report from airing.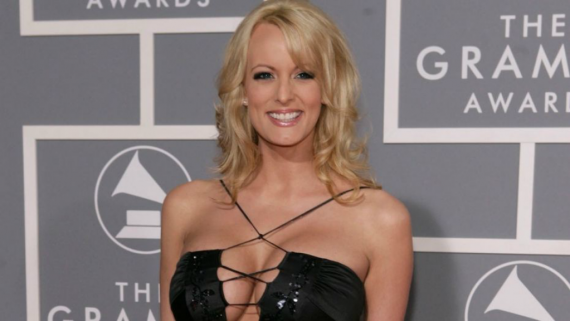 Buzzfeed's Chris Geidner is reporting that lawyers representing Donald Trump are considering taking legal action to prevent 60 Minutes from broadcasting an interview with Stephanie Clifford, known professionally as adult film star Stormy Daniels, regarding her relationship with President Trump and the agreement she entered into less than a month before the 2016 election to remain quiet:
Lawyers associated with President Donald Trump are considering legal action to stop "60 Minutes" from airing an interview with Stephanie Clifford, the adult film performer and director who goes by Stormy Daniels, BuzzFeed News has learned.

"We understand from well-placed sources they are preparing to file for a legal injunction to prevent it from airing," a person informed of the preparations told BuzzFeed News on Saturday evening.

It was not immediately clear what legal argument the lawyers would be making to support the considered litigation, and Trump and his legal team often have threatened litigation without following through on those threats in the past.

Michael Cohen, Trump's personal attorney who previously was a longtime lawyer for the Trump Organization, directed questions about the possibility of litigation to Larry Rosen, who Cohen told BuzzFeed News is "my attorney handling this matter." Rosen — a partner in the firm LaRocca, Hornik, Rosen, Greenberg & Blaha — acknowledged his role in the matter generally but did not comment directly on the possibility of seeking an injunction.

BuzzFeed News has learned that CBS plans to air the 60 Minutes interview with Clifford next Sunday, March 18.

An action to try to prevent the interview from airing would be the latest in a flurry of developments in a case that began just before the 2016 election when Cohen paid Clifford $130,000 in return for her silence about a sexual relationship she allegedly had with Trump in 2006. At the time, Trump was under intense pressure over comments he'd made about his treatment of women in the run-up to the vote.
There hasn't been any direct confirmation that the CBS news magazine is planning to air an interview with Daniels. Neither the show's web page nor its Twitter feed give any indication that there's anything regarding the Daniels matter scheduled to be aired tonight, for example. However, it does appear that there is such an interview in the works. The first indication came when the attorney representing Daniels in the lawsuit that was filed last week that seeks to effectively nullify the confidentiality provisions of the October 2016 agreement that resulted in Daniels receiving $130,000 just weeks before the election posted a photo of himself, Daniels, and Anderson Cooper on his Twitter feed that tagged 60 Minutes. Cooper, of course, principally works as a reporter and host on CNN but he also contributes occasional pieces for 60 Minutes. Not long after the photograph was posted, CNN reported that Cooper had conducted an interview of Daniels that would air on 60 Minutes, although the report stated that it wasn't clear when the interview would run. As Geidner indicates in his report, though, it appears that the interview will air on March 18th during that week's episode of the long-running news magazine.
So far, there hasn't been any comment from any of Trump's attorneys or from Michael Cohen, the attorney and Trump Organization employee who arranged the October 2016 payment to Daniels, which he claims to have made on his own initiative out of his own funds. However, it seems clear that any action that would purport to try to prevent CBS from airing Cooper's interview with Daniels would have very little chance of succeeding. As a preliminary matter, there's the fact that neither Cooper individually nor CBS News are parties to the October 2016 agreement and, as such, are not bound by its terms. In and of itself, the confidentiality provisions in the settlement agreement do not give any of the parties the right to try to stop a member of the media from airing an interview with Daniels. All it does is provide that Daniels would be subject to damages if she breached that provision of the agreement, although it's unclear whether a court would enforce that damages clause given the fact that Cohen himself has seemingly breached the agreement by talking about it publicly on several occasions.
Beyond the issues regarding the settlement agreement, there is a long history that shows that the First Amendment bars courts from engaging in what effective amounts to prior restraint of a matter of public interest. As far back as 1931 in Near v. Minnesota, for example, the Supreme Court ruled that an effort to bar publication of material that was deemed to be deeply bigoted against Catholics, Jews, African-Americans, and others was impermissible under the First Amendment. Forty years later, in New York Times Co. United States, a case dealing with the Federal Government's efforts to bar publication of the Pentagon Papers in which the government attempted to argue that national security trumped Freedom of the Press. The Supreme Court rejected that provision in a 6-3 majority opinion that included this particularly memorable language from Justice Hugo Black in a concurring opinion:
[T]he injunction against The New York Times should have been vacated without oral argument when the cases were first presented… . [E]very moment's continuance of the injunctions…amounts to a flagrant, indefensible, and continuing violation of the First Amendment. … The Government's power to censor the press was abolished so that the press would remain forever free to censure the Government. The press was protected so that it could bare the secrets of government and inform the people. Only a free and unrestrained press can effectively expose deception in government. And paramount among the responsibilities of a free press is the duty to prevent any part of the government from deceiving the people and sending them off to distant lands to die of foreign fevers and foreign shot and shell. … [W]e are asked to hold that…the Executive Branch, the Congress, and the Judiciary can make laws…abridging freedom of the press in the name of 'national security.' … To find that the President has 'inherent power' to halt the publication of news…would wipe out the First Amendment and destroy the fundamental liberty and security of the very people the Government hopes to make 'secure.' … The word 'security' is a broad, vague generality whose contours should not be invoked to abrogate the fundamental law embodied in the First Amendment. The guarding of military and diplomatic secrets at the expense of informed representative government provides no real security… . The Framers of the First Amendment, fully aware of both the need to defend a new nation and the abuses of the English and Colonial governments, sought to give this new society strength and security by providing that freedom of speech, press, religion, and assembly should not be abridged
Based on this strong case law, it seems fairly clear that any effort by Trump or by Cohen to stop CBS from airing Anderson Cooper's interview with Daniels would ultimately fail. In fact, such an effort would only seem to guarantee that the interview would receive even more attention than it is likely to get in any case.