Citing Nastiness In Trump Era GOP, Jeff Flake Announces He's Retiring
One of the few Republicans willing to speak out against Donald Trump is retiring at the end of his current term.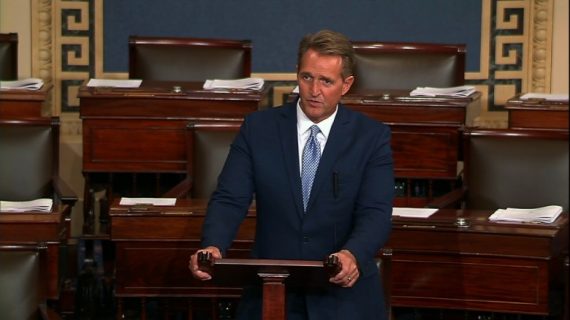 Citing the nastiness of the Republican Party in the Trump Era, Arizona Senator Jeff Flake announced today that he would not run for re-election after only one term in office:

Condemning the nastiness of Republican politics in the era of President Donald Trump, Sen. Jeff Flake on Tuesday announced he will serve out the remainder of his term but will not seek re-election in 2018.

The bombshell, which Flake, R-Ariz., intended to detail Tuesday afternoon on the Senate floor, will further roil Republican hopes of keeping the party's 52-seat Senate majority in the midterm elections of Trump's first term, when the president's party historically loses seats in Congress.

It also likely will upend the race for Flake's seat.

Flake, one of the Senate's more prominent critics of President Donald Trump, has been struggling in the polls.

He told The Arizona Republic ahead of his announcement that he has become convinced "there may not be a place for a Republican like me in the current Republican climate or the current Republican Party."

Flake said he has not "soured on the Senate" and loves the institution, but that as a traditional, libertarian-leaning conservative Republican he is out of step with today's Trump-dominated GOP.

"This spell will pass, but not by next year," Flake said.

Among Republican primary voters, there's overwhelming support for Trump's positions and "behavior," Flake said, and one of their top concerns is whether a candidate is with the president or against him. While Flake said he is with Trump on some issues, on other issues he is not. And Trump definitely views him as a foe, having denounced Flake publicly and called him "toxic" on Twitter.

"Here's the bottom line: The path that I would have to travel to get the Republican nomination is a path I'm not willing to take, and that I can't in good conscience take," Flake told The Republic in a telephone interview. "It would require me to believe in positions I don't hold on such issues as trade and immigration and it would require me to condone behavior that I cannot condone."

As of Sept. 30, Flake's campaign had $3.4 million on hand. He has continued to raise money — as recently as Thursday, former Secretary of State Condoleezza Rice headlined a fundraiser for him in Arizona.

Flake said he has ruled out running as an independent rather than a Republican, saying he didn't think that was a viable strategy. He also said he has "no intention" of making a presidential run.

(…)

Flake was set to publicly announce his intentions in a Senate floor speech to be delivered at 12:20 p.m. Arizona time.

In his prepared remarks, Flake gives a blistering critique of the "coarseness of our national dialogue" that has defined the Trump era, saying it should never become accommodated as a "the new normal."

"We must never regard as 'normal' the regular and casual undermining of our democratic norms and ideals," Flake says in his remarks as prepared for delivery. "We must never meekly accept the daily sundering of our country — the personal attacks, the threats against principles, freedoms, and institutions, the flagrant disregard for truth or decency, the reckless provocations, most often for the pettiest and most personal reasons, reasons having nothing whatsoever to do with the fortunes of the people that we have all been elected to serve.

"None of these appalling features of our current politics should ever be regarded as normal," he says in his speech.

Throughout his 17-year political career, Flake has been a champion for comprehensive immigration reform. However, Congress has been unable to come to terms on the issue and Flake's bipartisan work on legislation in the House and Senate alienated many grass-roots conservative activists who consider a pathway to citizenship for undocumented immigrants to be "amnesty."

Shortly after winning a Senate seat, he joined the bipartisan "Gang of Eight," which in 2013 collaborated on a plan to increase border security and establish a pathway to citizenship for an estimated 11 million illegal immigrants in the country at the time. It passed the Senate but the Republican-controlled House of Representatives would not take it up.
You can read the transcript of Flake's announcement on the Senate Floor, or watch the video below:
Arizona's senior Senator John McCain paid tribute to Flake:
Sen. John McCain: "I have seen Jeff Flake stand up for what he believes in, knowing full well there would be a political price to pay." pic.twitter.com/2tAziJJpvO

— NBC Politics (@NBCPolitics) October 24, 2017
It's been one of the great honors of my life to serve w/ @JeffFlake– a man of integrity, honor, decency & commitment to Arizona & the nation pic.twitter.com/DOHAoHx0d2

— John McCain (@SenJohnMcCain) October 24, 2017
As noted, Flake was facing a tough fight for the Republican nomination next year thanks to a challenge from Kelli Ward, an Arizona State Senator who previously unsuccessfully challenged Senator John McCain in 2016. While Ward was soundly trounced by McCain last year, recent polling in a primary matchup against Flake showed her performing strongly, which many observers interpreted as a sign that Flake was vulnerable to a primary challenge and that the seat itself might be vulnerable to a Democratic pickup in the General Election next year. To a large degree, Ward's strong showing in the polls appears to be connected to the fact that Flake has fallen out of favor with a Republican Party in Arizona that has become as much a reflection of the current occupant of the Oval Office as the rest of the Republican Party has. Even before Trump, though, Flake's libertarian-leaning conservatism was clearly not entirely in line with the populist conservatism that has taken over the GOP thanks to the Tea Party and the rise of Trumpism. Additionally, Flake has shown willingness to break with the rest of his party on several significant issues. As noted above, for example, Flake was among those Senators who supported the bipartisan immigration reform package that passed the Senate in 2013. He has also has been one of the few Republicans on Capitol Hill to publicly oppose the President's restrictionist views on immigration. He also differentiated himself from the rest of his party by being one of the few Republicans to support President Obama's decision to reform the relationship between in the United States and Cuba. More recently, Flake has been one of only a handful of Republicans on Capitol Hill to openly criticize the President, something that is likely to increase now that he has made his decision to retire public.
Flake's decision to retire rather than face a primary campaign he stood a good chance of losing is understandable, but nonetheless unfortunate. As I've noted he has been one of the few Republicans willing to stand up against Trump publicly rather than meekly hiding his opinion behind a "no comment" or half-hearted endorsement that was given solely to ensure that they remain on the good side of the White House. It also means that, like John McCain and Bob Corker, the only Republicans who seem willing to speak out against Trump are the ones who have nothing to lose either because they're retiring or, as in McCain's case, other circumstances have intervened to make it clear that the possibility of being rebuked by the likes of Trump or Steve Bannon means nothing to them. There are plenty of reports to indicate that there are other Senators and Congressmen who agree with them, but the vast majority of them are too afraid of primary challenges to speak out publicly. The only notable exceptions to this rule are people such as Nebraska Senator Ben Sasse and Michigan Congressman Justin Amash, both of whom have been particularly outspoken against Trump both as a candidate for office and as a President. Flake was among that group before his announcement today, and his announcement means that the Trumpification of the Republican Party will only get worse.