John McCain Diagnosed With Brain Cancer
Sad news about a Washington stalwart.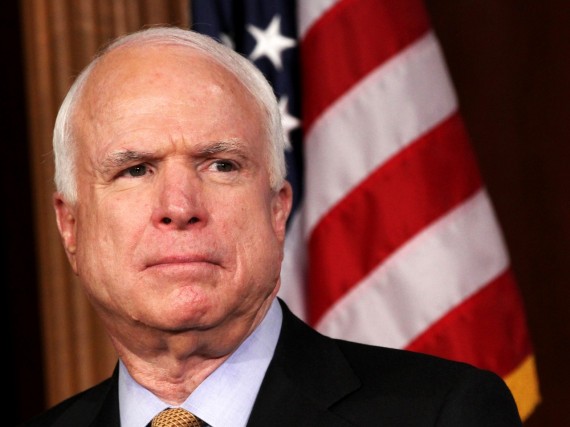 Arizona Senator John McCain, who underwent surgery last Friday to remove what was initially described as a blood clot from an area above his left eye, has been diagnosed with an aggressive form of brain cancer that seems likely to keep him out of action for at least several months:
WASHINGTON — Senator John McCain, the 2008 Republican presidential nominee known for his independent streak over more than three decades representing Arizona in the Senate, has brain cancer, his office disclosed Wednesday night in a statement from the Mayo Clinic.

Mr. McCain, 80, has a glioblastoma, one of the most common but also one of the most malignant brain tumors. It can be treated with chemotherapy and radiation, but medical experts said it almost always grows back.

Mr. McCain's office said he was recuperating at his home in Arizona and "appreciates the outpouring of support he has received over the last few days."

His office said Mr. McCain would decide when to return to the Senate as he consults with his medical advisers.

Medical experts said the type of tumor Mr. McCain has is particularly aggressive. The median survival of a glioblastoma is about 16 months, said Eugene S. Flamm, chairman of neurosurgery at Montefiore Hospital in the Bronx. Senator Edward M. Kennedy of Massachusetts died in 2009 from the same kind of aggressive brain tumor.

Mr. McCain learned of the tumor after undergoing surgery late last week at the Mayo Clinic Hospital in Phoenix to remove a blood clot above his left eye.

Mr. McCain, the son of a prominent family dedicated to military service, has been in American life since the 1960s. He was the public face of the mistreatment of American prisoners at the North Vietnamese camp known as the Hanoi Hilton, where as a Navy pilot he was confined and tortured for over five years. Decades later, he was the happy-go-lucky captain of the Straight Talk Express, the campaign bus where he cultivated his image as a candid political maverick in his failed 2000 presidential run. He was elected to a sixth Senate term this past November.

Four presidents — Donald J. Trump, Barack Obama, Bill Clinton and the elder George Bush — issued heartfelt statements wishing Mr. McCain a speedy recovery late Wednesday.

"Senator John McCain has always been a fighter," Mr. Trump said.

Mr. Obama, who defeated Mr. McCain in the 2008 election, called the senator a "hero & one of the bravest fighters I've ever known."

"Cancer doesn't know what it's up against," Mr. Obama tweeted. "Give it hell, John."

The diagnosis shook the Senate, where Mr. McCain is a popular figure despite his occasionally heated disputes with colleagues in both parties. His illness had implications this week for the health care debate, causing Senator Mitch McConnell, Republican of Kentucky and the majority leader, to postpone a floor fight until Mr. McCain returned to Washington.

"It was very emotional," said Senator John Hoeven, Republican of North Dakota, who was present. He said finding a solution to the health care impasse was "more challenging without him."

Mr. McConnell called Mr. McCain a hero to both Senate Republicans and the nation at large.

"He has never shied from a fight, and I know that he will face this challenge with the same extraordinary courage that has characterized his life," Mr. McConnell said Wednesday night. "We all look forward to seeing this American hero again soon."

Mr. McCain endured grueling rehabilitation from his time in the prison camp but later led the effort to reconcile with Hanoi in a striking gesture of forgiveness. After quickly becoming prominent as a House member in his first election in 1982, Mr. McCain won the Senate seat given up by the Arizona icon Barry Goldwater in 1986. He became a fixture in the Senate, where he denounced the corrosive effects of big money in political campaigns and was a central player in congressional debates on military policy, immigration and health care.

Wednesday's disclosure suggested that Mr. McCain's condition was more serious than initially believed, although the statement said that "he is recovering from his surgery 'amazingly well,'" according to his doctors, "and his underlying health is excellent."

(…)

Mr. McCain currently leads the Senate Armed Services Committee and is a top proponent of using military force overseas. The Senate is preparing to take up the annual Pentagon policy measure produced by the committee.

In Congress, he is probably best known for his efforts to champion changes in campaign finance laws over the fierce objections of some of his Republican colleagues, particularly Mr. McConnell.

The standard of care includes surgery to remove as much of the tumor as possible, and then radiation and chemotherapy. In the past, radiation sometimes diminished patients' brain function, but techniques have improved so that more healthy brain tissue is spared and patients fare better, said Dr. Mitchel S. Berger, a neurosurgeon and glioblastoma expert at the University of California, San Francisco.

Jeff Flake, the junior Republican senator from Arizona, acknowledged the seriousness of Mr. McCain's diagnosis in a still-hopeful Twitter post. "Tough diagnosis, but even tougher man," Mr. Flake wrote.
Here's the statement issued by Senator McCain's office:
Washington, D.C. ­- At the request of Senator John McCain (R-AZ) and his family, Mayo Clinic released the following statement today:

"On Friday, July 14, Sen. John McCain underwent a procedure to remove a blood clot from above his left eye at Mayo Clinic Hospital in Phoenix. Subsequent tissue pathology revealed that a primary brain tumor known as a glioblastoma was associated with the blood clot.

"Scanning done since the procedure (a minimally invasive craniotomy with an eyebrow incision) shows that the tissue of concern was completely resected by imaging criteria.

"The Senator and his family are reviewing further treatment options with his Mayo Clinic care team. Treatment options may include a combination of chemotherapy and radiation.

"The Senator's doctors say he is recovering from his surgery 'amazingly well' and his underlying health is excellent."

The office of Senator John McCain also released the following statement:

"Senator McCain appreciates the outpouring of support he has received over the last few days. He is in good spirits as he continues to recover at home with his family in Arizona. He is grateful to the doctors and staff at Mayo Clinic for their outstanding care, and is confident that any future treatment will be effective. Further consultations with Senator McCain's Mayo Clinic care team will indicate when he will return to the United States Senate."
The form of cancer that McCain has been diagnosed with, glioblastoma, can be a particularly aggressive form of cancer that will often prove to be fatal unless it is diagnosed early enough and hasn't spread to crucial areas of the brain or led to cancer appearing in other parts of the body. It also happens to be the same form of cancer that both former Senator Ted Kennedy and Beau Biden, the son of former Vice-President Joe Biden, were diagnosed with prior to passing away. In both those cases, the diagnosis seems to have come far too late for treatment to have any real impact on the spread of the disease. In Kennedy's case, for example, the diagnoses came after he suffered a seizure in May 2008 and it led to him undergoing surgery followed by a course of chemotherapy and radiation treatments that had a severe impact on his health. As a result, Kennedy's appearances back in Washington were limited, although he was able to appear at the Democratic National Convention that year and deliver a speech that he had to memorize since his impaired vision made it difficult to read a teleprompter. Kennedy also continued to push for the adoption of health care reform as Congress pursued that goal in the early years of the Obama Administration. Ultimately, though, Kennedy passed away in August 2009. Hopefully, the course of treatment for Senator McCain, who apparently sought treatment for the pain and other symptoms that led to the discovery of the mass above his left eye that was extracted during last week's operation, will be more successful. Until treatment begins, though, it's going to be hard to tell just how successful treatment has been until further testing has done.
As news of the diagnosis spread around Washington and across social media, best wishes for the Senator poured in from a wide variety of quarters, including the men that McCain ran against in 2008 and his running mate in that election:
John McCain is an American hero & one of the bravest fighters I've ever known. Cancer doesn't know what it's up against. Give it hell, John.

— Barack Obama (@BarackObama) July 20, 2017
John and I have been friends for 40 years. He's gotten through so much difficulty with so much grace. He is strong – and he will beat this.

— Joe Biden (@JoeBiden) July 20, 2017
Incredible progress in cancer research and treatment in just the last year offers new promise and new hope. You can win this fight, John.

— Joe Biden (@JoeBiden) July 20, 2017
.@SenJohnMcCain's patriotism and courage are vital to the nation. With the fearful news tonight, Ann and I pray for his recovery.

— Mitt Romney (@MittRomney) July 20, 2017
John McCain is one tough fighter – we know he'll face this diagnosis with courage and strength. Our family… https://t.co/XXTUltNGey

— Sarah Palin (@SarahPalinUSA) July 20, 2017
As did McCain's close friend Senator Lindsey Graham and his daughter Meghan:
Lindsey Graham on John McCain's brain tumor diagnosis: "This disease has never had a more worthy opponent." https://t.co/r366D4dHCU pic.twitter.com/R6Vk9usR37

— ABC News (@ABC) July 20, 2017
Statement regarding my father @SenJohnMcCain: pic.twitter.com/SMte9Hkwkq

— Meghan McCain (@MeghanMcCain) July 20, 2017
McCain's treatment, which already resulted in a delay in the Senate's consideration of a health care reform bill, is likely to have an impact on that issue going forward as well. Despite recent setbacks, Republicans seem intent on returning to the drawing board and trying to pass some kind of bill before the August recess. With Senator McCain out of action, though, that puts the GOP down one vote and makes it more difficult for any proposal to get to fifty votes even without taking into consideration the number of Senators who have reacted negatively to both of the recent Senate GOP proposals. Those political issues, though, pale in comparison to the fight that Senator McCain has in front of him. As his time as a Prisoner of War demonstrates, John McCain has always been a fighter, though. Now that he once again faces a fight for his life, I'm sure I'm not alone in wishing him the best and hoping that he can beat cancer the same way he beat the horrible conditions of the Hanoi Hilton. Best of luck in this fight, Senator, I'm sure I'm not alone among Americans in hoping you'll be back to work soon.
Update: As several of the articles that have been written about this diagnosis have noted, this isn't McCain's first battle with cancer.  As we learned during his runs for President in 2000 and 2008, McCain with diagnosed with and treated for malignant melanoma, a particularly difficult to deal with form of skin cancer. By all accounts, that treatment was successful and there weren't any reports about cancer reappearing in the intervening 23 years. Thus, it's unclear if McCain's previous case of skin cancer has any connection to the brain cancer that last Friday's surgery revealed. Nonetheless, as NBC News notes in a post about McCain's current diagnosis, "incidences of gliomas were greater among melanoma cases than in people who had never been diagnosed with skin cancer."  Bill Jempty wrote a piece for OTB about McCain's bout with the disease during the 2008 campaign.4
Update #2: Senator McCain responded to the messages of support he's received this morning:
I greatly appreciate the outpouring of support – unfortunately for my sparring partners in Congress, I'll be back soon, so stand-by!

— John McCain (@SenJohnMcCain) July 20, 2017