John McCain Ceasing Medical Treatment
Sad news about a Senate stalwart who has been fighting an aggressive form of cancer for more than a year.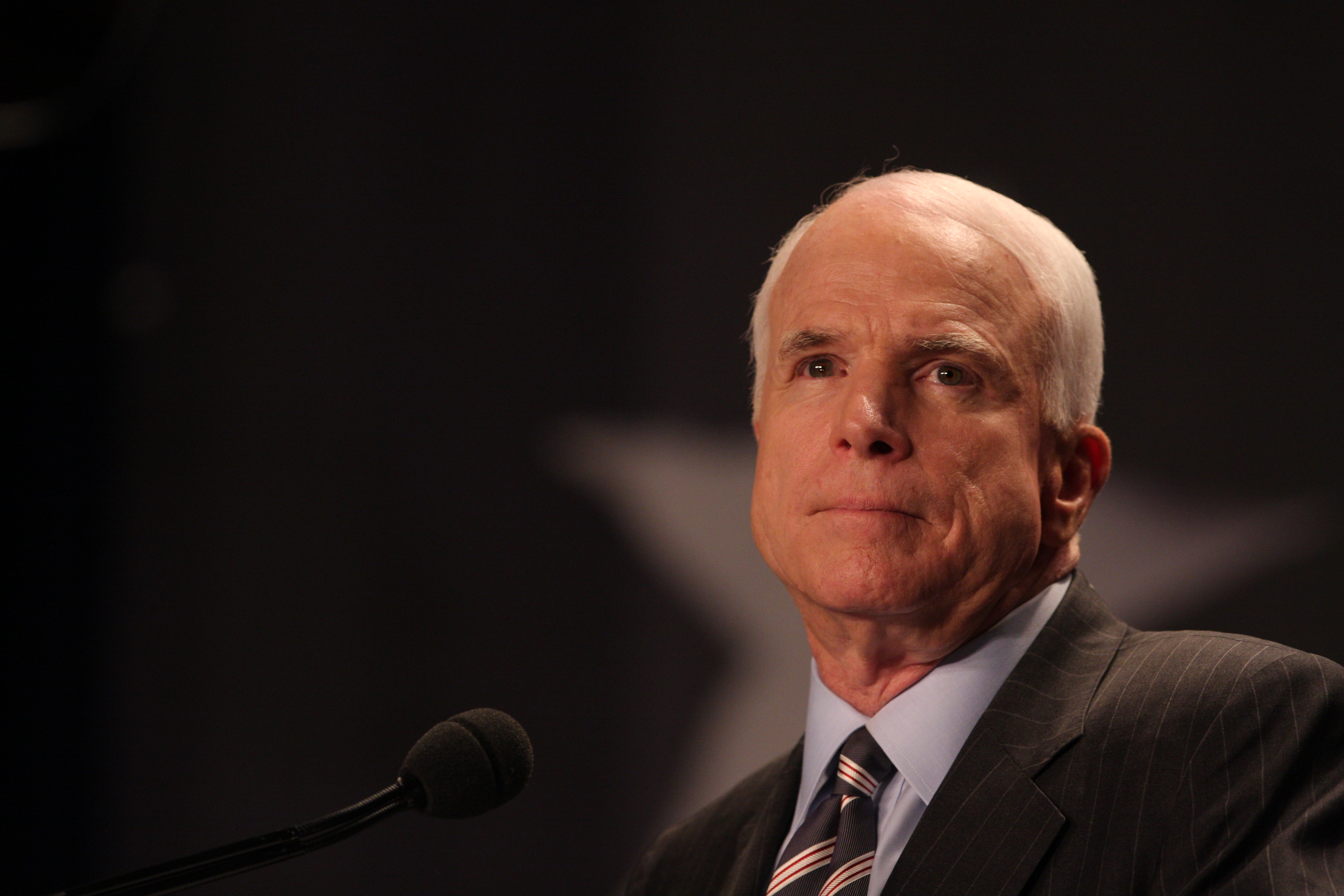 The family of Arizona Senator John McCain has announced that he is ceasing medical treatment, an obvious sign that his battle with cancer that began just over a year ago is coming to an end:
WASHINGTON — Senator John McCain of Arizona, who has been battling brain cancer for more than a year, will no longer be treated for his condition, his family announced on Friday, a sign that the Republican war hero is most likely entering his final days.

"Last summer, Senator John McCain shared with Americans the news our family already knew: He had been diagnosed with an aggressive glioblastoma, and the prognosis was serious. In the year since, John has surpassed expectations for his survival. But the progress of disease and the inexorable advance of age render their verdict," the family said in a statement. "With his usual strength of will, he has now chosen to discontinue medical treatment."

Mr. McCain had been undergoing treatment since July 2017, and has been absent from Washington since December. Mr. McCain's family has gathered in Arizona, and people close to him say his death is imminent.

From his ranch in Arizona, Mr. McCain had managed to maintain a voice in key foreign policy and military policy debates, sharply criticizing President Trump after his summit meeting with President Vladimir V. Putin of Russia, an old adversary of Mr. McCain. At home, he has welcomed close friends to renew ties. But after decades as a fixture in Washington and a larger-than-life character, he had largely retreated from the public eye.
More from Politico:
Sen. John McCain will discontinue medical treatment for his brain cancer, according to a statement released by his family.

"The progress of disease and the inexorable advance of age render their verdict. With his usual strength of will, he has now chosen to discontinue medical treatment," the family said.

Diagnosed with the disease last summer, the Arizona Republican has been battling the condition in Arizona this year. McCain is not expected to return to Washington. A number of senators in both parties have visited him in Arizona, and well-wishes quickly poured in as the Senate began to digest that the war hero, six-term senator and 2008 GOP presidential nominee is in his final days.

Senate Majority Leader Mitch McConnell, who journeyed to Arizona to be with McCain earlier this year, said senators have been "fortunate to call him our friend and colleague." McCain's wife, Cindy, said: "God bless everyone who has cared for my husband along this journey."

"May the prayers and affection of his country, and of friends around the world, surround John and his beloved family in these peaceful final hours," said Sen. Sheldon Whitehouse (D-R.I.)

"From Vietnam to the halls of the U.S. Senate, the spirit of service and civility that has guided Senator McCain's life stands as a model for all Americans, regardless of political affiliation," said Arizona Gov. Doug Ducey (R).

McCain has not voted in the Senate since 2017 and the Senate GOP has accordingly been hobbled by his absence, with just a 50-seat majority in Washington. If he were to resign or die, Ducey would appoint his replacement. McCain won reelection to a six-year term in 2016

The Arizona Republican has left a major mark on the Senate during his career, but particularly the last 18 months. He banded with two moderate GOP colleagues to stop repeal of Obamacare and has continued putting out statements criticizing President Donald Trump for his closeness to Russian President Vladimir Putin.

The president's relationship with McCain has been a particularly fraught one. Ever since Trump attacked McCain for being captured in Vietnam, the two have regarded each other icily and a number of Republicans have come to McCain's defense. But Trump has continued to criticize McCain even as he fights a debilitating condition, singling him out repeatedly this summer for opposing repeal of the health care law.
Here is the announcement from McCain's family:
.@SenJohnMcCain discontinuing medical treatment pic.twitter.com/M5LDtaYZ0z

— Jake Tapper (@jaketapper) August 24, 2018
Additionally, Jake Tapper shares what effectively amounts to McCain's epitaph:
TAPPER: I hope I don't run this clip for another 50 years. But how do you want the American people to remember you?

MCCAIN: He served his country and not always right. Made a lot of mistakes. Made a lot of errors, but served his country. And I hope we could add honorably. https://t.co/l2knunQKzU

— Jake Tapper (@jaketapper) August 24, 2018
It was just over a year ago that it was announced that McCain, who has served Arizona in the Senate since first winning election in 1986 to succeed Senator Barry Goldwater. Before that, he had served in Congress since being elected to represent the state's First Congressional District in 1982, had been diagnosed with brain cancer. Specifically, McCain was diagnosed with Glioblastoma, a particularly aggressive form of brain cancer, and that the cancer was already in Stage IV by the time it was diagnosed. As such, it was clear from the beginning that McCain faced an uphill battle due both to the form of cancer he had and his advanced age. Even in healthy and younger people, the survival rate for this form of cancer is particularly grim, for someone of McCain's age, the fight was obviously going to be more difficult. As with most cancers, the treatment for Glioblastoma involves a combination of chemotherapy and radiation, both of which have obvious and well-known side effects on even the healthiest of individuals. Additionally, McCain underwent at least two surgeries in connection with his treatment, although his family was understandably vague about what was involved in that surgery.
This battle with Glioblastoma wasn't McCain's first battle with cancer. We learned during his runs for the Presidency in 2000 and 2008, the Senator was diagnosed with and treated for malignant melanoma, a particularly difficult to deal with variant of skin cancer in the 1990s. By all accounts, that treatment was successful and there weren't any reports about cancer reappearing in the intervening 23 years. However as NBC News noted in a post about McCain's diagnosis, "incidences of gliomas were greater among melanoma cases than in people who had never been diagnosed with skin cancer."  Bill Jempty wrote a piece for OTB about McCain's bout with the disease during the 2008 campaign.
By September of last year, McCain had tacitly acknowledged this when he told reporters during one of his last visits to Washington that his prognosis was poor, something that was made rather obvious by the fact that his presence in Washington since the diagnosis has been limited at best and he has not been in town at all during the course of 2018. In April of this years, McCain seemingly confirmed where his condition was headed when he announced that, regardless of his health status, he would not be running for re-election at the end of his current term. This led many in Arizona to begin openly speculating about the possibility that McCain would step down from office, or at the very least that his seat would become vacant before his term is set to expire in 2022.
The form of cancer that McCain was diagnosed with also happens to be the same form of cancer that both former Senator Ted Kennedy and Beau Biden, the son of former Vice-President Joe Biden, were diagnosed with prior to passing away. In both those cases, the diagnosis seems to have come far too late for treatment to have any real impact on the spread of the disease. In Kennedy's case, for example, the diagnoses came after he suffered a seizure in May 2008 and it led to him undergoing surgery followed by a course of chemotherapy and radiation treatments that had a severe impact on his health. As a result, Kennedy's appearances back in Washington were limited, although he was able to appear at the Democratic National Convention that year and deliver a speech that he had to memorize since his impaired vision made it difficult to read a teleprompter. Kennedy also continued to push for the adoption of health care reform as Congress pursued that goal in the early years of the Obama Administration. Ultimately, though, Kennedy passed away in August 2009. Based on how quickly the disease has progressed, it would appear that the same is true for Senator McCain.
As was the case when he announced his diagnosis, the news about Senator McCain has led to expressions of sympathy from across the political world:
John McCain personifies service to our country. The whole House is keeping John and his family in our prayers during this time.

— Paul Ryan (@SpeakerRyan) August 24, 2018
Very sad to hear this morning's update from the family of our dear friend @SenJohnMcCain. We are so fortunate to call him our friend and colleague. John, Cindy, and the entire McCain family are in our prayers at this incredibly difficult hour.

— Leader McConnell (@SenateMajLdr) August 24, 2018
My thoughts and prayers are with Senator McCain and his family. https://t.co/cqHXdjJntj

— Chuck Schumer (@SenSchumer) August 24, 2018
God bless and keep this wonderful man and his family @SenJohnMcCain

— Jeff Flake (@JeffFlake) August 24, 2018
No man this century better exemplifies honor, patriotism, service,
sacrifice, and country first than Senator John McCain. His heroism
inspires, his life shapes our character. I am blessed and humbled by
our friendship.

— Mitt Romney (@MittRomney) August 24, 2018
In any case, while the family statement does not disclose the current state of McCain's health and does not explicitly say that he is entering hospice care, the course ahead is sadly too easy to see. However long he has left, one wishes the best possible for the Senator and his family and that his remaining days are as pain-free and peaceful as possible.