John McCain Says His Cancer Prognosis Is Poor
Speaking about his cancer treatment for the first time, Senator John McCain paints a grim picture.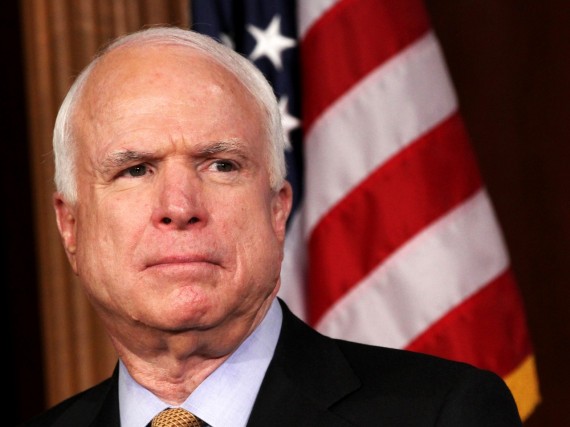 Arizona Senator John McCain gives an unfortunately sad report on his health status:
Sen. John McCain's brain cancer is "very, very serious," the Arizona Republican said in an interview Sunday night, adding that doctors told him "it's a very poor prognosis."

"So I just said, 'I understand. Now we're going to do what we can, get the best doctors we can find and do the best we can. And at the same time, celebrate with gratitude a life well-lived,'" he said on CBS's "60 Minutes."

He recalled how he went back to Washington, against his doctors' requests because it was only 11 days after his brain surgery, to vote on health care.

"I got very choked up," McCain said, recalling the standing ovation he got on the Senate floor. "And then, of course, you know, all of them coming over and giving me a hug. It was deeply moving, I had never seen anything like that."

During the interview, McCain was asked whether his "no" vote on the Senate's health care bill over the summer was to get back at President Donald Trump for saying he wasn't a war hero during the campaign.

"If I took offense at everybody who has said something about me, or disparaged me or something like that — life is too short," McCain responded.

"You've got to move on. And on an issue of this importance to the nation, for me to worry about a personal relationship, then I'm not doing my job."
And on Trump, McCain refused to say whether he believed he was unfit to be President, instead saying that he trusts the American people for voting for him.

"First of all, I believe in our system. The American people selected Donald Trump to be President of the United States. We have to respect that," McCain said. "Second of all, he has a very strong national security team around him who I know has significant influence over him."
Here's an excerpt from the interview, which will air this coming Sunday:
McCain on his prognosis: "Some say 3%, some say 14%. You know, it's– it's a very poor prognosis." #60Minutes #50yearsof60 pic.twitter.com/EOvLKPZIxl

— 60 Minutes (@60Minutes) September 25, 2017
A statement like this from McCain shouldn't come entirely as a surprise. As I noted when McCain's office first announced his diagnosis back in July, the form of brain cancer is particularly difficult to treat effectively and has a high mortality rate. In part, this is due to the location where the tumor(s) are growing, and in part it's due to the fact that it is difficult to diagnose until some physical symptoms have appeared which is usually at a point where cancer has spread to the point where treatment may not be effective in wiping it out. There are cases where people with this form of cancer have survived both cancer and the incredibly difficult treatment involved to go on to live fairly normal, cancer-free, lives. In most cases, though, such patients do end up having to live with some setbacks, such as memory or other cognitive problems or changes to eyesight, hearing, or other senses. However, those who do survive are typically a small subset of those diagnosed with the disease and the patients who do survive are usually markedly younger than McCain's 81 years of age. Given his age, simply dealing with the radiation and chemotherapy that are likely involved in his treatment will be a significant challenge for him over and above cancer itself. Finally, we don't know how far the tumor(s) may have spread by the time McCain was diagnosed so it's possible that the prognosis was poor to begin with regardless of his age at the time.
There really isn't much else to say about this, of course. Regardless of what one thinks about John McCain and his politics, the news of his diagnosis and apparent prognosis are sad, and even if he comes out of this ordeal on the right side he will no doubt be going through rough times that will take a toll on him personally and on his family and friends. For someone who has served his country for his entire life, or indeed for anyone, this is a sad thing to hear and I can only send my best thoughts to him and his entire family as they face a challenge that will no doubt be taxing for all of them. McCain has faced challenges before, of course. Most notably during the time that he was held as a Prisoner of War during the Vietnam War, which he faced bravely and during which he refused preferential treatment due to his being the son of an Admiral. He survived that challenge against all the odds notwithstanding the fact that he was treated brutally. Hopefully, he'll survive this as well.