Aaron Hernandez Suffered From 'Severe' Case Of C.T.E. At Time Of Death, Report Says
Former N.F.L. player, and convicted murderer, Aaron Hernandez suffered from a severe case of C.T.E. at the time of his death according to a post-mortem brain study.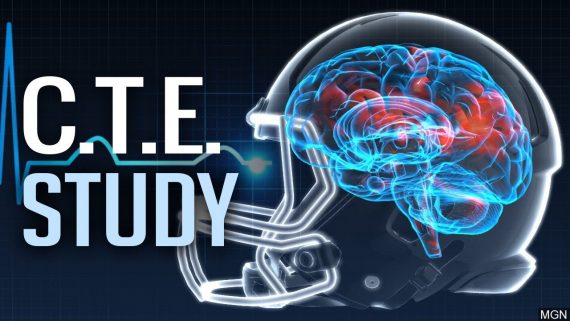 Former New England Patriots TIght End Aaron Hernandez, who was convicted of murder in April 2015 and committed suicide in his jail cell in April of this year, was suffering from a severe case of the degenerative brain disease that has been linked to concussions among former N.F.L. stars in recent years:
The brain scan came as a surprise even to researchers who for years have been studying the relationship between brain disease and deaths of professional football players.

Aaron Hernandez, the former New England Patriots tight end and a convicted murderer, was 27 when he committed suicide in April. Yet a posthumous examination of his brain showed he had such a severe form of the degenerative brain disease C.T.E. that the damage was akin to that of players well into their 60s.

It was, a lawyer for his family said, in announcing the findings on Thursday, "the most severe case they had ever seen in someone of Aaron's age."

C.T.E., or chronic traumatic encephalopathy, has been found in more than 100 former N.F.L. players, some of whom committed suicide, according to researchers at Boston University.

Yet the results of the study of Mr. Hernandez's brain are adding another dimension to his meteoric rise and fall that could raise questions about the root of his erratic, violent behavior and lead to a potentially tangled legal fight with the N.F.L., the most powerful sports league in the United States.

The league had already faced public relations problems after other high-profile players were found to have C.T.E., including Junior Seau, Ken Stabler and Frank Gifford. Mr. Seau — along with Dave Duerson, Andre Waters and Ray Easterling, among others — killed himself.

For years, Mr. Hernandez was held up as a particularly egregious example of N.F.L. players running amok off the field.

Just 10 months after he signed a $40 million contract with the Patriots in 2013, with the promise of becoming a superstar, the body of a friend who had been shot multiple times was discovered. Mr. Hernandez was convicted of the friend's murder, and later accused in two other killings from 2012. Just days after an acquittal in that case, he hanged himself with a bedsheet in his prison cell.

The researchers did not make a direct link between Mr. Hernandez's violence and his disease.

But C.T.E. is often marked by problems with controlling aggression and impulses, and some degree of dementia, as well as mood swings, lapses in judgment and a disorganized manner.

Mr. Hernandez's estate filed a federal lawsuit on Thursday against the N.F.L. and the Patriots seeking damages to compensate his 4-year-old daughter for the loss of her father. The suit alleges that the league and the team knew that repeated head hits could lead to brain disease, yet did not do enough to protect Mr. Hernandez from those hits.

The lawyer, Jose Baez, said the family was also contemplating suing the N.C.A.A. and the University of Florida, where Mr. Hernandez played before playing for the Patriots.

The N.F.L. did not comment on the medical finding, and it declined to comment on the suit. The Patriots declined to comment. Soon after his arrest in 2013, the team distanced itself from him, buying back more than 1,200 Hernandez jerseys from fans.

The trauma to Mr. Hernandez's brain raises fresh questions about the dangers of playing tackle football. This week, other researchers at Boston University published research that found that adults who began playing tackle football before they were 12 years old developed more cognitive and behavioral problems later in life than those players who started tackle football after they reached that age.

Mr. Hernandez played football as a teenager, and in 2013 was given the Inspiration to Youth Award by Pop Warner, the best-known youth football organization in the country.

The fact that Mr. Hernandez also led a troubled life off the field will complicate the N.F.L.'s efforts to calm jitters about the sport because it will probably make some people wonder whether football had a role in his violence away from the game.

Mr. Baez said that in hindsight, Mr. Hernandez's family had witnessed him act in ways that were consistent with a person found to have C.T.E., "but you don't know."

The slides of Mr. Hernandez's brain samples were unambiguous and graphic.

Dr. Ann McKee, chief of neuropathology at the VA Boston Healthcare System and director of the CTE Center at Boston University, examined his brain and said in a statement that Mr. Hernandez had "early brain atrophy" and "large perforations in the septum pellucidum, a central membrane" of the brain. The slides also showed what she called "classic features of C.T.E. in the brain," including deposits of tau protein in the front lobes of the brain in nerve cells around small blood vessels.
Two years ago, Hernandez was convicted of the murder of a close friend in 2013 and sentenced to life in prison without the possibility of parole, thus bringing an end to a saga that had started when Hernandez joined the Patriots after a controversial tenure at the University of Florida that included behavioral issues and criminal problems, but nothing approaching the level of violence he had been accused of in the Lloyd case. Roughly a year after that conviction, Hernandez was indicted in the murder of two other Boston area men, a case that finally went to trial earlier this year. Just one day short of his conviction in the Lloyd case, Hernandez was found not guilty in that double homicide case but nonetheless returned to prison to serve the remainder of his sentence in the Lloyd case. Only days after that acquittal, Hernandez was found dead via suicide in his jail cell and, thanks to a quirk in Massachusetts law, his conviction in the Lloyd case was vacated upon his death. The revelation that he suffered from C.T.E., of course, will add further ammunition to the debate about safety in football and other sports where head trauma is a significant risk.
As a preliminary matter, it's worth noting that the fact that Hernandez suffered from C.T.E. does not in any way undermine his culpability in the murder of which he was convicted. However, had it been known at the time of his trial that he was suffering from this disease it's possible that his attorneys could have convinced a jury that he should be found guilty of some lesser charge, or to work out a plea agreement that might have included a plea to a lesser charge. While our knowledge of C.T.E. is still limited, it is known that it tends to have an impact on impulse control and has often been linked to violent outbursts in those who have been found after their deaths to have been suffering from it. Under the law, this potentially means that Hernandez could have argued in court that he should not be convicted of murder due to the impact that the illness was having on him and his ability to control his violent impulses. Unfortunately for Hernandez, it was certainly the case at the time of the trial, and largely remains the case today, that C.T.E. is a disease that cannot be properly diagnosed without the kind of examination of the brain that is only possible after death. In any case, even if his attorneys could have proven that he suffered from C.T.E. and that this somehow contributed to what happened in the Lloyd case, it most likely would have been seen as not grounds for complete acquittal, but rather grounds to convict him of some lesser charge or perhaps to mitigate the sentence he received upon conviction.
Leaving aside, the implications that this news might have had for Hernandez's case itself, though, this is yet another piece of evidence that has mounted in the past several years regarding the impact of long-term exposure to head trauma among football players. In the last several years, for example, we've seen a number of former NFL stars who were diagnosed with the disease after their death. Perhaps the most notable recent example was NFL great Frank Gifford, who died in August 2015 at the age of 84. Several months later, Gifford's family revealed that post-mortem studies revealed that Gifford, who played in an era when head protection was far less than it is today and was once involved in a notable play involving a hit to the head that left him unable to play for more than a year,  was suffering from C.T.E. at the time of his death. While there was no accusation that Gifford's death at an advanced age had anything to do with C.T.E., he joined a number of other former NFL players, including Junior Seau, Ken Stabler, Dave Duerson, Andre Waters, and Ray Easterling, who were also found to be suffering from the disease. Several of these men, including Seau, Duerson, Waters, and Easterling committed suicide later in life.
The news about Hernandez also comes just days after the release of a report that tied playing tackle football before the age of 12 to brain problems later in life:
Athletes who began playing tackle football before the age of 12 had more behavioral and cognitive problems later in life than those who started playing after they turned 12, a new study released on Tuesday showed.

The findings, from a long-term study conducted by researchers at Boston University, are likely to add to the debate over when, or even if, children should be allowed to begin playing tackle football.

The results of the study by researchers at Boston University, published in the journal Nature's Translational Psychiatry, was based on a sample of 214 former players, with an average age of 51. Of those, 43 played through high school, 103 played through college and the remaining 68 played in the N.F.L.

In phone interviews and online surveys, the researchers found that players in all three groups who participated in youth football before the age of 12 had a twofold "risk of problems with behavioral regulation, apathy and executive function" and a threefold risk of "clinically elevated depression scores."

"The brain is going through this incredible time of growth between the years of 10 and 12, and if you subject that developing brain to repetitive head impacts, it may cause problems later in life," Robert Stern, one of the authors of the study, said of the findings.

The study is consistent with earlier findings by Stern and others that looked specifically at N.F.L. retirees. That research found that retirees who started playing before 12 years old had diminished mental flexibility compared to those who began playing tackle football at 12 or older.

A growing number of scientists argue that because the human brain develops rapidly at young ages, especially between 10 and 12, children should not play tackle football until their teenage years.

Last year, doctors at Wake Forest School of Medicine used advanced magnetic resonance imaging technology to find that boys between the ages of 8 and 13 who played just one season of tackle football had diminished brain function in parts of their brains.

The N.F.L., which long denied that there was any link between the game and brain damage, has in recent years been promoting what it considers safer tackling techniques aimed at reducing head-to-head collisions.

More recently, the league has been promoting flag football as an even safer alternative, an implicit acknowledgment that parents are worried about the dangers of the sport and turning away from it.

Participation in tackle football by boys ages 6 to 12 has fallen by nearly 20 percent since 2009, though it rose 1.2 percent, to 1.23 million, in 2015, according to the Sports and Fitness Industry Association.

(…)

Schools across the country have shut their tackle football programs because of safety concerns and a shortage of players. Large numbers of children have shifted to other sports like flag football, soccer, baseball and lacrosse.

The new Boston University study looked only at behavioral changes, based on the phone and online surveys.

There was no examination of physical changes in the brain. (A separate study published by researchers at Boston University in July found that 110 out of 111 brains of deceased former N.F.L. players had chronic traumatic encephalopathy, a degenerative brain disease.)

Still, the findings are yet more evidence that have contributed to an existential crisis for the game, from youth leagues to the N.F.L. Pop Warner, the most established youth football organization in the country, has reduced the amount of contact in practice – where the majority of head hits occur – and changed game rules, including banning kickoffs, one of the most dangerous plays in the game.

Jon Butler, the executive director of Pop Warner, said in a statement that the sport has changed significantly for the better since the players in the Boston University study participated decades ago. He said the organization's medical advisory committee will review the study and "compare it against the number of recent studies that contradict these findings."

Pop Warner is facing a class-action lawsuit asserting that it knowingly put players in danger by ignoring the risks of head trauma.

Last year, the Ivy League decided to eliminate tackling at practices during the regular season. The Canadian Football League made a similar announcement last week.
There have been, of course, thousands upon thousands of people who have played tackle football or suffered concussions without developing C.T.E. or without it having any only noticeable impact on their lives. At the same time, though, the evidence that has mounted in recent years seems to make it undeniable that long-term exposure to the types of hard hits and head impacts that have become an inherent part of the game can have a serious impact on brain development, behavior, and memory. Until recently, neither the N.F.L. nor any of the other governing bodies seemed willing to recognize these links and even attempt to do something to deal with their impact. The more this becomes public knowledge, though, the harder the link is to deny.