Frank Gifford, C.T.E., And The N.F.L.'s Continuing Concussion Problem
The news that the late football legend Frank Gifford suffered from the same chronic brain disease that has been diagnosed in many N.F.L. players in recent years, and the upcoming release of a new film on the issue, seems certain to increase pressure to protect players at all levels of football.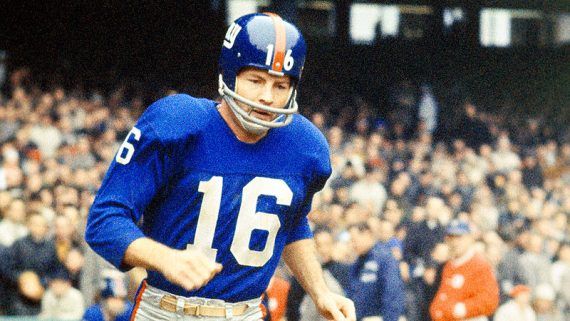 Late on Wednesday, the family of football legend Frank Gifford, who died in August at the age of 84, revealed that a postmortem examination of the late football star's brain revealed he suffered from the same chronic brain disease that has been detected in numerous N.F.L. and other football players since first being discovered, a development that is sure to raise more concerns about the safety of football at all levels:
Frank Gifford, a Hall of Fame running back who was involved in one of the most brutal collisions in the N.F.L.'s history, was found to have had chronic traumatic encephalopathy, a degenerative brain disease.

The finding, which can be confirmed only posthumously, was announced by Gifford's family on Wednesday, more than three months after Gifford died. His family said it hoped that in publicizing the diagnosis, more attention would be paid to medical research linking football andtraumatic brain injuries.

"While Frank passed away from natural causes this past August at the age of 84, our suspicions that he was suffering from the debilitating effects of head trauma were confirmed" when the diagnosis of the disease, known commonly as C.T.E., was made, the Gifford family said in a statement. "During the last years of his life, Frank dedicated himself to understanding the recent revelations concerning the connection between repetitive head trauma and its associated cognitive and behavioral symptoms — which he experienced firsthand."

The family did not say who made the diagnosis or the severity of the disease, so it is difficult to determine what impact the finding will have on the emerging study of the disease. Doctors at Boston University have created a four-stage scale to delineate how advanced the disease was at the time of the patient's death. Unlike former players like Junior Seau, who committed suicide at 43 and was later found to have had C.T.E., Gifford may have had symptoms that overlap with those found commonly in older people.

Still, the addition of a star of his caliber to the growing list of players who had C.T.E. should help researchers and advocates who have called for more resources to be put into studying the disease.

"It's incredibly important for awareness that the Gifford family had Frank's brain studied and went public with the diagnosis," said Chris Nowinski, a founder of the Concussion Legacy Foundation, which, through research and education, seeks to protect athletes from brain injury. "It's the accumulation of cases and data over time that will teach us what we need to learn about C.T.E."

Gifford's family would not be eligible for a reward related to his C.T.E. under the terms of the settlement between the N.F.L. and retired players who had accused the league of hiding from them the dangers of repeated blows to the head. Only the families of players who were found to have had C.T.E. and who died before the settlement was approved in late April may receive up to $4 million. Gifford died in August.

Gifford's family could be eligible, though, if he had another qualifying condition, like dementia.

Still, the settlement is under appeal and could be amended.

One of the top football players of his era, starring for the Giants from 1952 to 1964, Gifford had a second career as a broadcaster that brought him another wave of celebrity.

But his playing career was punctuated by a violent play on Nov. 20, 1960, when Gifford was the recipient of one of football's most famous tackles. Playing against Philadelphia, he caught a pass over the middle and was running with the ball when he was flattened by Chuck Bednarik, an Eagles linebacker and a future Hall of Famer himself, who also died this year.

Gifford dropped the ball and lay motionless as Bednarik waved his arms and shook his fists, an image that came to signify the rough-and-tumble N.F.L. of the time. Gifford was carted off the field with a concussion, ending his season. In February 1961, he announced his retirement.

He returned, however, after missing only the 1961 season and in three subsequent years helped the Giants reach the N.F.L. championship game twice. He returned to the Pro Bowl in 1963.
The Gifford family announcement comes at a time when it appears that the concussion issue and C.T.E. is likely to once again become a high-profile issue for the National Football League, and for football at the College, High School, and lower levels where concerns are being raised about the safety of younger men exposed to such violent hits to the head. Just this past Sunday, St. Louis Rams Quarterback Case Keenum was involved in a play that seemed to make clear that the N.F.L.'s concussion protocols may not be working as planned.  The play came near the end  in regulation and the Rams trying to avoid overtime against the Ravens. Keenum was immediately thrown down after releasing the ball and the back of his head quite clearly hit the turf and it took some time for him to get up off his back, after which he clearly seemed to be stumbling around in a manner that indicated he was disoriented. The Rams trainer came on the field to check Keenum out, but he was kept in the game. Two plays later, Keenum was sacked again, fumbled the ball, and the Ravens went on to win the game. Both immediately after the initial play, and thereafter, Keenum could be observed acting in a manner that should have raised concerns about a possible concussion and yet the protocol which called for him to be removed from the game and examined in the locker room was not followed. The Rams Head Coach says he was unaware of Kennum's condition, the league is investigating the matter, and it's unclear today if Keenum will be playing Sunday, but from all the available evidence it seems rather obvious that what was supposed to happen in the wake of an an injury that has the potential to lead to concussion did not happen.
The Gifford news also comes just weeks before the release of a new film that is likely to garner much attention both because of the issue involved, and because of who's starring in it. Concussion, which will be released on Christmas Day, stars Will Smith as Dr. Bennet Omahu, who is profiled in this piece in The Wall Street Journal.  Omahu is credited as the person who first discovered the existence of a long-term brain disorder that has subsequently been found in many football players who have died, as well as participants in other high impact sports such as boxing. Smith, who hasn't had a major film in several years, has been quoted as saying that he was initially reluctant to take on the role because of the implications of what it was saying about the sport, but he appears to be convinced that the science behind the film is sold. The disease Omahu discovered, chronic traumatic encephalopathy, or more commonly C.T.E., was first discovered by Oamhu in his examination of the brain of Mike Webster, a star with the Pittsburgh Steelers and member of the Pro Football Hall Of Fame who died in 2002. Since the Webster diagnosis, many other players have been diagnosed with the disease after their death, including such notables as San Diego Chargers great Junior Seau, who committed suicide in 2012 after many years of mental health problems, and long time N.F.L. safety Dave Duerson, who like Seau committed suicide by shooting himself in the chest rather than the head, with many suspecting such a method was chosen specifically so their brains could be studied after they died. While C.T.E. can only be diagnosed by a postmortem examination of the brain several players have come forward in recent years to discuss what they believe are signs of degenerative brain disease. Perhaps the most notable of these has been Steelers great, and Super Bowl and broadcasting legend, Terry Bradshaw who has described symptoms such as short-term memory loss and other issues that have made it more difficult to do his job as a Fox Sports analyst, from which he will be retiring at the end of this year.
The upcoming movie, which Sony Pictures was accused to editing earlier this year in response to N.F.L. complaints, seems likely to bring the issue of sports-related brain injuries to the forefront if this early review is any indication. The newest trailer for the movie, which has been airing for the past month or so, including most prominently during a recent Monday Night Football game, doesn't pull many punches either:
Even though it ultimately was not the cause of his death, the news that one of the N.F.L.'s greatest players suffered from C.T.E., and may have suffered from dementia in later years because of it, is certain to bring this issue to the forefront again, as is the release of a movie starring one of the most bankable and popular stars in Hollywood that many critics believe will be a top contender for Academy Award consideration next year. Inside the league, it will likely have an impact on policy going forward and the ongoing lawsuit filed by a group of former players seeking further compensation for their injuries, and a fund to provide research, treatment, and support for future players. The biggest impact of continuing attention on this issue, though, could be outside the league at the college level, and especially in High School and Pop Warner leagues where there have already been signs that parent concern about long-term injuries to their children is quickly becoming an issue. This year has seen another rash of sudden deaths by High School football players, for example. These deaths appear to be mostly related to issues other than C.T.E., but they are related to the extent that most of them appear to have been due to previously undetected congenital health problems or internal injuries that were exacerbated or caused by high-impact injuries to bodies that are, after all, still growing. As this issue gets more attention, it's not hard to see parents becoming more and more reluctant to let their sons, or daughters, get involved in high-risk sports without additional protection.
None of this is to say that either the N.F.L. or football in general are going away any time soon. Notwithstanding the numerous controversies that have surrounded the game in recent years, such as the Ray Rice case, the Adrian Peterson case, or "Deflate Gate," the league and the sport are as popular as ever. Additionally, as long as the game is played it is going to be one where large, men hit each other and try to tackle them, and that comes with inherent dangers that the players are no doubt aware of at this point. That being said, the more attention these long-term health issues get the more that the N.F.L., the NCAA, and others responsible for managing the sport are going to be pressured to do something. Additionally, the more fans see icons like Gifford provide physical proof even after they're dead that, yes, there is a problem, it may be that they themselves start to question whether cheering so loudly for something so dangerous is really a good idea.