Jets' McElroy Hid Concussion
New York Jets quarterback Greg McElroy was experiencing post-concussion syndrome but hid it from the team for days.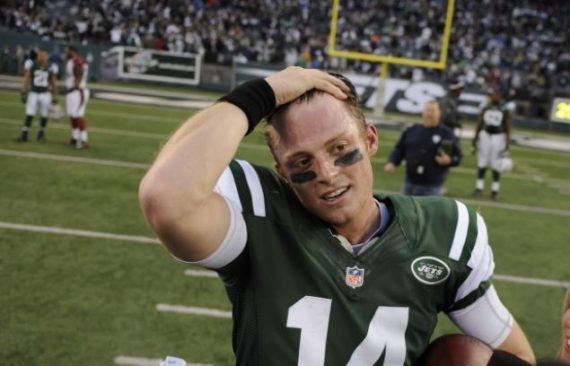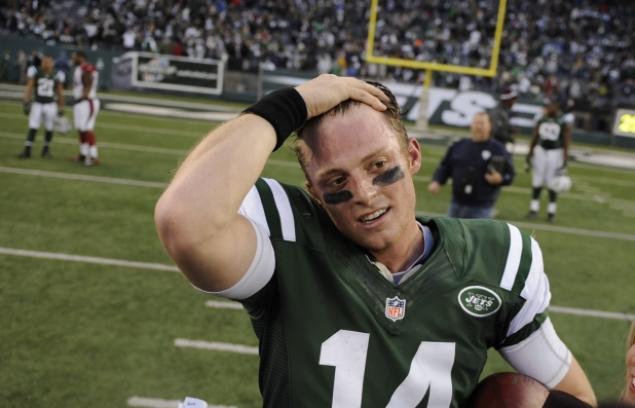 New York Jets quarterback Greg McElroy was experiencing post-concussion syndrome but hid it from the team for days.
ESPN ("Greg McElroy hid concussion"):
The New York Jets' coaching staff didn't know Greg McElroy had been experiencing concussion symptoms this week.

His teammates did.

According to several players McElroy confided in, the quarterback had been wrestling for days with the decision to tell the Jets' medical staff of his symptoms.

On Christmas night, McElroy visited wide receiver Clyde Gates in the hotel where the team stays during the season. Gates had been diagnosed with a concussion earlier in the season, and listened to McElroy's concerns.

"He came to my room and we talked about it," Gates told ESPNNewYork.com. "He was hurting real bad. I was like, 'Bro, I know, I've been down that road already. I'm just saying you can't try to tough it out cause you going to end up hurting yourself. You've got to let everybody know how you really feel.' "

Left guard Matt Slauson was also aware of McElroy's condition.

"He definitely has that (warrior) mentality, but it got to the point where it was scaring him," Slauson said.

Slauson revealed to ESPNNewYork.com that he, like McElroy, had a concussion in either 2010 or 2011 that he didn't report to the Jets, and another in his senior season at Nebraska. Of the more recent concussion, Slauson said he got through it on his own.

"I didn't feel like it warranted (being reported)," Slauson said. "I was in bad shape, but I could focus on my plays. I figured I'd pop a couple of Aspirin and be fine."

McElroy experienced headaches during his morning lift at the Jets facility, and finally approached Jets trainers with his symptoms. Coach Rex Ryan immediately decided McElroy would not start when the Jets travel to Buffalo for the final game of the season on Sunday. In McElroy's place, Ryan again passed over Tim Tebow and went to former starter Mark Sanchez, who was benched after throwing four interceptions in Tennessee on Dec. 17.

[…]

Ryan said McElroy should have been honest with the trainers about his condition, but seemed to understand that McElroy didn't want to give up a starting opportunity in a league where they don't come easily. Gates said that was probably a consideration for McElroy.

"It probably was a little pressure," Gates said. "I don't blame him, the position he was in, to start another game, any competitive player would've been like, 'I'm going to shake it off and make it work.' But, still, you got to be smart about it. I feel for him though. I understand how he feels, but you can't go against a concussion injury."

Ryan said "players need to be honest" given all the medical information about concussions available. Research shows that sustaining additional concussions before the brain heals is more damaging to a player.

"I think, hopefully, this will be an example to all the players," Ryan said. "Because the worst thing that could've happened is he would've gone out there with nobody knowing how he really felt and hurt himself."
McElroy, who led Alabama to a national championship in 2009, is a smart guy. He finished his degree in three years despite the demands of being an SEC quarterback and was a finalist for a Rhodes Scholarship. He knows that playing again before fully recovering from a concussion risks severe damage and premature death. And, yet, the lure of getting to start a second NFL game was enough for him to seriously weigh taking that risk.
Nor is McElroy one of those players for whom athletic talent was a ticket out of poverty. His father is an executive with the Dallas Cowboys. Suffice it to say, he has a wide range of options ahead of him. Further, McElroy's future is more likely that of a career backup followed by a career in coaching or administration—assuming he stays with football at all—than as a longer-term starter.
The League is, far too late, taking serious steps to mitigate the risks of head trauma in what is inherently a violent game. But, if even a Greg McElroy is willing to take such a huge risk against long odds of glory as a starting quarterback, the pressures on a guy for whom football is his only shot at a successful life must be exponentially higher.